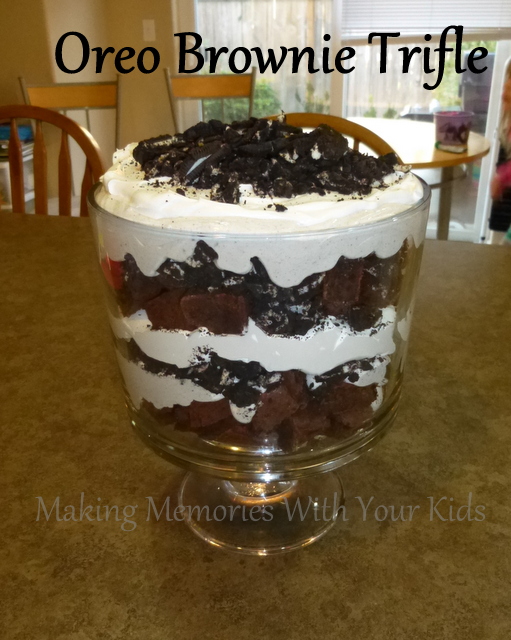 Can you get any better than a trifle?  It's layers of everything you want from a dessert: brownies, rich pudding, whipped cream and cookies.  Yep, I'm sold.  And I think it looks so cool for when you have people over for dinner.
This Oreo Brownie Trifle is so easy to make and soooooo delicious.  It was a huge hit with my friends.
The great thing about brownie trifles is you can make a favorite brownie recipe from scratch or you can use a boxed mix if you're short on time.
You could also just mix the pudding mix with milk, like the directions say on the box.  But adding the sweetened condensed milk and water makes it rich and thick and, well, awesome.
Ingredients
Family sized box of brownie mix (9x13 pan sized)
Ingredients to make the brownies (eggs, water and oil)
3.4 oz. box Cookies and Cream pudding mix
14 oz. can sweetened condensed milk
1/2 cup water
8 oz. container Cool Whip
Oreos (as many as you want to add)
8 oz. container of Cool Whip (yep, another one)
Instructions
Make the brownies and set aside to cool.
In a mixing bowl, beat the cookies and cream pudding mix, water and sweetened condensed milk until thick. Fold in the first tub (8 oz.) of Cool Whip. Set aside.
Cut the cooled brownies into small squares (about 1x1).
Layer the brownies, cookies and cream pudding mixture, whipped cream and crushed Oreos.
Repeat layers again and top with crushed Oreos.
Refrigerate until ready to serve.
http://makingmemorieswithyourkids.com/2013/11/oreo-brownie-trifle/
We also made a Snickers Brownie Trifle (again, to die for!) if you're not an Oreo fan (gasp!)
Enjoy!
We're linking to the parties found HERE.