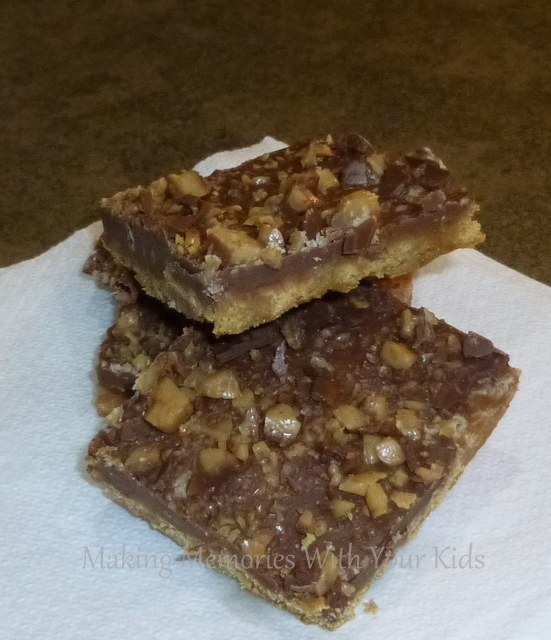 I was talking to my Mom the other day telling her how I was looking for a quick but totally delicious cookie or brownie recipe to make for (another) meeting I have coming up at work.  I have a love hate relationship with said meeting.  These meetings are to align both of the middle school's schedules in my district.  Sounds riveting, doesn't it?  Yeah, it's not super exciting but it's interesting to listen to all the arguments about how many periods the day should be and how and when interventions will be delivered to those students who need it.  Anywho… the meeting consists of principals and staff from both schools and, in my eyes, you can't have a meeting like that without food!  Right?  So I bake for each meeting.  (Who am I kidding.  I just love it when people tell me how awesome what I made is.)
Wow, to get back on track.  So I was asking my Mom for an easy and delicious recipe and she suggested I make these Chocolate, Caramel, Graham Cracker Toffee Cookies that she made awhile back.  Perfect!  I remember how yummy they were.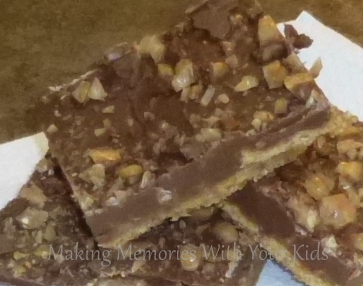 My Mom has a blog as well.  If you haven't checked it out, you should.  It's called Wives with Knives.  (I'll give you a minute to laugh and tell everyone about how cool that name is.)  She posted these cookies back in February of 2009.  Wow.  How could 4 years go by and I haven't made these yet?!
Chocolate, Caramel, Graham Cracker Toffee Cookies
Ingredients
Graham crackers (approx. 2 sleeves, depending on the size of your pan.)
3/4 cup unsalted butter
1/2 cup packed light brown sugar
dash of salt
1 1/2 cups milk chocolate chips
1 cup Heath Toffee Bits (you can use nuts if you would like)
Instructions
Preheat the oven to 375 degrees.
Line a 15x10 inch baking sheet with foil or parchment paper.
Line the pan with the graham crackers. (Put them close together.)
In a medium saucepan over low heat, melt butter. Add sugar and stir. Cook for about 1 minute, until sugar is dissolved. Pour evenly over the graham crackers (use a spatula and spread out if you need to) and cook for about 8-10 minutes (until golden brown and bubbly.)
Remove from the oven and sprinkle with chocolate chips. Return to the oven for about a minute to melt the chocolate. Remove from the oven and spread out the melted chocolate chips. Sprinkle with Heath bits.
Allow to cool for at least 30 minutes before cutting into squares.
Enjoy!
http://makingmemorieswithyourkids.com/2013/12/chocolate-caramel-graham-cracker-toffee-cookies/
My Mom's recipe said a 15 x 10 inch baking sheet.  Well, I'm no math teacher.  I couldn't tell you what a 15×10 baking sheet looked like.  I guess on all of my pans unless they say what size they are on the bottom.  (I love those pans!)  I'm horrible about measurements like that.  If the principal says to me "how tall was the student?"  My response is "6 feet."  That usually gets me a "6 feet?  He's 11 years old."  "Um," I say, "4 feet?"  Sheesh!  I don't know!
So just line a big baking sheet with parchment paper and line it with graham crackers.  We have a saying in my house (or is it my head???)  "Go big or go home" when it comes to desserts.  So we lined two pans with foil (not to self, don't even use foil again.  Use parchment paper!) and graham crackers and doubled the caramel recipe (and, of course, the chocolate chips and Heath bits.)
I hang my head in shame when I tell you that I didn't have enough Heath Bits for this recipe.  I always have Heath Bits.  Crud!  So I thought and thought and decided to sprinkle half of the batch with chopped up Snickers Bars.  ('Cause, of course, I had those.)
So here they are with the Heath Bits on them.  Delicious!
And here they are with the chopped Snickers on them.  Yowza!
I'm thinking the Snickers ones were my favorite.  Because, seriously, can you go wrong with cookies covered in candy bars???
They were a huge hit at my meeting yesterday!  I'm so glad I made this recipe.  Easy and delicious!  They taste a lot like Almond Roca except these aren't hard and crunchy (and they don't get stuck in your teeth.)
Let's look at them again…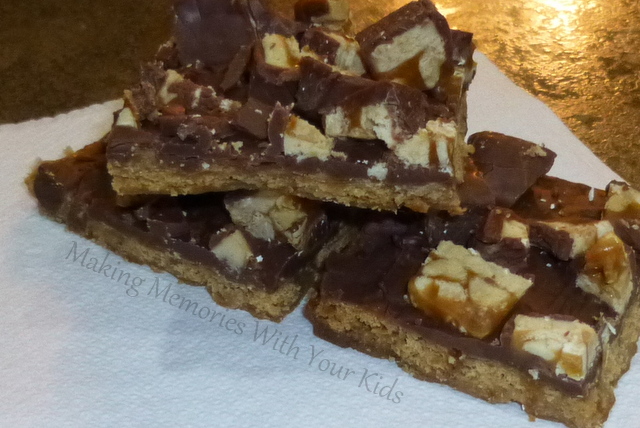 We're linking to the parties located HERE.