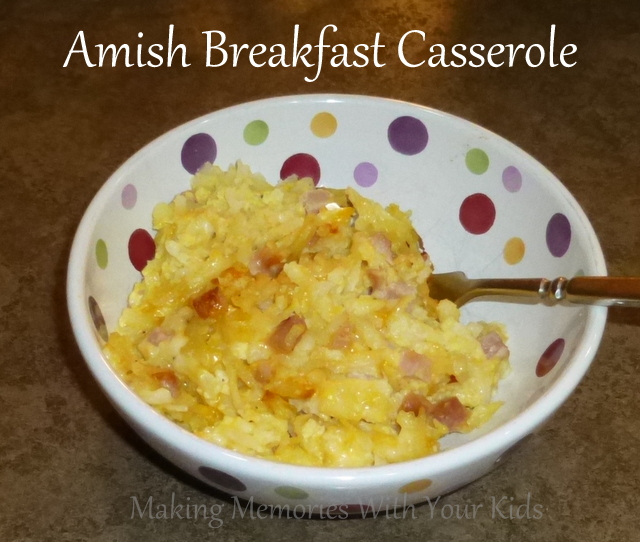 I'm not a huge breakfast food fan.  It's not that I don't like pancakes or waffles or omelettes.  I just wouldn't choose to eat them over lunch or dinner foods.  But the one thing that I do love in the morning is a breakfast casserole.  The combination of potatoes, ham or bacon and cheese.  Oh yeah, I'll eat that.
Again, I'm sorry for my pictures.  We devoured this so quickly I barely had time to snap 2 pictures before it was gone.  It was that good!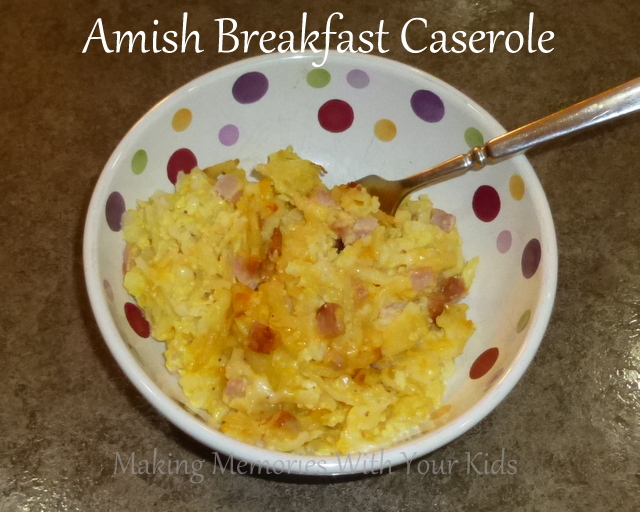 This casserole was wonderful!  And it was a huge hit with my family.  You can change it up any way you would like.  We added ham (because that's what I had) but you could add bacon or sausage, peppers, mushrooms, you name it.
It's perfect for a family brunch on the weekend!  I got a picture of it before we put it in the oven….
My friend sent me a link to this recipe awhile back but I lost it.  Ugh.  I was so happy to find it over on Bakerette.  It was every bit as good as I thought it was going to be.
Amish Breakfast Casserole
Ingredients
1 pound sliced bacon, diced (or ham)
1 medium onion, chopped
1-2 cloves garlic, minced
8 eggs, beaten
1/2 tsp. salt
1/4 tsp. pepper
24 ounces frozen shredded hash browns, thawed
2 cups cheddar cheese, shredded
12 ounces (1 1/2 cups) small curd cottage cheese
1 1/4 cups Swiss cheese, shredded
Instructions
Preheat oven to 350 degrees.
Prepare a 9 x 13-inch baking dish by lightly coating with cooking spray.
Dice the bacon into bite-size pieces (before cooking). In a large skillet, combine the onion and bacon and cook until bacon is crisp. Drain. Return the skillet to the stove and add the minced garlic. Stir for about 1 minute. Remove from stove.
In a large mixing bowl, mix together the remaining ingredients. Stir in the bacon (ham) mixture. Transfer to the prepared baking dish and bake uncovered for 35-40 minutes or until a knife inserted near the center comes out clean. Let stand 5 minute before serving.
http://makingmemorieswithyourkids.com/2014/01/amish-breakfast-casserole/
We're linking to the parties located HERE.