I have to apologize for my pictures.  I took these out of the oven about 30 minutes before some of my family cam over for a birthday celebration and as soon as everyone got here, it was crazy.  And when everyone saw these delicious loaves on the counter, they cut into them.  Well, so much for pictures.  They didn't even let me add the frosting to them. They just ate them warm.
I'm not sure what I did wrong.  The recipe says it's for 2 large loaves.  I wanted to make mini loaves so I figured this recipe would make 4 of them.  There was so much batter left over I made another large loaf.  Maybe the recipe was for 2 super huge loaves?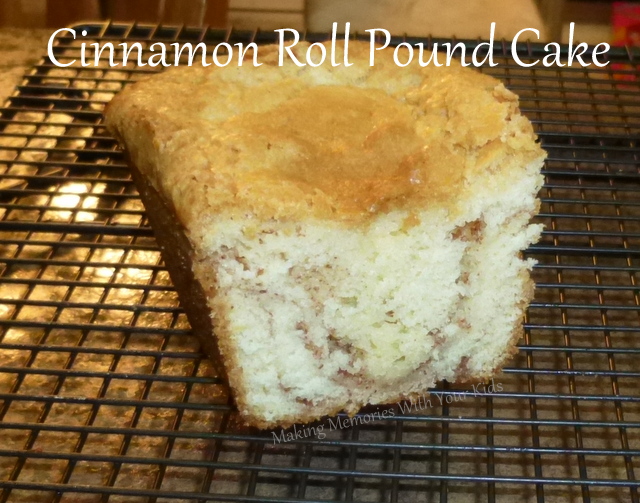 We ran out of the Cinnamon Sugar when I made the 4 mini loaves so for the large loaf I alternated batter and Hershey's Cinnamon Chips.  You can never go wrong with Hershey's Cinnamon Chips.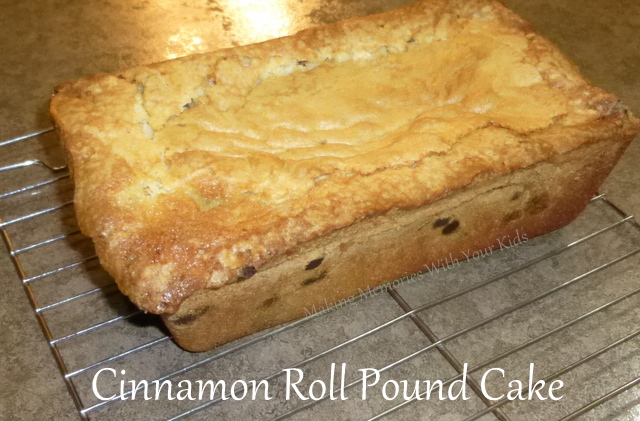 I can't believe I didn't take any pictures of this loaf with the cinnamon chips sliced.  It was my favorite!  When I make this again (and I definitely will be making this again!) I am going to substitute the layer of cinnamon and sugar with the cinnamon chips.  I loved how it tasted!
This is definitely a keeper!  Thanks to A Few Short Cuts for this recipe!
Ingredients
½ pound (2 sticks) butter, softened
½ cup vegetable shortening
3 cups sugar
5 eggs
3 cups all-purpose flour
½ teaspoon salt
½ teaspoon baking powder
1 cup milk
1 teaspoon vanilla extract
¼ cup Cinnamon Sugar

For the Cream Cheese Glaze

2 oz cream cheese, softened
1 teaspoon vanilla
1½ cups powdered sugar
1 Tablespoon milk
Instructions
Preheat oven to 350 degrees F.
In a stand mixer, cream butter and shortening and sugar together.
Add eggs, 1 at a time, beating after each addition.
Stir dry ingredients together in a bowl and add to mixer alternately with milk, starting with the flour and ending with the flour. Mix in vanilla.
Spray 2 loaf pans with non-stick cooking spray with flour.
Pour 1/3 of batter into loaf pans. Sprinkle half of cinnamon sugar mixture into pans. Repeat with 1/2 of the remaining batter, then cinnamon sugar, then ending with batter.
Bake about 1 hour or until toothpick inserted into the center comes out clean.
Meanwhile, combine the ingredients for the glaze. Add a little more milk of you want to thin it out or a little more powdered sugar if it's too thin.
Allow loaves to cool and then glaze with the Cream Cheese Glaze.
Enjoy!
http://makingmemorieswithyourkids.com/2014/01/cinnamon-roll-pound-cake/
If you love Pound Cake and you love cinnamon, this cake is for you!  It is moist and delicious!
We're linking to the parties located HERE.