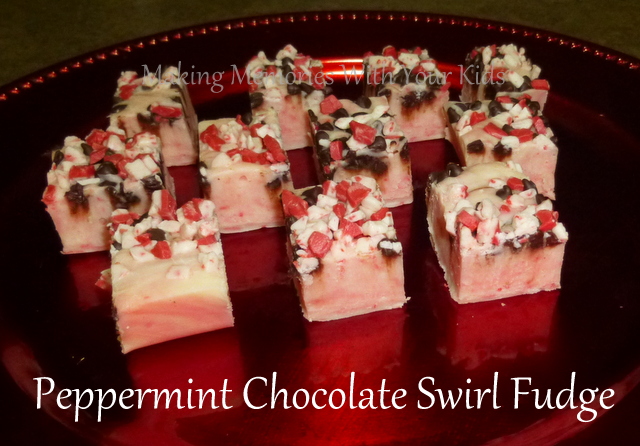 If you love fudge as much as I do, you can't get enough.  I love that there are so many flavors out there and my new mission in life is to try them all.  Yep, a fudge marathon.  What do you think?  Yeah, you probably shouldn't answer that.
On my quest for the perfect fudge recipe, I came across this recipe for Peppermint Chocolate Swirl Fudge.  It was actually called Candy Cane Chocolate Swirl Fudge but I don't really like crushed candy canes in recipes.  Call me crazy, but I don't like the chewy, stickiness of them.
Thank you to Sally's Baking Addiction for this great recipe.  I changed it a little bit, adding Andes Peppermint Crunch Baking Chips rather than crushed candy canes.  (I love Andes Chips!)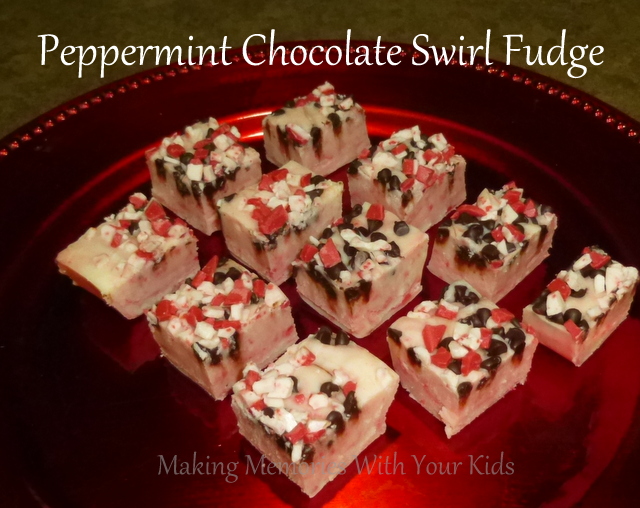 Peppermint Chocolate Swirl Fudge
Ingredients
3 cups white chocolate chips
1 can (14 oz.) sweetened condensed milk
1/3 c. Andes Peppermint Crunch Baking Chips + 1/4 c. to sprinkle on top
1/4 c. mini chocolate chips
Instructions
In a medium sized saucepan, heat the chocolate chips and sweetened condensed milk. Stir constantly until it is smooth and creamy.
Add 1/3 c Andes Peppermint Crunch Baking Chips. Stir just a little bit so you can see the swirls of pink.
Pour into a 9x9 pan lined with parchment paper.
Sprinkle the mini chocolate chips on the top and swirl with a knife.
Sprinkle the remaining 1/4 c. Andes Chips on top.
Set aside to cool.
http://makingmemorieswithyourkids.com/2014/01/peppermint-chocolate-swirl-fudge/
This recipe was pretty good.  I liked the combination of peppermint and chocolate for sure.  And I think it looks pretty cool.  It was fun for our dessert trays for Christmas and with Valentine's Day coming, couldn't it be perfect?
I'm linking to the parties located HERE.