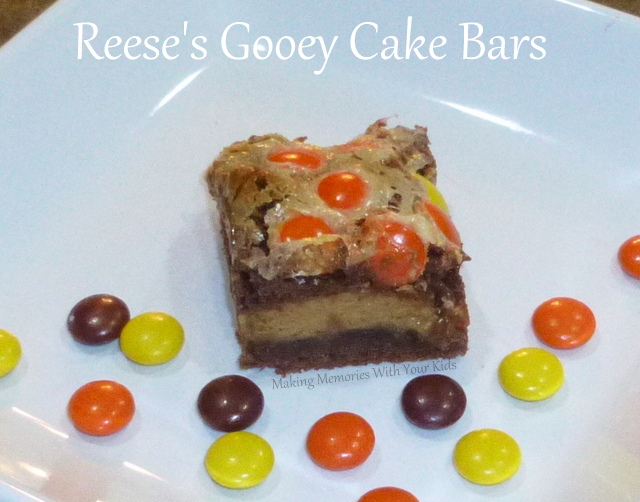 I know in January everyone posts healthy, let's-all-lose-weight-and-eat-healthy recipes.  Well, everyone except me.  Sorry.  I'm all for eating healthy and staying fit, but why in January?  I don't binge on Christmas goodies so it doesn't make a lot of sense to me.  And I work out already (thanks to my son convincing me to join him in Tae Kwon Do classes.)  Oh, speaking of, how's this for our family picture this year?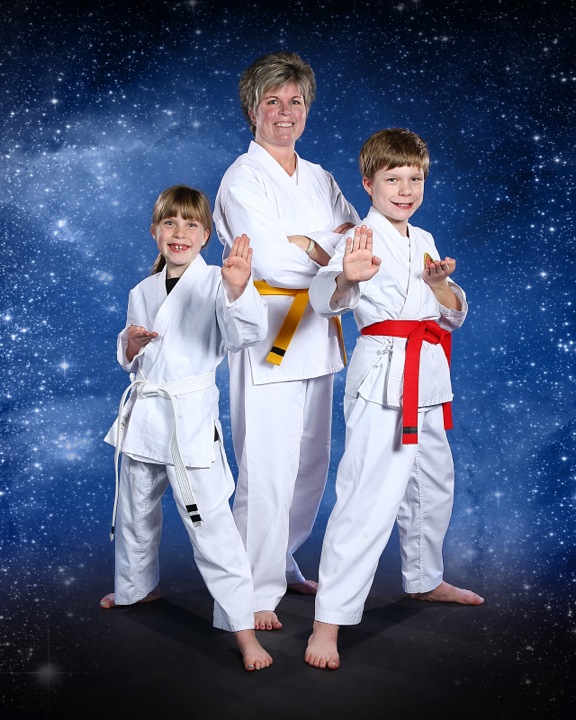 Anyways, so we are posting a yummy dessert recipe… even in January.
The "gooey" part is what got me on this recipe.  It's not just a cake filled with peanut butter cups.  (Although that would be delicious too.)  Oh no, this recipe has sweetened condensed milk in it.  That stuff is heaven in a can.  So the word "gooey" basically means "rich-sweet-lick-your-fingers-goodness".
Don't they look heavenly?  A peanut butter lover's dream!
The recipe called for mini Reese's pieces which would look a little cooler, but I couldn't find them at the store so I bought "regular" Reese's pieces.  They still look pretty good, I think.
No one complained.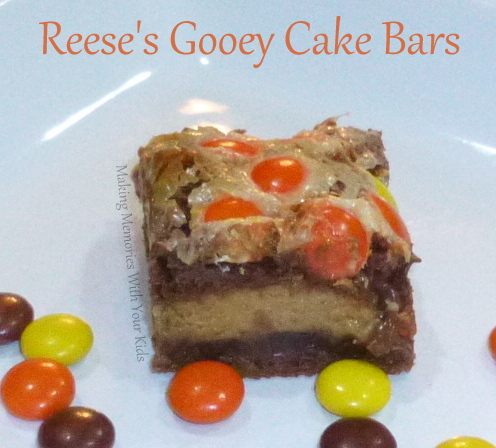 Thank you Inside Bru Crew Life for this one!
Ingredients
1 box chocolate cake mix
1 egg
1/2 cup butter, softened
1 tsp. vanilla
16 regular sized, unwrapped, Reese's Peanut Butter Cups, frozen
1/2 cup sweetened condensed milk
1/2 cup chopped Reese's Peanut Butter Cups (or Reese's Pieces - but I forgot to buy them)
Instructions
Unwrap your peanut butter cups and put them in the freezer. You want to leave them there for at least a couple of hours.
Preheat oven to 350 degrees.
Combine the cake mix, egg, butter, and vanilla in a mixing bowl. Beat until a soft dough forms. Press half the dough into an 8x8 baking dish that has been sprayed with non stick spray or lined with parchment paper.
Arrange the frozen peanut butter cups over the top of the dough. You may need to trim the edges of a few. Press the rest of the dough over the tops of the peanut butter cups evenly.
Drizzle the sweetened condensed milk over the top of the dough. Sprinkle with the chopped peanut butter cups or Reese's Pieces.
Bake at 350 degrees for 30-35 minutes.
They will look very gooey and undone. Let the bars cool completely before cutting..
Store in a sealed container on the counter.
http://makingmemorieswithyourkids.com/2014/01/reeses-gooey-cake-bars/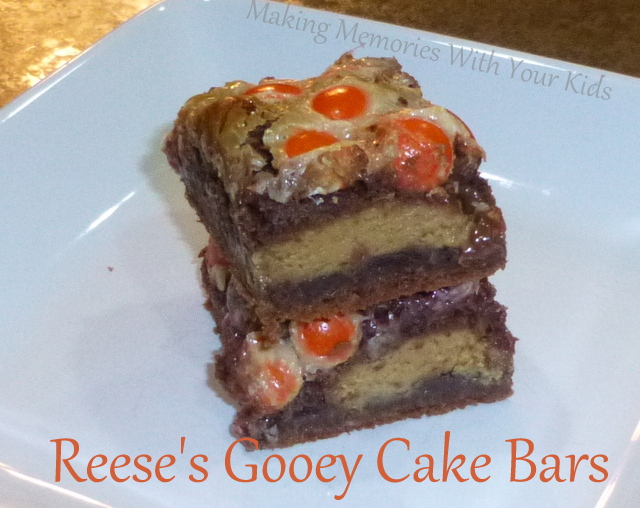 So, here's to a fun, slightly crazy, healthy and happy 2014 to everyone. 
We're linking to the parties found HERE.