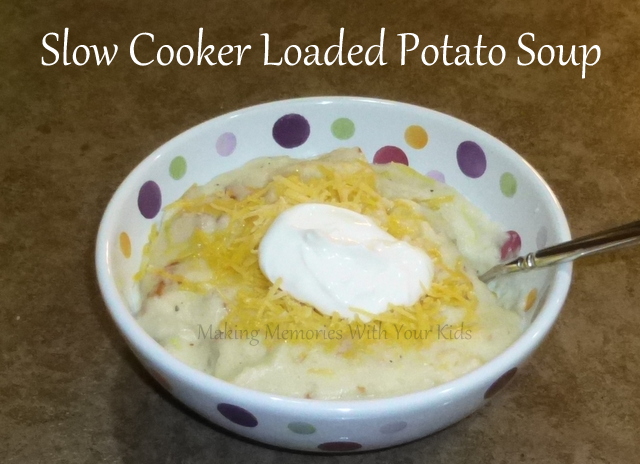 Back in November we had a really cold spell.  Like, freezing cold.  There were weeks where it didn't even get above freezing.  Holy icicles!  It was cold!  I decided quickly that I didn't like it.  How do you guys do it who live in the Northeast?  Brrrrrrr!  Everything was so cold – my floors, the car, the windows.  Maybe I'm just a whiner but here in Oregon winters are typically rainy and in the 40's.  Who knew I would be wishing for that.  So I was in the mood for warm, comfort food.  And that's soup!  But I don't really like a brothy soup.  I want something hearty (like our Taco Soup) or this Loaded Potato Soup.
I love crockpot/slow cooker recipes.  You just throw everything into it and leave for work.  When you come home, your house smells delicious and dinner is ready for you.  Perfect for this working Mom.
This soup did not disappoint.  It was delicious!  It was thick and creamy and tasted like loaded mashed potatoes.  We quickly devoured it and I can't wait to make it again!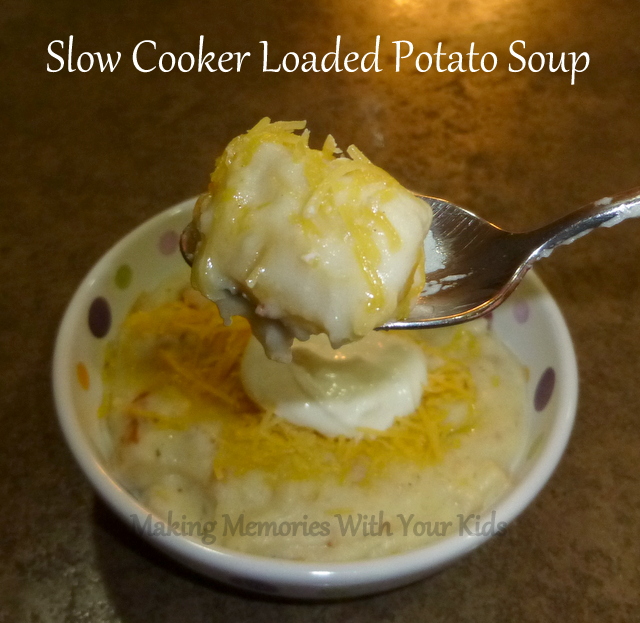 Thank you to Baked by Rachel for this delicious and easy recipe.
Slow Cooker Loaded Potato Soup
Ingredients
6 medium potatoes (about 7 cups)
1 c. onion (I used a sweet onion)
3 cloves garlic
3 c. chicken stock
1 1/2 tsp. salt
1 tsp. ground pepper
1 c. heavy cream
6 slices thick bacon
cheese (Cheddar, Monterey Jack, whatever you like)
sour cream
Instructions
Peel and cube the potatoes into 1 inch chunks. Chop onion and mince the garlic. Add these to your slow cooker. Sprinkle with salt and pepper. Pour chicken stock over the top, cover and cook on high for 3 1/2 hours (or low for 6 hours).
Meanwhile, cook your bacon. I cook mine in the oven on 400 degrees until slightly crispy. Set bacon strips on paper towels to pat off the grease.
You can add some of the bacon grease to the crock pot if you would like. Otherwise, leave in your cookie sheet until it solidifies. Then scoop into the garbage.
Chop the bacon and set aside.
After the recommended cooking time, remove about 3 cups of the potatoes from the slow cooker and add to a blender. Blend with the heavy cream until smooth.
Return the pureed potatoes to the crockpot. Stir and cover and continue cooking for an additional 30 minutes. I added my bacon at this point but you can wait and just use the bacon to garnish your finished soup.
When ready to serve, garnish with shredded cheese and sour cream.
http://makingmemorieswithyourkids.com/2014/01/slow-cooker-loaded-potato-soup/
Here are some ways to save time.  I cook bacon on the weekends and then freeze it so we always have cooked bacon in the freezer.  It's much cheaper than the store bought bacon bits.  You could also use frozen hashbrowns instead of peeling and cutting the potatoes.
A tip: if the soup is too thin, you can add some potato flakes (instant mashed potatoes) to thicken it up.  But be careful, if you add too much it'll get really thick.  Just add a little chicken broth to thin it out.
 We topped ours with shredded cheddar cheese and sour cream.  You could use sliced green onions or even more bacon if you would like.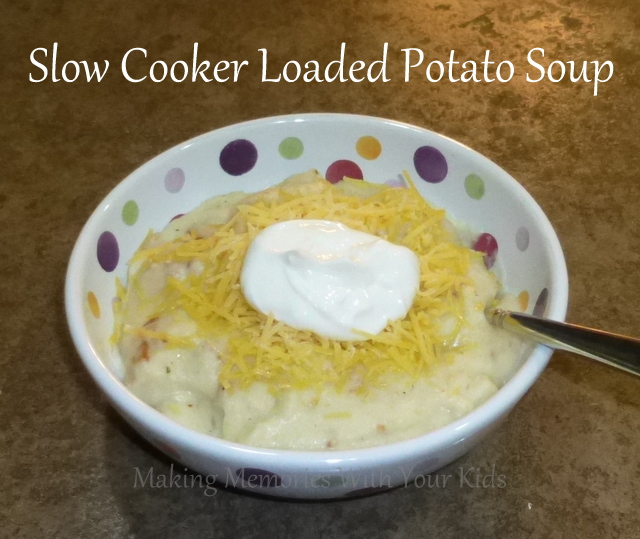 This soup was perfect for warming us up!
Enjoy!
We're linking to the parties found HERE.