Did you miss my Secret recipe Club post last month?  Me too.  Group C took the month of December off so we could celebrate the holidays and not stress about what to make and post.  It was a great break (and holiday) but now we're back!
My assignment this month was Lisa's blog, Authentic Suburban Gourmet.  I was so excited when I saw it because I already follow Lisa's blog.  She has the best recipes!  It wasn't hard to find a recipe that I wanted to make.  Immediately I was drawn to her Butterscotch and Toffee Shortbread.  They look wonderful and I will definitely be making these very soon.
But when I clicked on her Halloween Sugar Cookies post I fell in love with the look of these cookies the minute I clicked on the post.  I absolutely love sugar cookies and I haven't seen anything like these out there in blog land.  And with Valentine's Day around the corner, I knew they would be perfect.  Lisa said these were "life changing cookies."  Seriously, how could I not make this recipe!  I'd be a fool, right?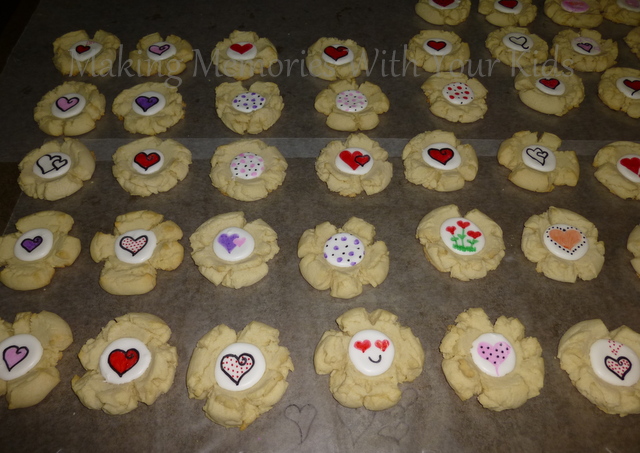 These cookies were so much fun.  They were easy to make and look adorable.  I love that you don't have to chill the dough or roll it out.  Talk about time saving!  Yet they are still completely adorable.
This is one of those times when I love that I have every kitchen gadget under the sun.  I used this little do-hickey to make the indents in the cookies and it worked perfectly.
See?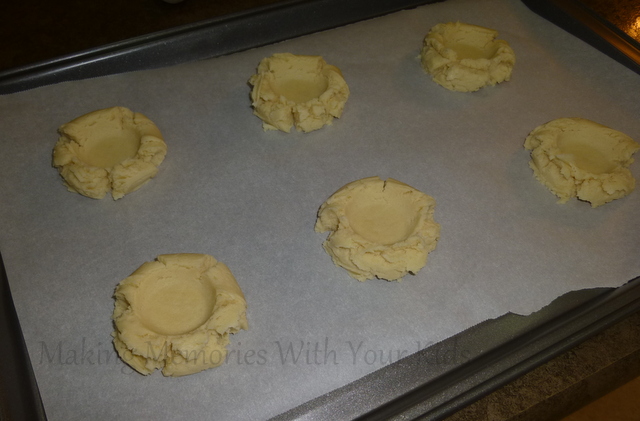 After the cookies cool, add the icing and wait… and wait… and wait until it is completely hardened.  They look great just like this.
But look how you and personalize these for the Valentine's Day (or any other holiday.)  Don't they look cute?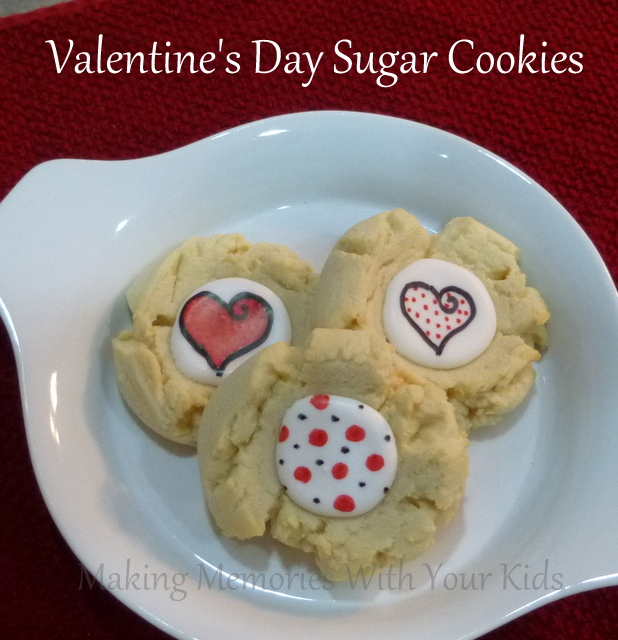 And this part is perfect for little helpers!
I would have to agree with Lisa on this cookie.  It was delicious!!!!!  They were soft and full of flavor.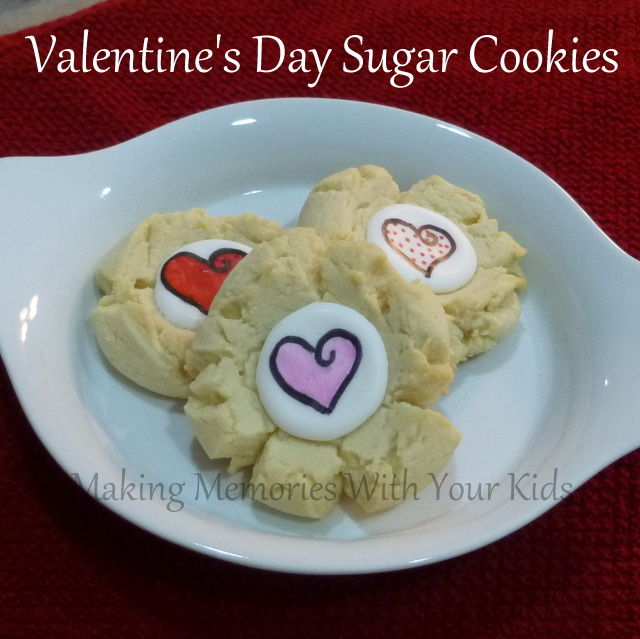 A couple of things I realized after making these cookies….. #1, I can not draw.  Seriously.  How difficult would it be to draw a cute heart?  Apparently too difficult for me!  #3, make sure the icing completely hardens before you start drawing on them!  The pen will squish right down into the gooey frosting and it won't be pretty.  And #3, if you have little helpers using your food markers, buy 2 sets.  The tips tend to get smashed so I can't draw a fine line so a second set for me to use would be ideal.
Valentine's Day Sugar Cookies
Ingredients
1 cup butter, room temperature
1 1/4 cup sugar
2 eggs
1 Tbsp. water
1 Tbsp. vanilla
3/4 cup vegetable oil
3/4 cup powdered sugar
5 1/2 cups AP flour
1 tsp. salt
1/2 tsp. baking soda

For Royal Icing

2 Cups powdered sugar
3 Tbsp. warm water
1 Tbsp. + 1 ½ tsp. Meringue Powder
Instructions
Preheat over to 350 degrees.
Use a stand mixer. Cream together the butter, sugar until smooth and fluffy. Next add the water, vanilla and eggs and beat until combined. Slowly add the vegetable oil and beat on low until combined. Combine the salt and baking soda and powdered sugar and slowly add to the mixer. Mix until combined. Add a cup of flour at a time and incorporate then add the next cup until all incorporated.
Using an ice cream scoop (I used the medium scoop from Pampered Chef) drop scoops of dough on a parchment lined cookie sheet.
Using a small glass (a shot glass size) or a funky Pampered Chef wood tool thing (I'm pretty sure that's not the technical name for it), press down in the center to make an indent. You want the sides to squish up. (It looks cool that way.)
Bake for about 8 minutes.
Let sit for about a minute and then remove onto a cooling wire and let cool completely.
For the Royal Icing - Beat all ingredients in a stand mixer until icing forms peaks. For thinner icing, add a little more water. If you want to pipe it out, you want it thicker. If you want to use a spoon and scoop it in the indent, it should be thinner. (That's what I did.)
Pipe or pour the royal icing into the indent and let sit until completely hardened.
When icing is hard, use edible food markers to draw on your pictures or words. Have fun with this step!
Store in an air tight container.
http://makingmemorieswithyourkids.com/2014/01/valentines-day-sugar-cookies-secret-recipe-club/
This recipe made 48 big, thick cookies.  So you could half the recipe if you wanted to make less, but… why?  Who wants less cookies???
Enjoy!
We're linking to the parties located HERE.