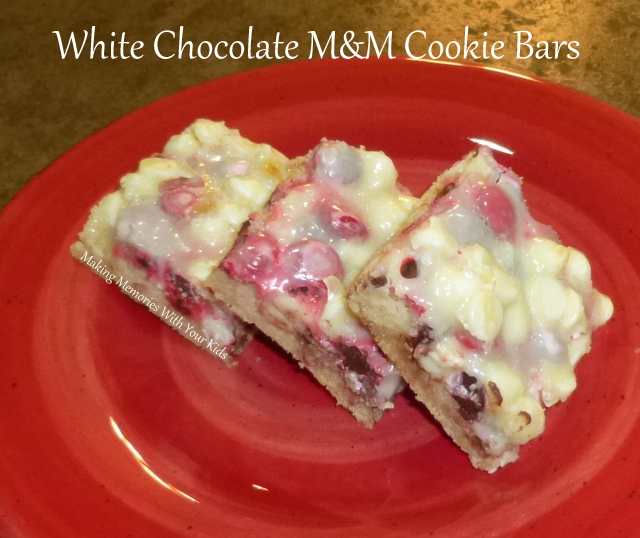 At my work Christmas party we do a gift exchange.  It's always a hoot and by far the best part of the party.  But each year I struggle with what to buy. I want it to be perfect and highly "steal-able".  (It's one of those gift exchanges.)  The booze and the coffee are always big hits with my drunk co-workers…
This year I did a "Dessert of the Month Club" gift.  It entitled the winner to receive a homemade dessert each month for 3 months.  That's cool, right?  Well, this was this months dessert for the winner – White Chocolate M&M Cookie Bars.  YUM!
As if it couldn't get any better than just this.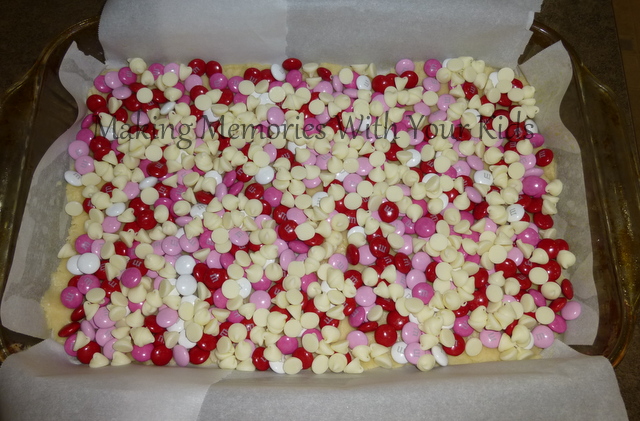 Then we added sweetened condensed milk.  Heaven!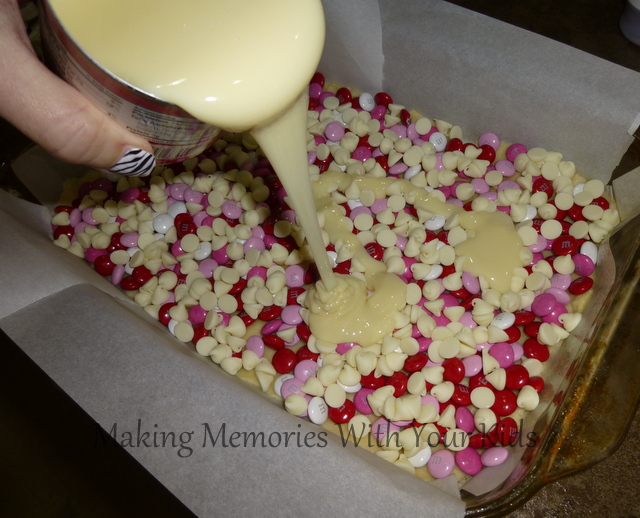 When the edges are brown and the top is bubbly and gooey looking, it's done.  Don't worry about it looking too gooey.  It'll be great once it cools.  (And P.S., can anything be too gooey???)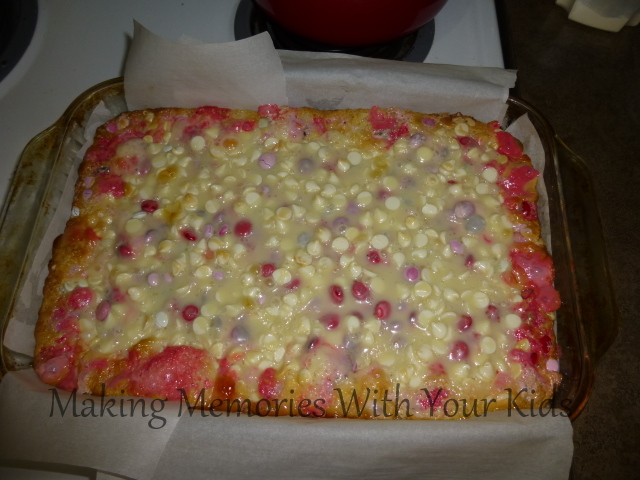 Allow to cool before you gently lift them out of the pan and onto a cutting board.  I'm warning you – they are gooey and sticky and amazing but make sure you spray your parchment paper and your pan with non-stick cooking spray!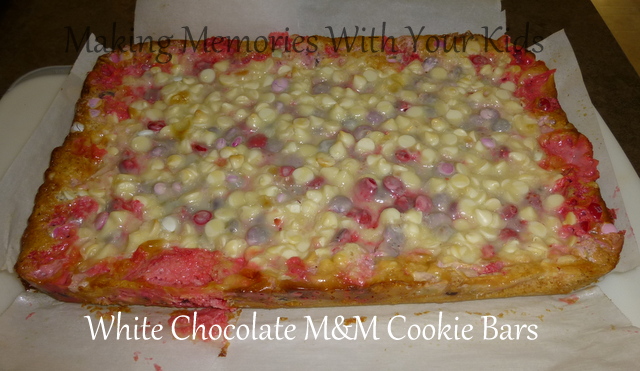 Then cut into squares and devour taste.  Delicious!!!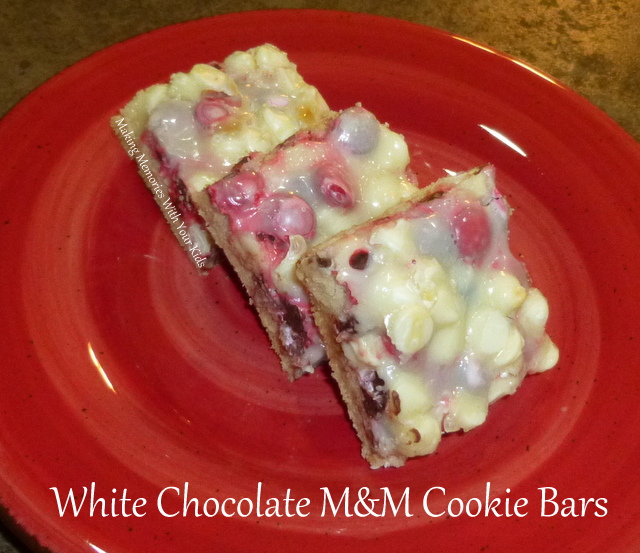 The edges are my favorite.  The are a little crunchy and a lot gooey and even more amazing.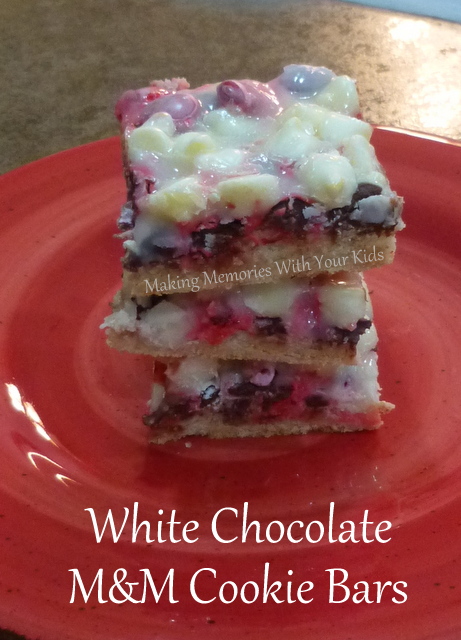 A HUGE thank you to The Gunny Sack for this delicious recipe!
White Chocolate M&M Cookie Bars
Ingredients
1 box white cake mix
1 egg
1 stick softened butter
1 bag M&Ms (I used Valentine M&Ms)
1 cup white chocolate chips
14 oz sweetened condensed milk
Instructions
Preheat oven to 350°F.
Mix together cake mix, egg and butter. Pat into a parchment lined and well greased 9×13? pan.
Pour bag of M&Ms over the cake mix crust. Sprinkle white chocolate chips over the M&Ms. Drizzle sweetened condensed milk over everything.
Bake for 25-30 minutes. The edges will be brown and the rest will be bubbly and gooey looking.
Allow bars to cool before removing from pan. Gently life out using the parchment paper "handles".
Cut into squares and enjoy.
http://makingmemorieswithyourkids.com/2014/01/white-chocolate-mm-cookie-bars/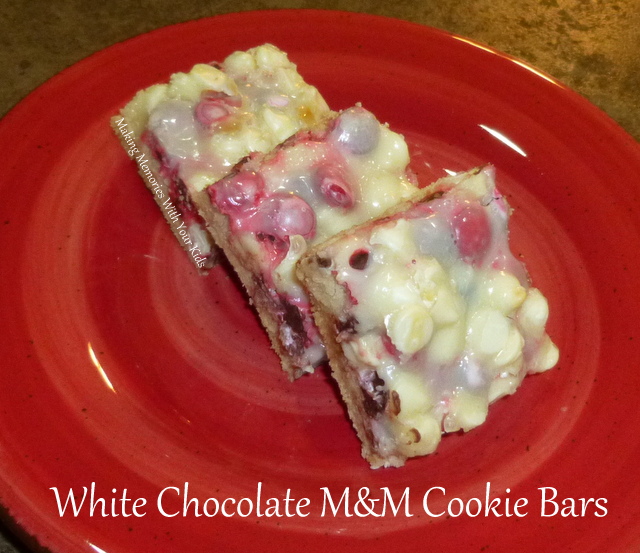 We made two batches of these bars.  The original white chocolate recipe and then one batch with milk chocolate chips instead of white chocolate chips.  They were delicious as well.  How could they not be???!!!
The milk chocolate might have been my favorite.
I think if you're going for a Valentine look, the white chocolate chips were perfect.
We're linking to the parties located HERE.