I just loved our Two Tone Heart Cookies that we made for Valentine's Day.  Then I got to thinking…. how much fun could we have with these?
I just love shortbread cookies so we went with a buttery shortbread cookie recipe rather than a sugar cookie.  But you could use either.
You can add as many of the smaller clovers that you want.  It's easy.  Just cut them out and add them into the "white" dough.  Then cut out your larger clovers.
The cookies are buttery and absolutely delicious!  And they are so fun!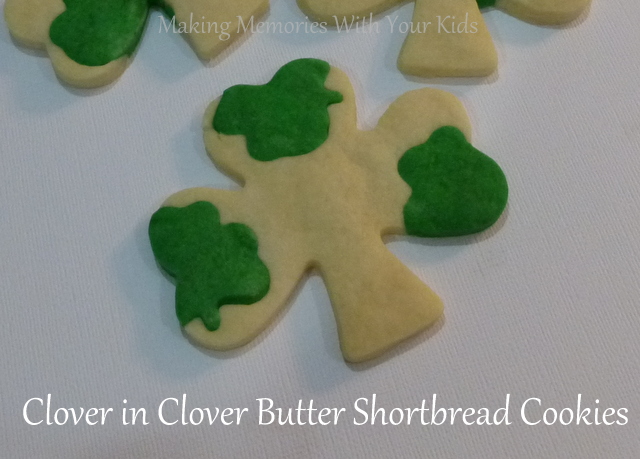 I used The Vanilla Bean Baker's shortbread cookie recipe.
Clover in Clover Butter Shortbread Cookies
Ingredients
1 cup salted butter
1/2 cup powdered sugar
1 1/2 cups AP flour
1/2 cup corn starch
1 tsp. vanilla
green food coloring
Instructions
Preheat oven to 300 degrees.
In a stand mixer, beat butter until smooth (don't over mix.) Add powdered sugar and blend.
In a separate bowl, mix flour and cornstarch.
Slowly add the flour mixture to the butter mixture.
Add vanilla.
Make sure you don't over mix your dough.
Remove about 3/4 of your dough and place on a floured surface.
Add some green food coloring to the remaining 1/4 of the dough still in the mixer. Mix until color is even.
Roll out your dough (both colors).
This is the tricky part and you can do it which ever way is easier. Cut small clovers out of both colors and place the green clovers into the white clover "holes". Now cut out larger clovers from the white with green clovers dough.
Place on a parchment lined cookie sheet and bake for 12 minutes.
Cool on a cookie rack.
http://makingmemorieswithyourkids.com/2014/02/clover-clover-butter-shortbread-cookies/
What do you think?