For the first time in years, we have snow!  SNOW!  I know you all are thinking that snow is no big deal.  But for us in the Pacific Northwest, we don't get it very often, so when we do… it's awesome!  The kids are outside playing for most of the day, coming in long enough to get into dry clothes, eat a snack and then go out again and play some more.
Snow in the Pacific Northwest also means that everything comes to a screeching halt.  Schools close (yeah), after school classes close, Tae Kwon Do shuts down and most people just hunker down at home.  Which is exactly what we've been doing since it started 4 days ago.  Note here, I'm never home for 4 days without a huge list of things to do and places to go.  Never!  It's given me time to play with my kids, do some craft projects and bake.  Oh yeah.  Bake up a storm!
I wanted to make another Valentine's Day cookie since we already gobbled up our other Valentine's Day Sugar Cookies and our White Chocolate M&M Cookie Bars.  And how cute are these?!?!
They are easy and so much fun.  I love how they turned out.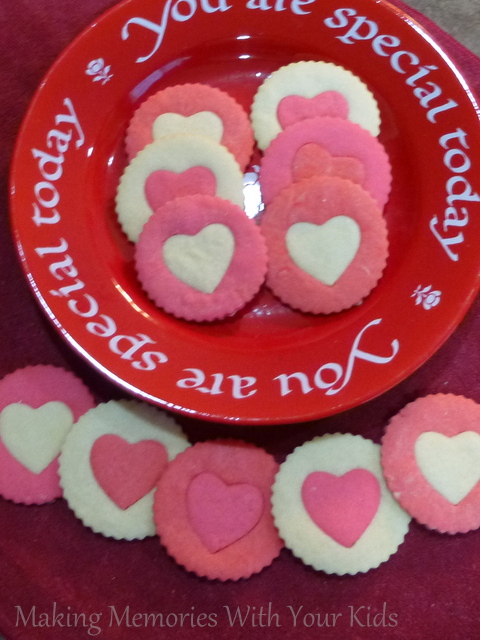 Unfortunately our pink and red look too much alike and don't have the contrast I was hoping for.  But still fun.
Sue over at Munchkin Munchies is so amazing!  How could I not make these adorable Valentine's Day cookies?!
Two-Tone Sugar Cookie Heart Cookies
Ingredients
2 cups butter
2 cups sugar
2 eggs
2 tsp. vanilla
6 cups flour
3 tsp. baking powder
1 tsp. salt
Red and pink food coloring gel
Instructions
Preheat oven to 350 degrees.
In a stand mixer, cream butter and sugar. Add eggs and vanilla.
In a separate bowl, combine flour, salt and baking powder. Add to butter mixture.
Divide the dough into 3 parts. Color one pink, one red and leave the other one.
Roll out dough on a floured surface. Make sure all 3 colors are the same thickness.
Cut scalloped circles out of each color.
Using a small heart shaped cookie cutter, cut hearts out of the centers of each circle.
Carefully fit a different colored heart into the centers of each circle.
Bake on a parchment lined cookie sheet for 8 - 10 minutes.
Cook on a cooling rack.
Enjoy!
http://makingmemorieswithyourkids.com/2014/02/two-tone-heart-sugar-cookies/
 Aren't they perfect for Valentine's Day?
We're linking to the parties located HERE.