When I saw the name of this cake on Pinterest I was curious to read why this was "Crack" cake.  I've seen Crack Brownies out there and even made our version of them (found here).  But cake?  I was curious.  And was I glad I looked!  Just reading the ingredients made me want to make it.  It has all kinds of deliciousness packed into it.
I think I cooked it a little too long.  I just put an hour on the timer and walked away.  I'd suggest checking it after about 50 minutes.
Pour over the glaze when the cake is hot.
And let it sit until it's completely cooled.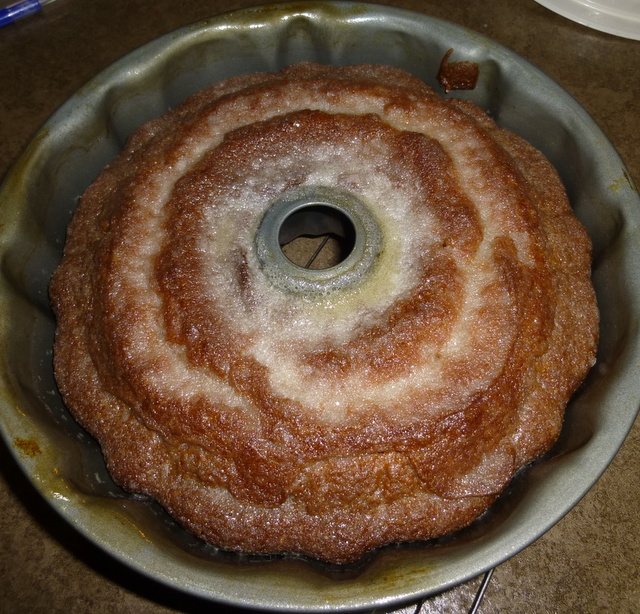 Flip it over onto a cake plate and devour!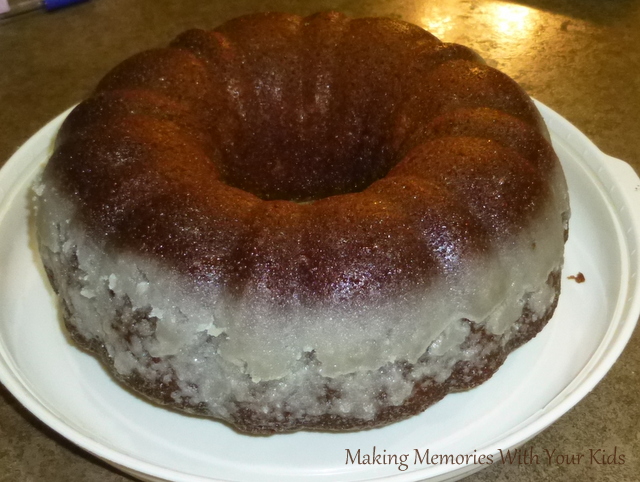 It taste like a Snickerdoodle cake with all the cinnamon goodness in it.  And it was so moist.  We loved it!
Note – next time I'll make sure the sugar is a little more dissolved before I pour it over the hot cake.
Thank to It's the Little Things for this keeper recipe.
Ingredients
For the Cake

1 box yellow cake mix
1/4 c brown sugar
1/4 c white sugar
1 box vanilla pudding instant mix
2 tsp. cinnamon
4 eggs
3/4 c water
3/4 c oil
1/2 c white wine (any kind)

For the Glaze

1 stick (1/2 cup) melted butter
1 cup sugar
1/4 cup white wine
Instructions
Preheat oven to 350 degrees.
Grease and flour a Bundt pan.
Mix all of the ingredients for the cake in a stand mixer.
Pour batter into prepared Bundt pan.
Bake for an hour.
Right before cake is done baking, make the glaze. Mix melted butter, sugar and wine until combined.
Remove cake from the oven when done and pour glaze over the cake.
Let cool completely.
Flip cake from pan onto a cake plate and enjoy.
http://makingmemorieswithyourkids.com/2014/03/crack-cake/
We're linking to the parties found HERE.