Do they look like hot dogs?  Of course they do.  But are they?  Well, sort of.  They're hot dogs, but not the kind you eat for lunch.  You eat these hot dogs for dessert!
I found the recipe for these over on The Seven Year Cottage.  I changed it up just a little bit.  They used Tootsie Rolls for the "hot dogs" but I decided I wanted to use brownies instead.  Brownies aren't really the color of hot dogs but you can't really see them with all the "condiments" on top.  Afterwards I decided using red velvet brownies instead would be perfect.
What do you think?  Were you fooled?  Did you think these were real hot dogs?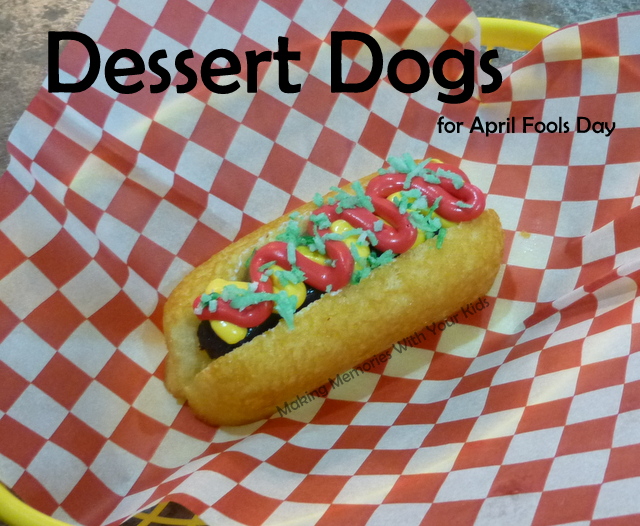 Hot Dogs for Dessert for April Fools Day
Ingredients
Twinkies
Brownies (we made up a batch of the boxed brownies)
Buttercream frosting
Red, yellow and green food coloring
Shredded coconut
Instructions
To make the hot dog buns, remove Twinkies from packaging. Using a serrated bread knife, carefully slice the center of each cake as far down as possible without cutting through the bottom.
For the hot dogs, squish some of the brownies together to make a "log" or hot dog shape. Place inside the bun.
For the condiments, divide the frosting evenly in two mixing bowls. With food coloring, tint one bowl yellow for mustard, the other red for ketchup. Transfer each color of frosting into its own ziplock bag. Seal and snip a small amount from one corner of bag.
The relish is coconut colored green. You can chop the coconut up in a food processor to make it smaller.
Now assemble your dogs. Drizzle some "mustard" and "ketchup" over your hot dogs. Sprinkle on some "relish".
Now serve and enjoy!
http://makingmemorieswithyourkids.com/2014/03/dessert-dogs-fun-food-for-april-fools-day/
I love how they turned out!  And the best part?  They were delicious!!!
Love it!
TO see more of our April Fools Day Fun Food, go HERE.
We're linking to the parties located HERE.