It was all about mustaches in our house earlier this month.  My daughter wanted a mustache party for her 9th birthday party and who am I to say no.  (She was torn between a mustache party and a hamster party.  Ummmm…. hamster?  Yeah.  So it was a no brainer that I steered her towards a mustache party.)  And I'm so glad I did.  It was so much fun!
We sent out the Mustache Birthday Party Invitations.
Now it's all about planning and preparing.  And how can you have a party with decorated sugar cookies?  They are my absolute favorite and who doesn't like sugar cookies.?  (Yeah, long story.  A girl that came to the party actually didn't like sugar cookies.  Or anything else I made.   Seriously!  Nothing!)  But let's leave her out of the equation for a minute.  Because, who else doesn't love sugar cookies?  I'm stinking with a loud "no one!"
I used my favorite sugar cookie and royal icing recipe (that I got from Sue over at Munchkin Munchies.)  It's the only one I use now.  We cut out mustaches with our Mustache Cookie Cutter
and then frosted them.  I'm still working on my frosting skills.  I have a long way to go, but I'm trying.  Practice makes perfect, right?
Ingredients
6 cups flour
3 tsp. baking powder
2 cups butter
2 cups sugar
2 eggs
2 tsp. vanilla extract
1 tsp. salt
Instructions
Preheat oven to 350 degrees.
Cream butter and sugar. Add eggs and vanilla. Mix dry ingredients and add to butter mixture.
Mix well. I never chill my dough because I'm too impatient, but it would be good to chill it for an hour or so.
Roll to desired thickness and cut into shapes.
Bake on ungreased cookie sheet for 8-10 minutes or just until beginning to turn brown around the edges.
Remove to a wire rack and cool completely.
http://makingmemorieswithyourkids.com/2014/03/mustache-sugar-cookies-mustache-birthday-party/
I made them thick so I could put a Cookie Sticks
in some of them.  I wish I had done this to all of them.  I think they turned out great.  Wrap them in a celophane bag , tie with a ribbon and they make a cute centerpiece for the tables.  (Or you can put them in the treat bags to send home with the kids.
The birthday girl liked them!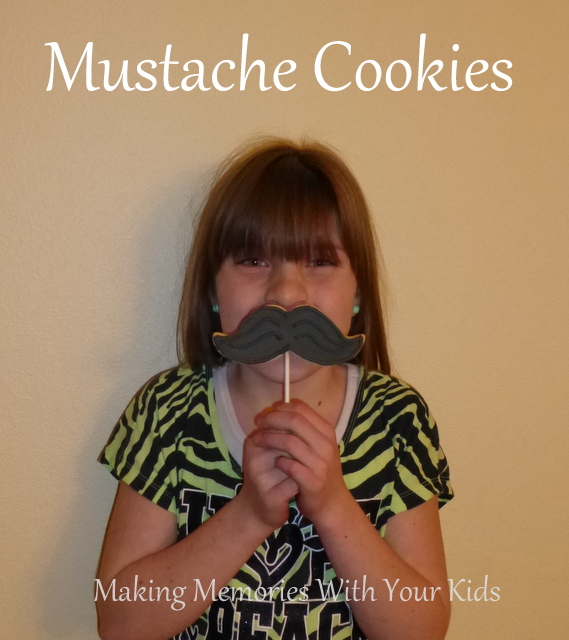 Wait 'til you see what else we made for the party.  It was so much fun.  Definitely a Mustache Extravaganza!
We're linking to the parties found HERE.