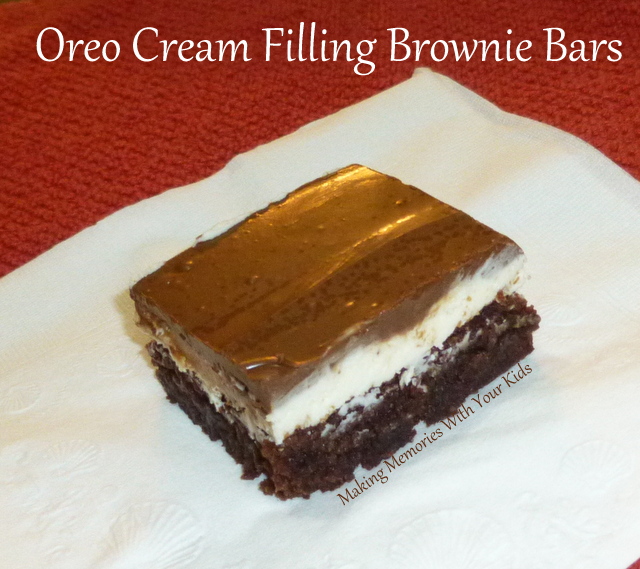 Note – this recipe isn't for an ordinary Oreo Brownie.  Oh, no.  They don't have "Oreos" in them at all.  So why are they called Oreo Cream Filling Brownies?  What's the best part of an Oreo?  It's the cream filling, right?  Well, this brownie has the Oreo cream filling on top of it.  Like a big, delicious layer of frosting.  Holy Oreo Cream Filling, right?!?!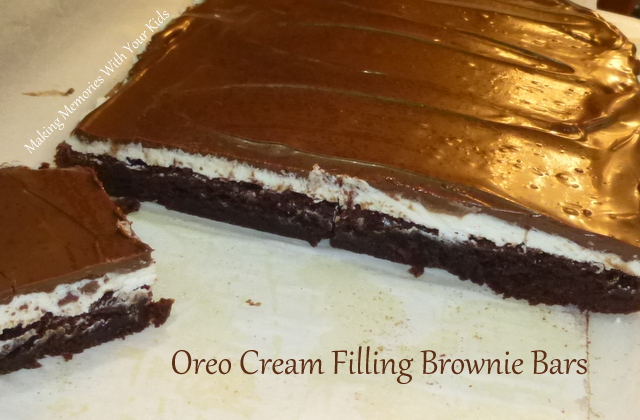 Ashton over at Something Swanky made this recipe in an 8×8 pan.  I changed it to a 9×13 because 1) who only wants an 8×8 pan of brownies and B) again, who only wants an 8×8 pan of brownies?!
It was hard not to cut right into these before the chocolate set up.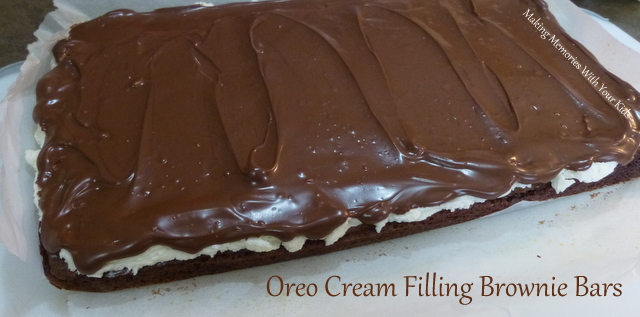 We all love Oreos but these brownies?  Delicious!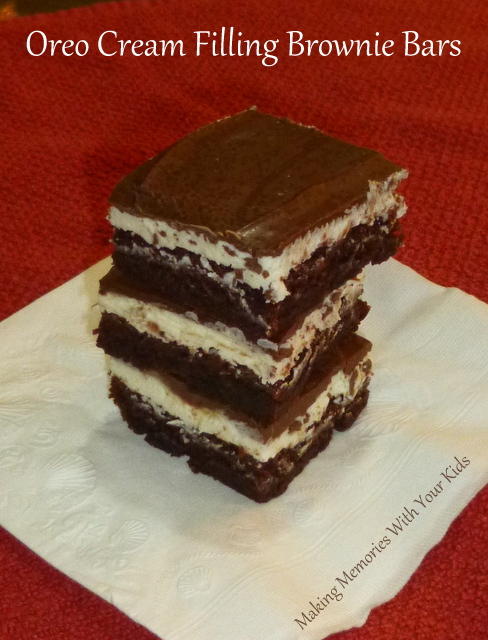 Ashton noted that you could substitute butter for the vegetable shortening but it won't end up tasting like the Oreo cream filling with butter.  So come on, live a little.  You don't have to eat the entire pan by yourself so use the vegetable shortening, you won't be sorry.
Oreo Cream Filling Brownie Bars
Ingredients
Box of fudge brownie mix or your favorite brownie recipe
Ingredients to make the brownies (eggs, oil, water)

For the Oreo Cream Filling

1/2 cup vegetable shortening
1/2 tsp. vanilla
1 tsp. sugar
3 1/2 cups powdered sugar
3 Tbsp. hot water

For the Chocolate Topping

1 1/2 cups milk chocolate chips
Instructions
Make the brownies according to the box (or your favorite recipe).
Let cool completely.
For the Oreo Cream Filling: Mix all of the ingredients in a stand mixer and mix for about 2 minutes.
Spread over the cooled brownies.
In a microwave safe bowl, melt the chocolate chips until smooth and creamy. Make sure you check it frequently and stir so you don't over cook the chocolate. It'll make it lumpy.
Spread over the Oreo Cream Filling layer and refrigerate until set.
Store in an air tight container (if they last that long.)
http://makingmemorieswithyourkids.com/2014/03/oreo-cream-filling-brownie-bars/
Definitely a keeper!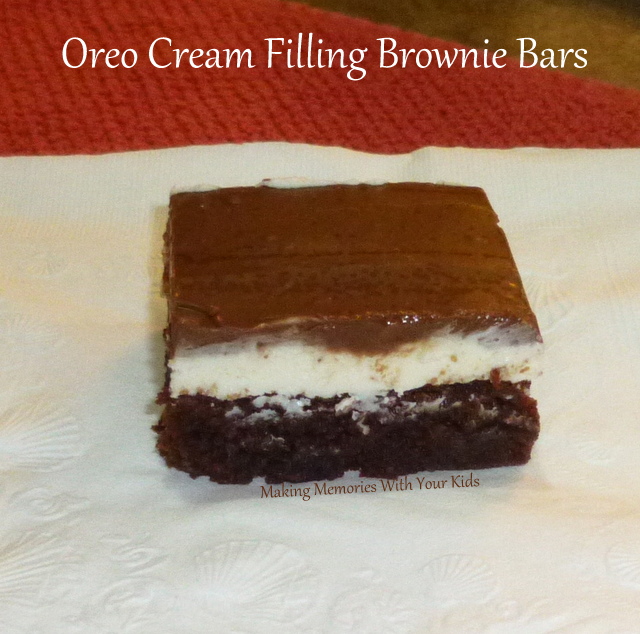 We're linking to the parties found HERE.