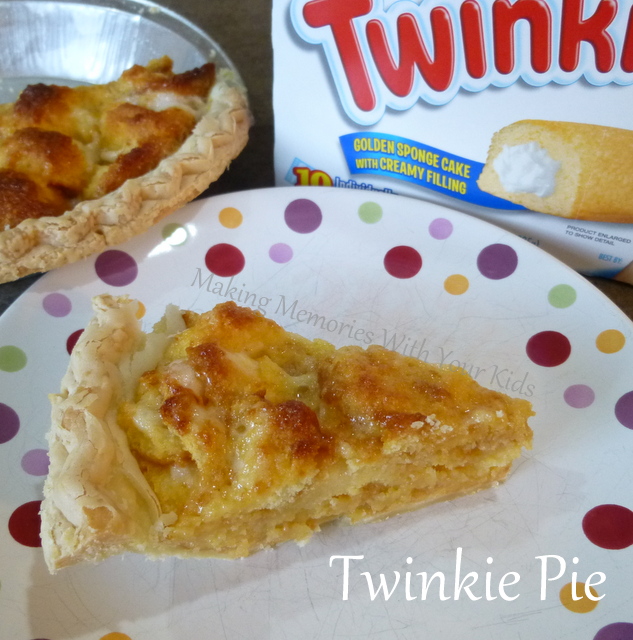 When Hostess said they were shutting their doors what was your reaction?  Did you care?  Were you like "what the heck?!  Hostess has been around forever.  They can't stop making them!"  I was totally the latter.  I love Hostess.  Not that I eat them that often.  But it's nice to know they're there, right?  You know, just in case I get a Twinkie craving and need one ASAP.
Then I saw the Twinkie Pie.  I wasn't quite sure what to think about this recipe.  I love Twinkies, but combined with the other ingredients?  I wasn't sold.  But…… of course I had to try it.  I mean seriously!  It's Twinkie Pie!
I didn't take a picture of it before I put it into the oven because, frankly, it didn't look very appetizing.  I still wasn't sold on the whole concept.  But, YOLO, right?  Right!
First of all, while it was baking it smelled delicious!  Yes, delicious!  Who knew!  And this is what came out of the oven.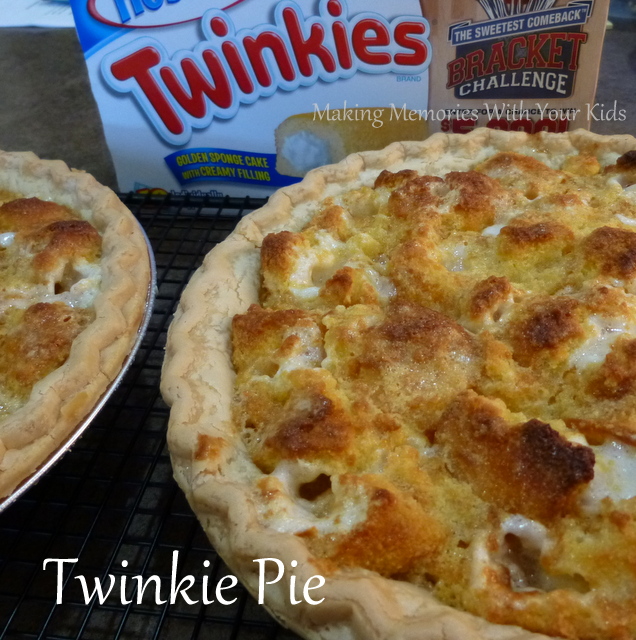 Way better than what it looked like before I cooked it.
So it cooled and cut into it.
My son's reaction?  "Holy cow, Mom.  This is the best dessert you've ever made!"  Yep, that's really what he said.  He loved it!  And I have to say, it was pretty dang good.  I mean seriously…. Twinkie Pie!  How could it not be delicious?!?!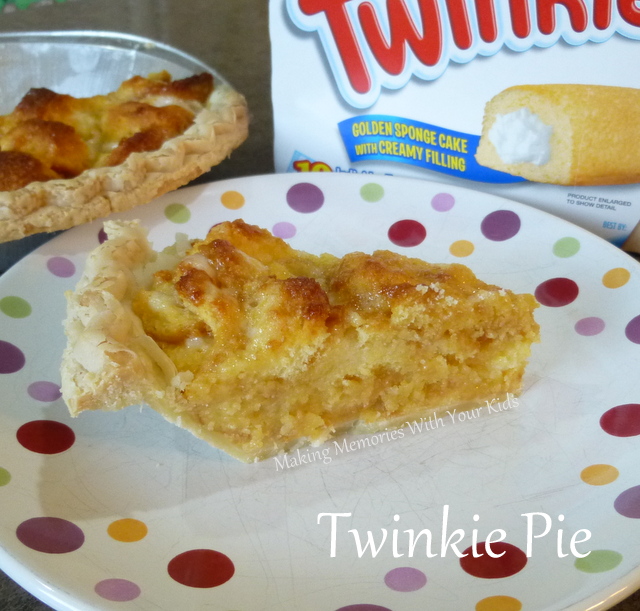 It definitely tastes like Twinkies.  And it's much better the next day (or even the next day.)  I think everything sits together and gets all….. well, I don't know what it does, but it tastes much better the next day.  Oh yeah, and refrigerate it.  It's awesome cold!
Thank you to Wine and Glue for this recipe.
Ingredients
1 box Twinkies (10 individual cakes)
3 eggs, beaten
1/4 cup sugar
1 stick butter, melted
1 tsp. vanilla
1 Tbsp. vinegar
Pie crust (either pre-made or homemade)
Instructions
Preheat oven to 350 degrees.
Mix the beaten eggs, melted butter, sugar, vanilla and vinegar in a large bowl.
Cut the Twinkies into about 6 pieces.
Gently fold into egg mixture.
Spoon into the pie shell and bake for 38 minutes or until the top and crust is golden brown.
Serve chilled with whipped cream (optional, of course.)
http://makingmemorieswithyourkids.com/2014/03/twinkie-pie/
 It was fun to hear people's reaction to this one.  Most everyone couldn't believe it had Twinkie's in it.  And most everyone loved it!  Of course my chocolate loving friend, Renee, said "maybe if you added a thick layer of chocolate on it, it would be better."   I love her!
Looking for something different?  Here it is!  Twinkie Pie.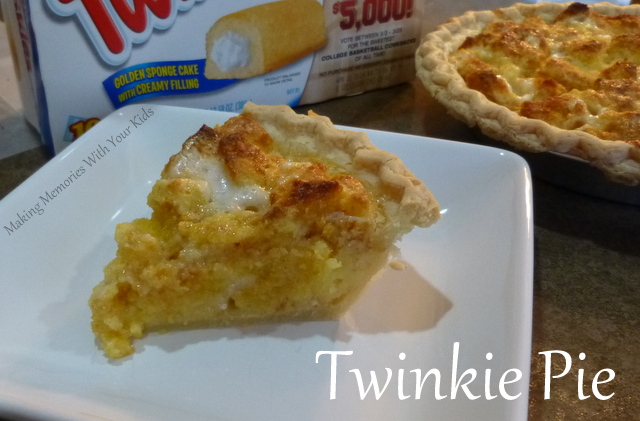 I'm linking to the parties found HERE.