I just love the Frappuccino bottles out there.  A co-worker drinks the drinks and brings the empties to me.  Perfect for me because I don't drink coffee (and even more perfect because I don't have to pay anything for them.)  Sweet!  And don't they make cute gifts?
We made these tags for Teacher Appreciation Week but I added a few non-teacher ones in there too.  So there's a co-worker, teacher and friend label.  You can download the free printable HERE.   This download is just teacher appreciation tags.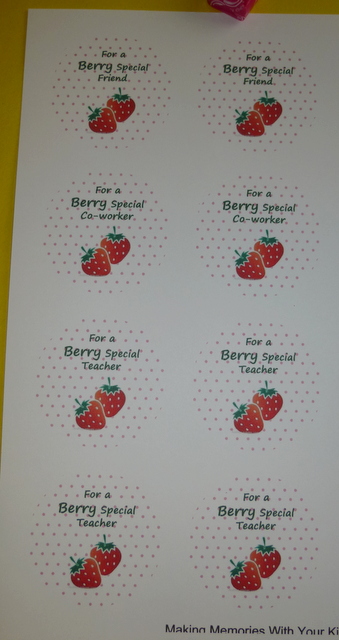 * Print out the tags on white cardstock.  Using a 2 inch circle cutter, cut out tags.  I layered ours with a scalloped edge black piece of cardstock.
* Cut out strips of cardstock in a berry pattern that are 2 inches tall and long enough to wrap around the bottle.  Layer another color of cardstock under the patterned piece that is about 2 1/2 inches tall.  We used black.
* Cut circles out of your cardstock (larger black circle and a smaller patterned paper) and glue them to the lid.
* Using a ribbon, tie the tags to the bottles.
* Fill bottles with candy.
See how easy that is?  And aren't they cute?
Perfect for Teacher's Appreciation Week or any time.
If you're looking for other Teacher Appreciation Ideas, click HERE.
We're linking to the parties found HERE.