There's nothing that screams Spring time like pastel colors.  Am I right?  And these cookies just did it for me.  They are so colorful and, dare I say, fun?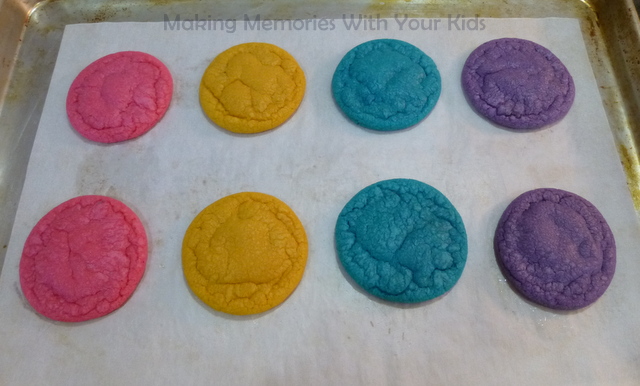 You can make them any colors that you would like.  These colors are perfect for Easter or Spring.
I found these cookies pinned on Pinterest but the site that it took me to?  I couldn't find this recipe anywhere on it.  Argh.  But it said it came from Melissa's Recipe Box so I'm going to credit them unless someone wants to tell me where the heck this recipe really is.
I found the sugar cookie recipe from BakingAway.  They looked delicious on her site and perfect for this cookie.
Ingredients
2 3/4 cups flour
1 tsp. baking soda
1/2 tsp. baking powder
1/2 tsp. salt
1 cup butter, softened
1 1/2 cups sugar
1 egg
1 1/2 tsp. vanilla extract
Food coloring
Instructions
Preheat oven to 350 degrees. Line cookie sheets with parchment paper.
In a small bowl, stir together flour, baking soda, baking powder and salt. Set aside.
In a stand mixer, beat together the butter and sugar until smooth and very fluffy. Beat in egg and vanilla extract. Gradually blend in the dry ingredients.
Divide dough into different small bowls. (As many as you would like colors)
Add a few drops of food coloring to each bowl and mix thoroughly.
Roll rounded teaspoonfuls of dough into balls. Place on lined cookie sheets about 1 1/2 inches apart.
Bake 8 to 10 minutes in the preheated oven, or until lightly browned. Let stand on cookie sheet two minutes before removing to cool on wire racks.
When completely cooled, pipe butter cream frosting on one cookie bottom. Top with another cookie.
Enjoy!
http://makingmemorieswithyourkids.com/2014/04/buttercream-filled-cookie-sandwiches-spring/
You can either use a sore bought buttercream frosting or use the recipe below (found on Martha Stewart.)
Ingredients
6 sticks unsalted butter, softened
9 cups confectioners' sugar
1 1/2 tsp. pure vanilla extract
Instructions
Beat butter and 3 cups sugar with a mixer on medium speed until combined. Reduce speed to medium-low, and continue to beat, gradually adding remaining 6 cups sugar, 1 cup at a time. Raise speed to medium-high; add vanilla. Beat until pale and fluffy, about 3 minutes more.
http://makingmemorieswithyourkids.com/2014/04/buttercream-filled-cookie-sandwiches-spring/
 Don't you just love them?!
I'm linking to the parties found HERE.