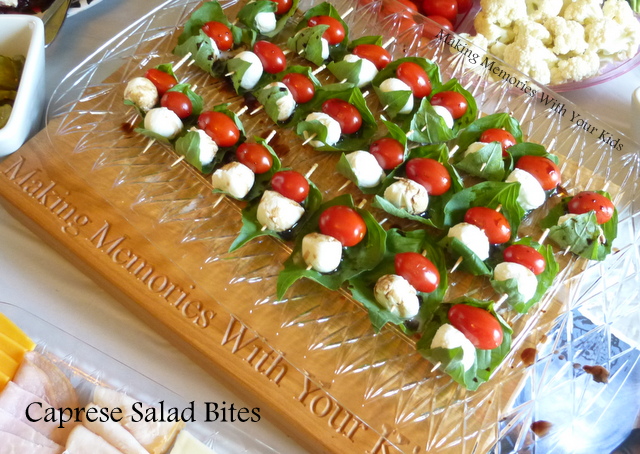 I know!  Don't feint.  I have a post that isn't a dessert recipe.  It doesn't happen too often, but when it does, it's a good one.  Because typically I just think "who cares about this recipe?"  But this one is definitely a keeper.  It was perfect at the staff get together I hosted and everyone loved these.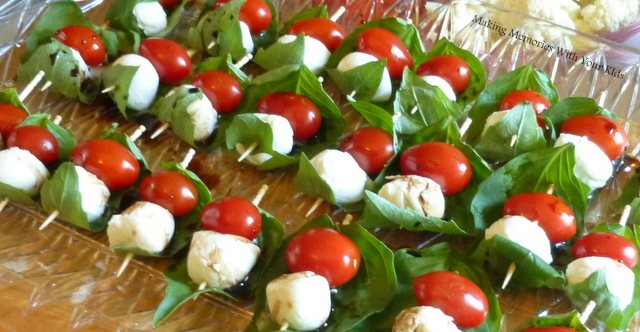 Ingredients
Cherry Tomatoes
Mozzarella "pearls"
Fresh basil leaves
Extra Virgin Olive Oil
Balsamic Vinegar
Toothpicks
Instructions
In the inside of one of the basil leaves, add a cherry tomato and a mozzarella "pearl" (which is just a small ball shaped mozzarella piece. If you can't find these, cut into chunks.)
Skewer them with a toothpick, making sure you get the basil leaf on both ends to hold it in place.
When ready to serve, drizzle with olive oil and balsamic vinegar.
Enjoy!
http://makingmemorieswithyourkids.com/2014/04/caprese-salad-bites/
We're linking to the parties found HERE.