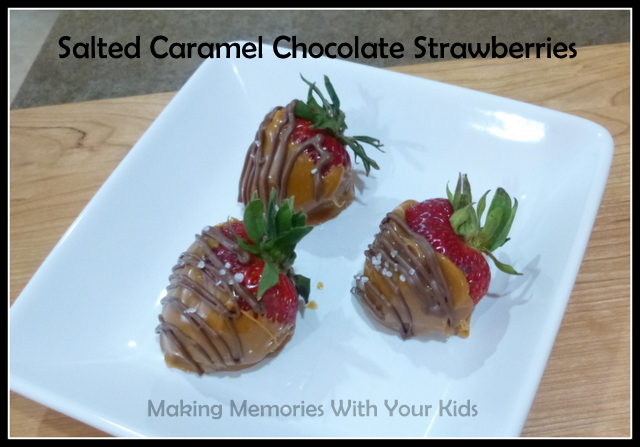 It's that time again, Secret Recipe Club time.  I received my assignment this month and was super pleased to have gotten Debbi, our group leader's blog, Debbi Does Dinner: Healthy & Low Calorie.  I've been a follower of Debbi's blog for quite awhile (even before she was involved with the SRC.)  So yeah!
Debbi has an amazing variety of delicious foods on her blog.  So many entrée recipes and delicious side dishes and it's absolutely amazing how healthy = delicious on her blog.  But, being who I am, I immediately gravitate towards the desserts.  It's pathetic really.  But, what do you do.
The Homemade Mounds Bars caught my eye (of course.)  They looked wonderful and perfect for Easter.  But then I saw her S'more Cookie Bars and decided that was what I was going to make.  (Can you believe I've never made those before?)  But as soon as I saw the Salted Caramel Chocolate Strawberries?  I knew that was it.
These were perfect!  I am completely in love with salted caramel anything!  And add chocolate to it?  It's a trifecta of awesomeness!
These were just the thing for a happy hour/fundraising party I was co-hosting.  A co-worker and I combined forces to put on quite a spread to help raise money for a volunteer trip my kids and I are going on next June.  We're traveling to Peru for 6 weeks to volunteer down there.  I'm so dang excited I can hardly contain in.  This was our first big fundraising effort (a happy hour) and it was a great success.
Okay, back to these bad boys….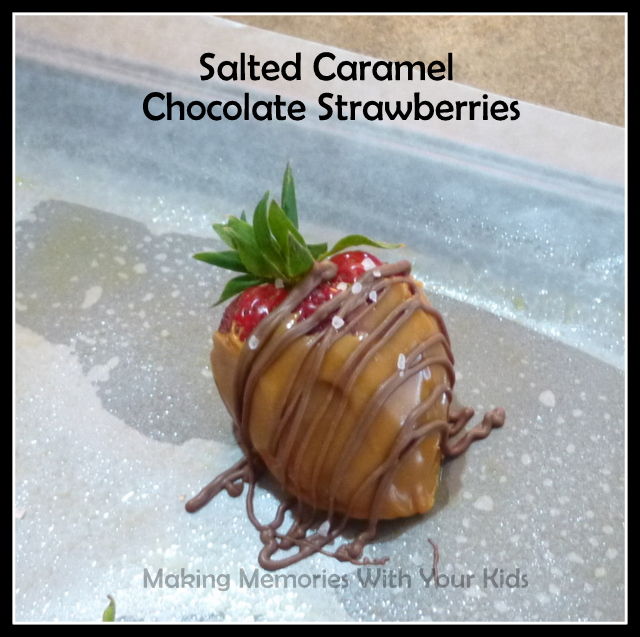 I have to admit, my first attempt didn't go so well.  See?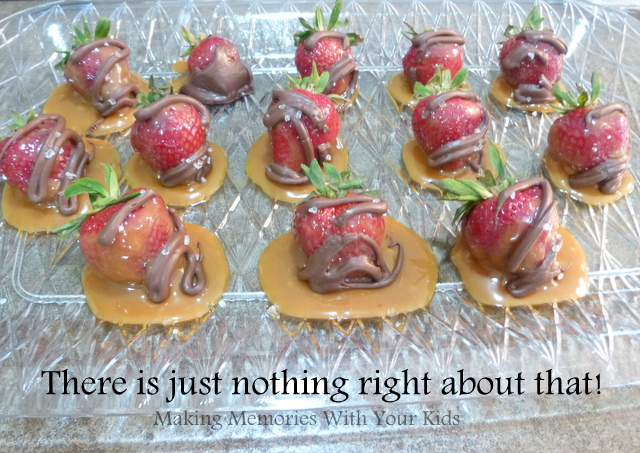 I think I added too much whipping cream in with the caramels because it just slid right off the berries.  Not so good.  (Although when I came home the plate was empty and I had one very happy daughter and one very happy babysitter sitting on the couch, licking their fingers.)
But the second try (with less cream)?  Excellent!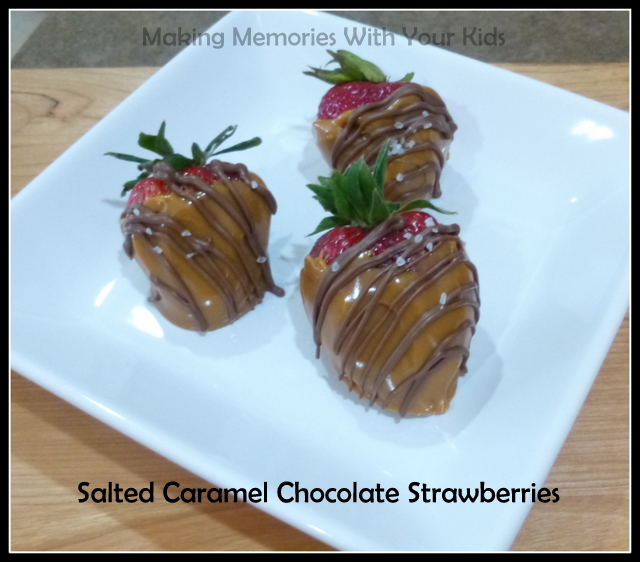 Salted Caramel Chocolate Strawberries
Ingredients
20-25 large strawberries
40 caramels, unwrappped
3 Tbsp. whipping cream
1/4 tsp. salt
1/2 cups chocolate chips
Sea salt
Instructions
Line cookie sheets with waxed paper and spray with cooking spray.
Rinse strawberries. Pat them completely dry with paper towels (the caramel will not stick to damp strawberries).
Microwave caramels, cream, and salt in a microwave-safe bowl at 50% power for 3 1/2 minutes or until smooth, stirring every minute.
Dip strawberries halfway into caramel mixture. Place on prepared wax paper.
Place chocolate chips in to a zip-loc bag. Microwave for thirty seconds. Take bag from microwave and use fingers to knead chips. Repeat until chocolate is melted. Cut a small piece off the corner of the bag and drizzle chocolate over strawberries.
Sprinkle lightly with sea salt, if desired.
Let stand for about ten to fifteen minutes or until set. Serve immediately or cover and chill.
http://makingmemorieswithyourkids.com/2014/04/salted-caramel-chocolate-strawberries/
We're linking to the parties found HERE.