I started doing a Dessert Auction with some friends and co-workers last month to raise money.  Not to buy groceries (ha!)  My kids and I are planning a volunteer trip to Peru next summer.  We're going to go for 6 weeks and work in one of the orphanages there.  I can hardly contain my excitement!  So… to raise money, we're doing a dessert auction.  
The winning bidder for April's auction picked out these Chocolate Chip Cookie Dough Cheesecake Bars for her dessert.   (I give them 4 choices and the winner gets to pick what they want.)  Cool, right?  I kind of thought so.  It's no where near the money maker I had hoped it would be.  But… it's a start.  Every penny counts, right?  So we're now $35 closer to our Peru adventure.
These cookie bars did not disappoint!  They looked amazing and tasted even better!
They are absolutely perfect just like this!
But if you want to add another layer of WOW to them, drizzle some melted chocolate over the top.
I found this recipe over on Chocolate, Chocolate and More.
Chocolate Chip Cookie Dough Cheesecake Bars
Ingredients
For the Crust

1 1/2 cups cookie crumbs (I used 1/2 graham cracker crumbs and 1/2 shortbread cookie crumbs)
6 tablespoons butter, melted
3/4 cup mini chocolate chips

For the Cheesecake Filling

8 ounces cream cheese, softened
1/4 cup sugar
1 egg
1 teaspoon vanilla

For the Cookie Dough Layer

5 tablespoons butter, at room temperature
1/4 cup brown sugar
1/4 cup sugar
1 teaspoon vanilla
1/8 teaspoon salt (just a pinch)
3/4 cup all purpose flour
1 cup regular sized chocolate chips or mini chips
Candy melts or chocolate chips (for drizzle)
Instructions
Preheat oven to 325 degrees, line a square 8x8 or 9x9 pan with parchment paper. Lightly spray with cooking spray.
For your crust, combine cookie crumbs and melted butter. Stir in chocolate chips. Press cookie mixture into bottom and up sides of prepared pan. Bake for 6 minutes. remove from oven and let cool.
Cream cream cheese, add in sugar, egg and vanilla, cream again till smooth. Spread cream cheese mixture over crust.
For your cookie dough topping, Cream butter, add in sugars, cream again. Add in vanilla, then salt and flour. The dough will be crumbly. Stir in chocolate chips. Crumble cookie dough mixture over cream cheese layer.
Bake in preheated oven for 25-30 minutes. Just until the edges of your crust start to turn golden and when you shake the pan, the cream cheese layer is firm, not woobly. Let cool completely before cutting.
For an extra layer of yummy, drizzle some melted chocolate chips across the top.
Store in the refrigerator for up to 3 days.
http://makingmemorieswithyourkids.com/2014/05/chocolate-chip-cookie-dough-cheesecake-bars/
 Absolutely mouth watering!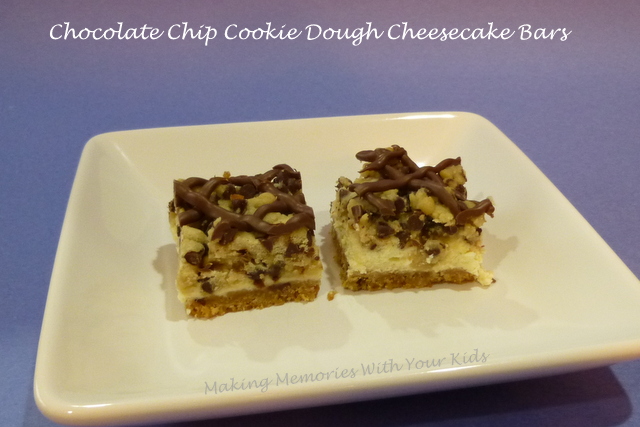 Are you interested in helping us in our volunteer adventure to Peru?  We sure could use your help!  You can make a tax-deductible donation HERE.
We're linking to the parties found HERE.