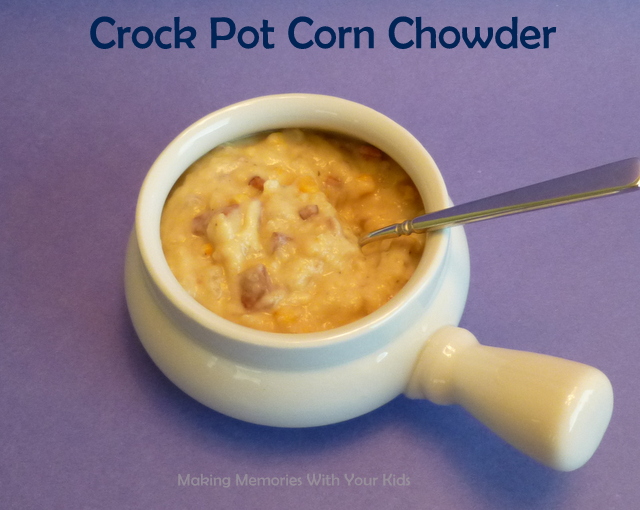 Sometimes I just want something that is warm and delicious and pure comfort food.  And with the weather here in the Northwest being so unpredictable, this was perfect.  We seem to go from 80 degree days to 50 and rain in the blink of an eye.  And rain = soup in my book.
This Corn Chowder was so easy to make and so delicious!  And I love that it's made in my crock pot.  When I came home from work my house smelled wonderful.
Thank you to The Crockin' Girls for this recipe.
Ingredients
6-8 potatoes (peeled and diced)
1 Can cream corn
1 Can whole kernel corn
2 Cups chicken broth
8 Ounces diced ham
1 Cups diced onions (I used Walla Wall sweet)
1/4 Cups butter
2 Cups half and half
Instructions
Place potatoes, both cans of corn, chicken broth, ham, and onions into the slow cooker.
Cook on low for 7-8 hours.
Mash the mixture to your desired consistency and then add the butter and half and half. Cook for another 30 minutes on high.
Enjoy!
http://makingmemorieswithyourkids.com/2014/05/crock-pot-corn-chowder/
We're linking to the parties found HERE.