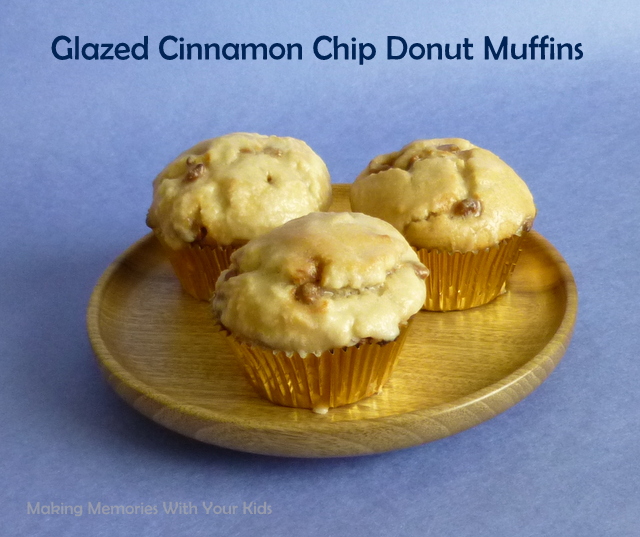 We were in the mood for muffins the other day and I remembered seeing these on Pinterest some time ago.  They looked sinfully delicious, so, of course, we had to make them.  I did make one change and that was I added Hershey's Cinnamon Chips.  (We love, love, love them!)
The muffins were light and fluffy and the taste of cinnamon inside was to die for.  Next time I make these (and there will definitely be a next time!) I will add some cinnamon to the frosting as well.
Didn't they rise perfectly?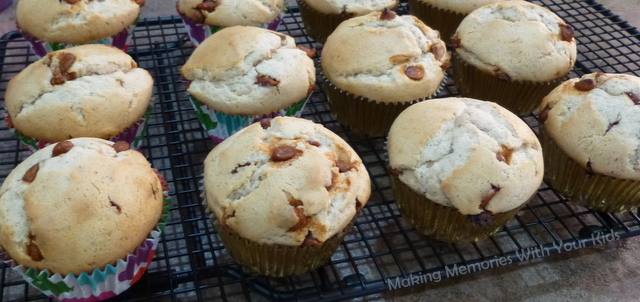 They looked pretty good just like that, but then dipping them in the frosting just kicked them over the top.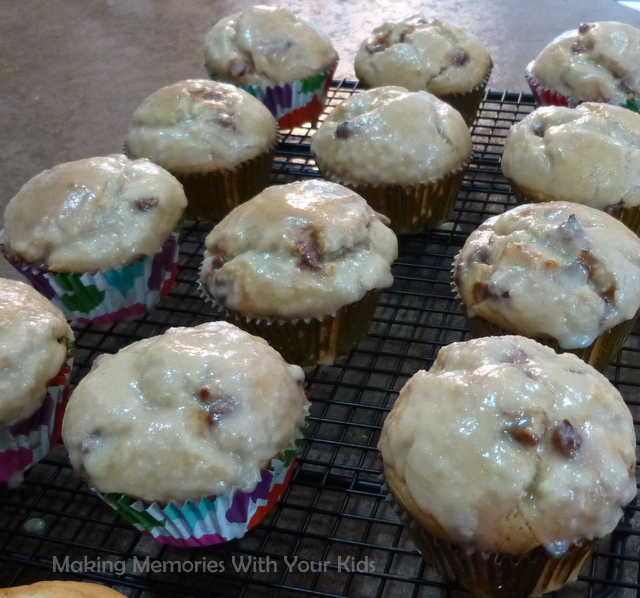 Do you see the cinnamon and nutmeg and cinnamon chips in there?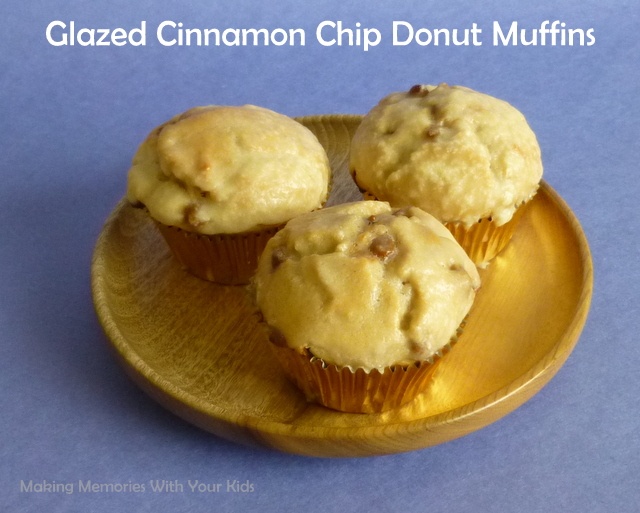 I'm not sure if my muffin pan is smaller than the "normal" one but this recipe made more than 12 for me.  It made 15.
Thank you to Brandy's Baking for this delicious recipe!
Glazed Cinnamon Chip Donut Muffins
Ingredients
For the Muffins

1/4 cup butter, softened
1/4 cup vegetable oil
1/2 cup sugar
1/3 cup brown sugar
2 large eggs
1 1/2 teaspoons baking powder
1/4 teaspoon baking soda
1 teaspoons ground nutmeg
1 teaspoon cinnamon
3/4 teaspoon salt
1 teaspoon vanilla extract
2 2/3 cups all-purpose flour
1 cup whole milk
1 cup Hershey Cinnamon Baking Chips (optional)

For the Glaze

3 tablespoons butter; melted
1 cup confectioners' sugar; sifted
3/4 teaspoon vanilla
2 tablespoons hot water
Instructions
Preheat the oven to 425°F. Line a standard size muffin tin with (12) paper liners.
In a medium-sized mixing bowl, cream together the butter, vegetable oil, and sugars till smooth.
Add the eggs, beating to combine.
Stir in the baking powder, baking soda, nutmeg, cinnamon, salt, and vanilla.
Stir the flour into the butter mixture alternately with the milk, beginning and ending with the flour and making sure everything is thoroughly combined.
Spoon the batter evenly into the prepared pan, filling the cups nearly full.
Bake the muffins for 15 to 17 minutes, or until they're a pale golden brown and a toothpick inserted into the middle of one of the center muffins comes out clean.
In a medium bowl, prepare the glaze by mixing together the melted butter, confectioners' sugar, vanilla and water. Whisk until smooth.
When muffins have cooled slightly, dip the muffin crown into the glaze and allow the glaze to harden.
Serve warm. Muffins will keep at room temperature for about a day.
http://makingmemorieswithyourkids.com/2014/05/glazed-cinnamon-chip-donut-muffins/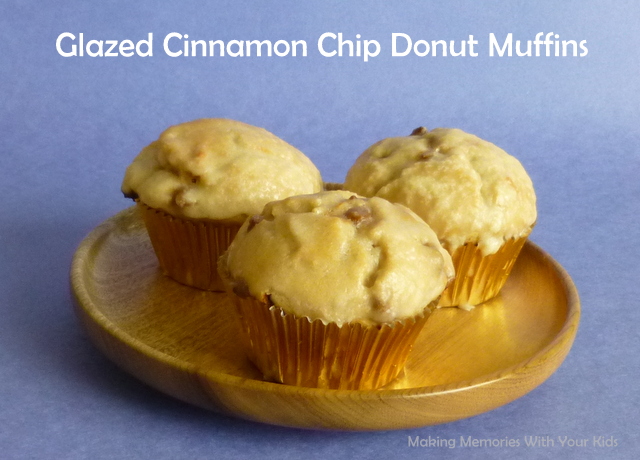 We're linking to the parties found HERE.