I'm not a huge breakfast food fan.  I'd much rather have a sandwich or some casserole than pancakes or things like that.  But when coffee cake is involved, I'm all for it.  Coffee cake has to be right up there with donuts for me.  Love it!  And this did not disappoint my sweet breakfast tooth.  I loved the layer of cream cheese and then the raspberry jelly and then, as if that wasn't good enough?  A crumb topping.  Yep.  Delicious!  And it wasn't too sweet, like a sweet roll.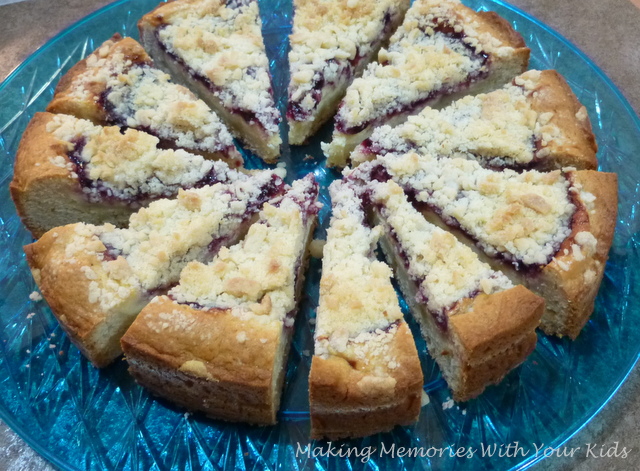 I have an abundance of homemade raspberry jelly in my house, (yum) so that's what we used.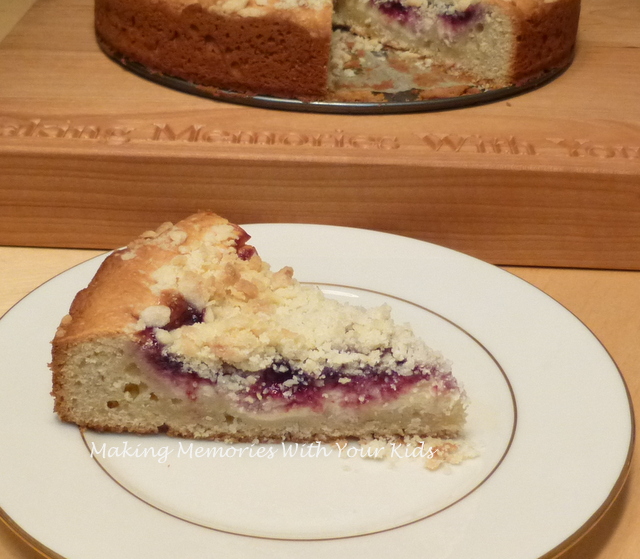 Recipe found on Allrecipes.com
Marionberry Cream Cheese Coffee Cake
Ingredients
For the Coffee Cake Layer

2 1/4 cups all-purpose flour
3/4 cup white sugar
3/4 cup unsalted butter, cut into 1-inch pieces
1/2 teaspoon baking soda
1/2 teaspoon baking powder
1/4 teaspoon salt
3/4 cup sour cream
1 teaspoon almond extract
1 egg

For the Cream Cheese Layer

1 (8 ounce) package cream cheese, softened
1/4 cup white sugar
1 egg

Jelly Layer

1/2 cup raspberry preserves (we used raspberry Jelly)
Instructions
Preheat oven to 350 degrees F (175 degrees C). Grease and flour a 9-inch spring-form pan.
Combine flour, 3/4 cup sugar, and butter in a food processor; pulse until mixture resembles coarse crumbs. Remove 1 cup of mixture from food processor and set aside. To remaining mixture in processor add baking soda, baking powder, salt, sour cream, almond extract, and 1 egg; process until batter is just combined and smooth. Spread batter evenly into bottom and 2 inches up sides of prepared pan.
Beat cream cheese, 1/4 cup sugar, and 1 egg together in a bowl until smooth; pour into batter-lined pan and spread evenly. Spread raspberry preserves carefully over cheese filling.
Stir reserved crumb mixture and sprinkle over the layer of raspberry preserves.
Bake in preheated oven until filling is set and crust is deep golden brown, 45 to 55 minutes. Cool 15 minutes before removing side of pan. Chill completely before serving, about 1 hour.
Enjoy!
http://makingmemorieswithyourkids.com/2014/05/raspberry-cream-cheese-coffee-cake/
We're linking to the parties found HERE.