One of the things my kids love to have in their lunch at school is the Little Debbie or Hostess mini muffins.  We buy them every once in awhile, for a treat (because they are so expensive.)  When I was looking through Anita's blog, Sugar, Spice and Spilled Milk awhile back I saw that her Grandson also loves those little muffins.  So Anita tried to recreate them (bless her!) and came up with this recipe. 
Because they have cream cheese in them, the consistency/texture isn't quite the same as a "regular" muffin, which makes these so different.  And my kids loved them!!!
I made 2 different batches.  One with the recipe from Anita, with mini chocolate chips.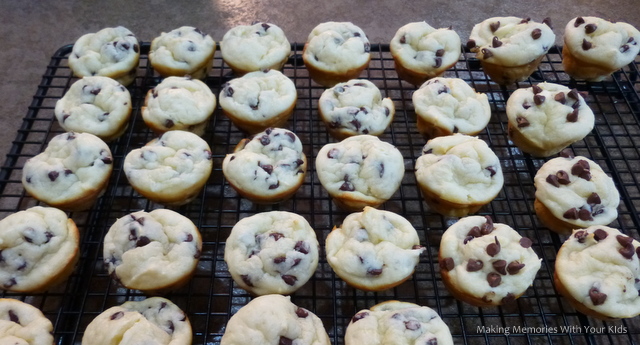 And one using cinnamon chips rather than chocolate chips.  My daughter isn't a huge fan of chocolate and loves, loves, loves these cinnamon chips!
Either way, they are delicious!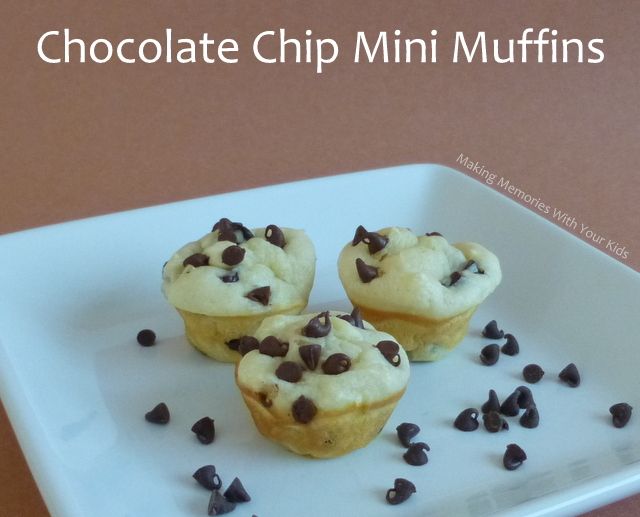 Chocolate Chip Mini Muffins
Ingredients
3/4 cup all purpose flour
1 1/2 teaspoons baking powder
1/4 teaspoon salt
1/2 package (4 ounces) cream cheese, softened
2 tablespoons butter, softened
1/4 cup granulated sugar
1 egg
1/4 cup sour cream
1/4 teaspoon vanilla extract
1/4 cup mini chocolate chips (or cinnamon chips)
Instructions
Preheat oven to 350 degrees.
Prepare a mini muffin pan by spraying with cooking spray.
In a small bowl, combine flour, baking powder, and salt.
In a large bowl, beat cream cheese with an electric mixer until smooth and creamy, about 3 minutes. Beat the butter into the cream cheese. Add the sugar, egg, sour cream, and vanilla; beat to combine. Stir the flour mixture into the cream cheese mixture just until combined. Gently blend in the chocolate chips.
Divide the batter evenly in prepared pan, filling each muffin cup 2/3 full.
Bake in preheated oven for 8 - 12 minutes, or until top of muffin springs back when touched. Remove from oven and cool 5 minutes in pan. Remove muffins from pan and place on a cooling rack.
Makes about 24 mini muffins.
http://makingmemorieswithyourkids.com/2014/06/chocolate-chip-mini-muffins/
 Can't find Hershey's Cinnamon Baking Chips where you are?  You can make your own.  Go here to find out how.
We're linking to the parties found HERE.