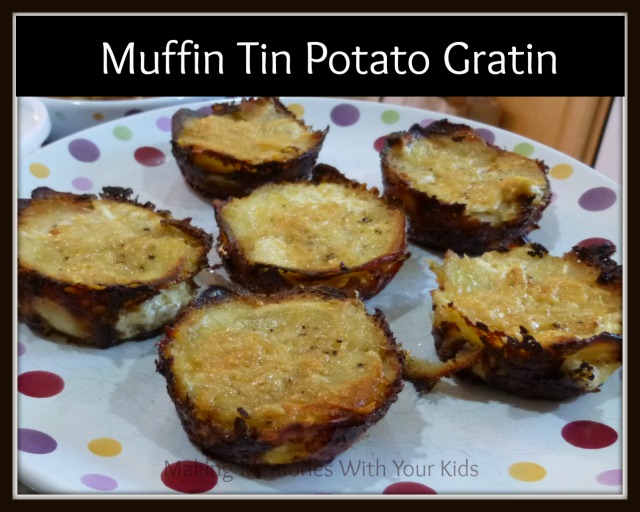 It's the 3rd Monday of the month again and you know what that means… it's Secret Recipe Club reveal day.  Whoo hoo.
This month I was assigned A Couple in the Kitchen.  Chris and Amy, husband and wife, are teachers by day and would-be chefs by night.  They wrote, "The couple that sautés together, stays together" so they spend a lot of their free time in the kitchen.
I had a hard time narrowing down what I wanted to make.  I always gravitate towards the desserts but this month I wanted a delicious side dish to serve for Father's Day.  Their Asian Dumplings looked amazing but I know I would have eaten the entire batch in one sitting.  I'm definitely going to make the Settler's Beans next fall.  They would be perfect when the weather gets cold and I want good, comfort food.
I decided to make the Muffin Tin Potato Gratin, because one, they sounded amazing, and two, my brother's girlfriend is gluten free and I wanted to make something that she could enjoy too.
These pictures don't even do these bad boys justice.  The cheese was a little over cooked but they were amazing!!!  The potatoes were soft and the cheese was deliciously gooey.  Perfect!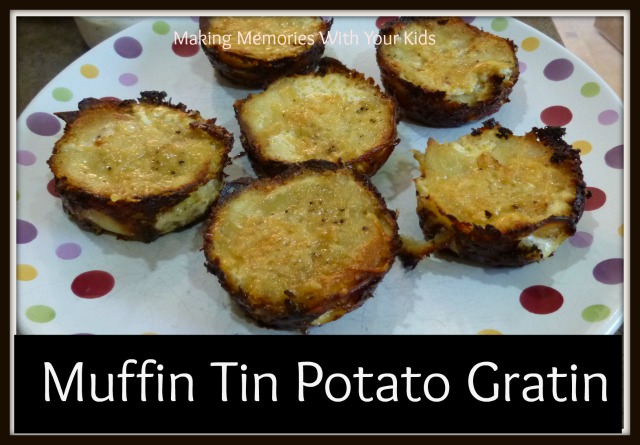 Ingredients
2 large russet potatoes, peeled and sliced thinly on a mandoline
2 teaspoons salt
2 teaspoons white pepper
6 ounces grated gruyere cheese
1 3/4 cups heavy cream
2 ounces grated parmesan cheese
Instructions
Preheat oven to 400 degrees.
Grease the cups of a 12-muffin muffin tin.
Layer each cup with slices of potato topped with salt, pepper and cheese. Continue to layer in this way until each muffin cup is full. Add two tablespoons of cream to each cup. Cover loosely with aluminum foil and bake for 20 minutes. Remove the foil and top each stack with the parmesan cheese, dividing evenly. Return to the oven and bake for an additional 20 minutes.
Allow to cool before removing from pan.
http://makingmemorieswithyourkids.com/2014/06/muffin-tin-potato-gratin/
We're linking to the linky parties found HERE.