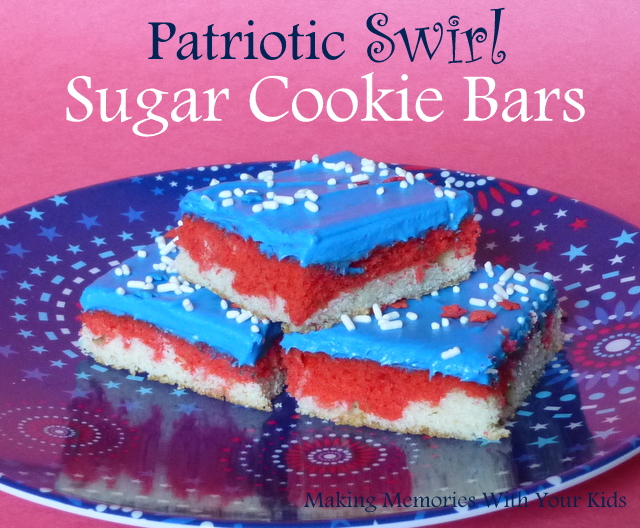 4th of July is right around the corner.  Do you celebrate?  BBQ?  Light off fireworks?  I'm not a huge 4th fan/celebrator.  We typically go to a friend's house and swim and light off fireworks, but it's not a red, white and blue celebration.  (Which is fine by me.)  It's low key and perfect.
But this year we have big plans.  We're heading to the Oregon Coast with the family to relax, kick back and eat some red, white and blue food.  And can you go wrong with Sugar Cookie Bars?  Heck no!  And don't these look so festive and fun?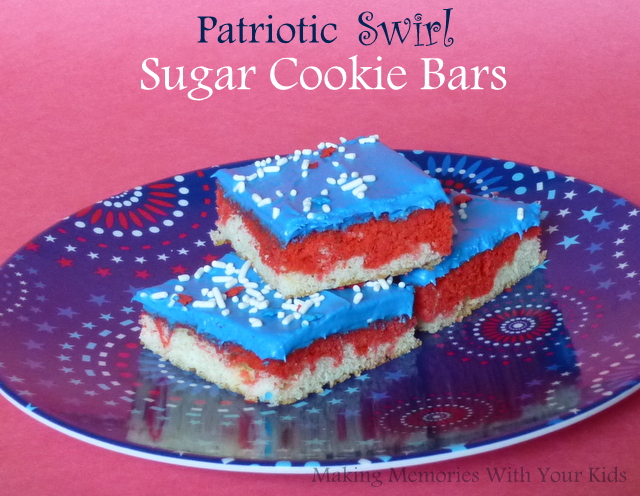 Yep, I love them.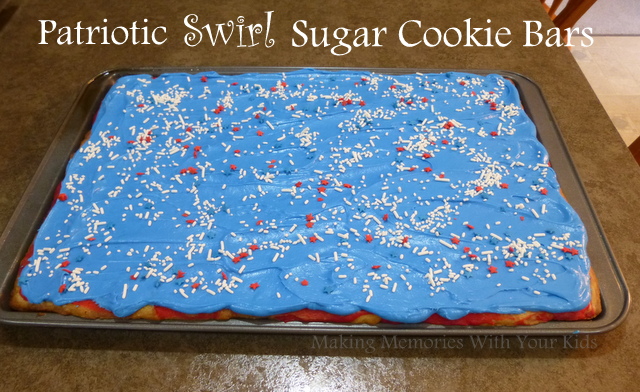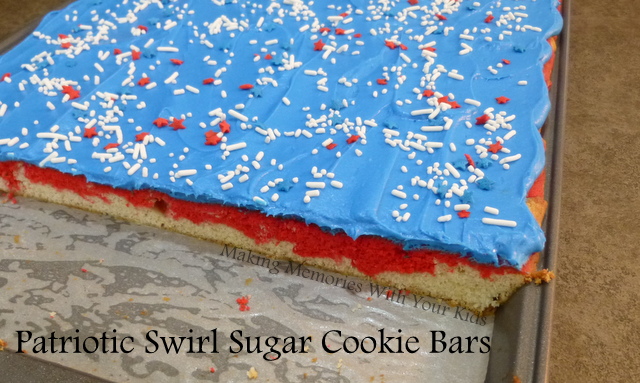 Perfect for a BBQ on the 4th.
Thank you to Julie's Eats & Treats for this recipe.
Patriotic Swirl Sugar Cookie Bars
Ingredients
For the bars

1 1/2 C. Sugar
1 C Butter, softened
8 oz cream cheese, softened
1 Egg
1/2 t. almond extract
1 t. vanilla
1 t. baking powder
1/2 t. baking soda
2 1/2 c. Flour
Red food coloring

For the frosting

1/4 c. butter, softened
2 oz. cream cheese, softened
2 c. powdered sugar
2-3 T Milk
1/2 t. vanilla
Blue food coloring
Patriotic Sprinkles
Instructions
Preheat oven to 350 degrees.
First beat the butter, cream cheese, sugar and egg until nice and frothy. This will take about 4 min.
Add vanilla and almond extract. Beat about 1 min.
Add flour, baking powder, and baking soda. Beat about 2 min. It will be light and fluffy. Separate half of the dough into a small bowl. Add red food coloring and mix well.
Alternate large spoonfuls of dough (i.e. red then white, then red) into greased jelly roll pan. Smooth out dough and run knife through it to swirl it. Bake for about 20-25 minutes. Cool completely.
Frosting – Combine butter and cream cheese. Beat about 2 min. Add the powdered sugar, milk, vanilla and food coloring. Mix 1-2 min until smooth. Spread over bars and sprinkle with sprinkles.
http://makingmemorieswithyourkids.com/2014/06/patriotic-swirl-sugar-cookie-bars/
We're linking to the parties found HERE.