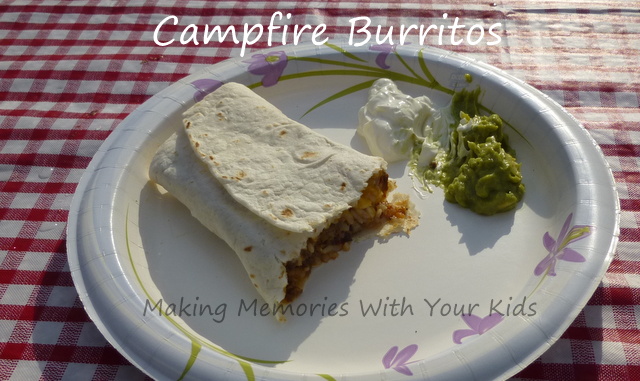 One of the things I've learned over the years is that camping can be a ton of work!  But there are a lot of things that you can do beforehand to make time out there with your family or friends more relaxing.  One of the things we do beforehand is lots of food prep.  I'm not one to want to make gourmet meals out there when we're camping.  It's a ton of work and the clean up is a nightmare.  I would much rather go hiking with my kids or poke the campfire than stand there and wash dishes while camping.
One of my favorite things to make ahead are Campfire Burritos.  They are so easy and so delicious!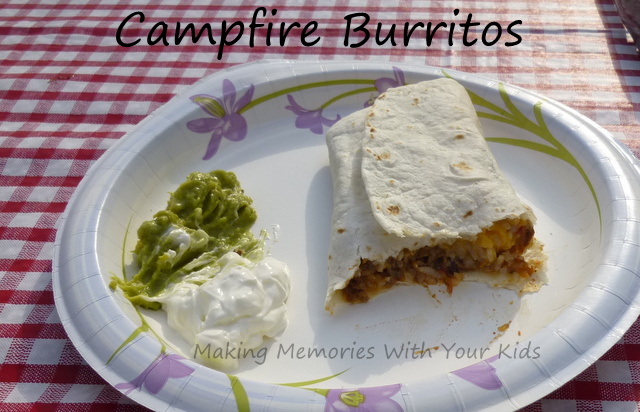 We make them before we go camping, wrap them in foil and place them in the freezer.  When it's time to cook them, here's what you do.  Take each foil wrapped burrito and wrap them in wet paper towels.  Make sure you don't leave this step out!  This is what keeps the burritos soft and not a crunchy brick.  Wrap the burritos again in more foil (making sure your sealing the edges.)  So you have burrito, foil, wet paper towels and more foil.)
We place ours on the grate on the campfire so they get warm but it's not direct heat (or else they'll burn).  Cooking time will vary depending on how thick your burritos are and how hot your fire is.  I would check them after 15 minutes and go from there.  And don't forget to turn them over to get them warmed up evenly.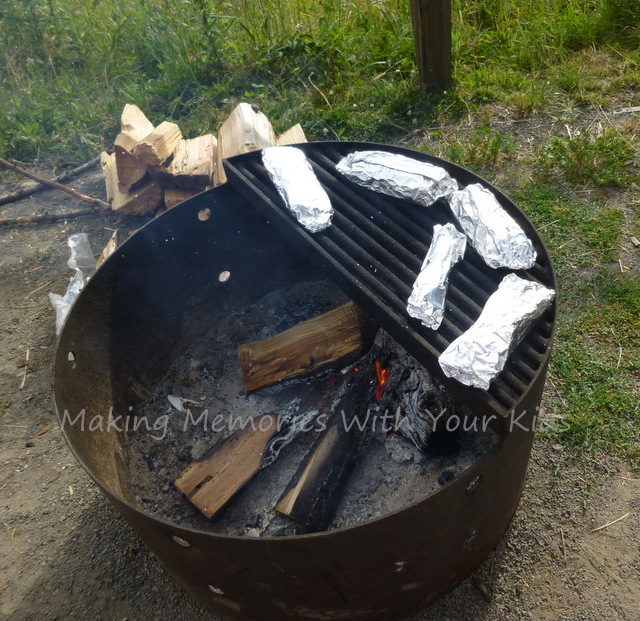 Carefully unwrap the burritos and serve with sour cream, guacamole and salsa and enjoy!
You can fill them with whatever you want.  We love meat, beans, rice, salsa and cheese.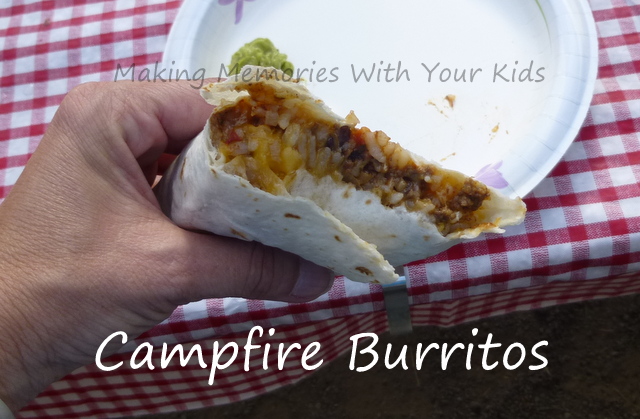 Ingredients
Tortillas (burrito size)
Hamburger or turkey burger
Taco seasoning
1 can black beans
2 cups cooked rice (any kind you want)
1/2 cup salsa
Shredded Cheddar cheese
Instructions
Cook your hamburger. Drain and add taco seasoning. Add beans and your cooked rice and stir. Mix in salsa.
Spoon mixture onto tortillas. Sprinkle with cheese and roll.
Wrap each burrito in foil and place in the freezer.
When ready to cook over the campfire, wrap burritos wrapped in foil in wet paper towels. Wrap again with foil and seal edges.
Cook over the campfire until warm.
http://makingmemorieswithyourkids.com/2014/07/campfire-burritos/
Now, sit back and enjoy!