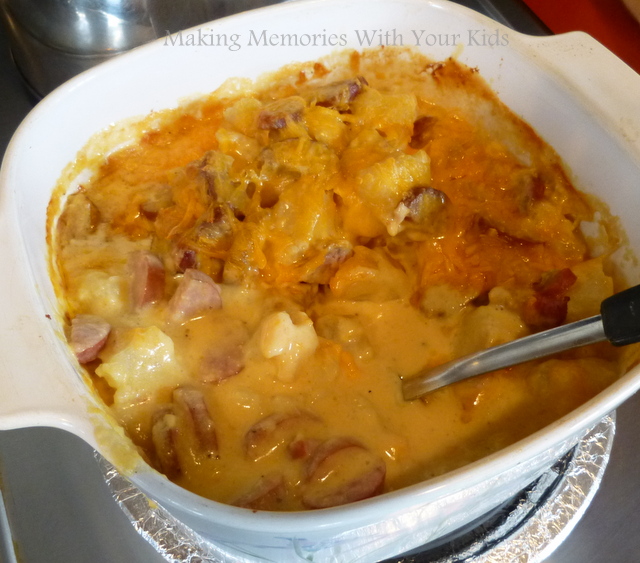 (Sorry for my pictures on this one!)
This another recipe that I took to the beach for our family vacation.  I made it before we left so I could just put it in the oven for dinner and wouldn't have to do any prep work.  It was a perfect recipe for that!  And it was goooood!  Cheesy, potatoes and the smoked sausage added a great taste to it.  I could seriously eat a dish like this everyday.  Serious comfort food!
Pretty good so far, right?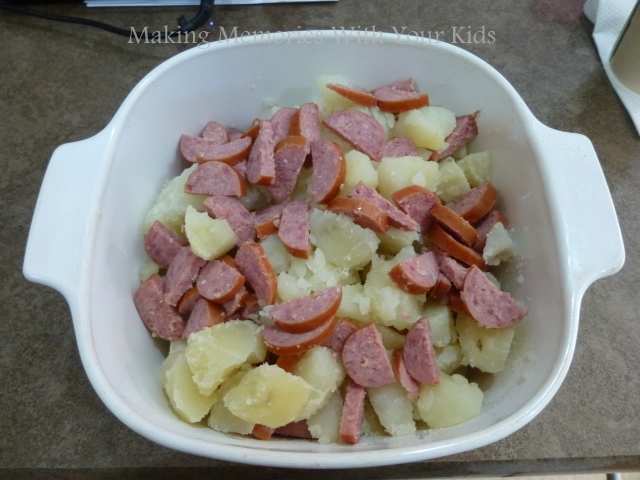 Then add the gooey cheese sauce and oh man!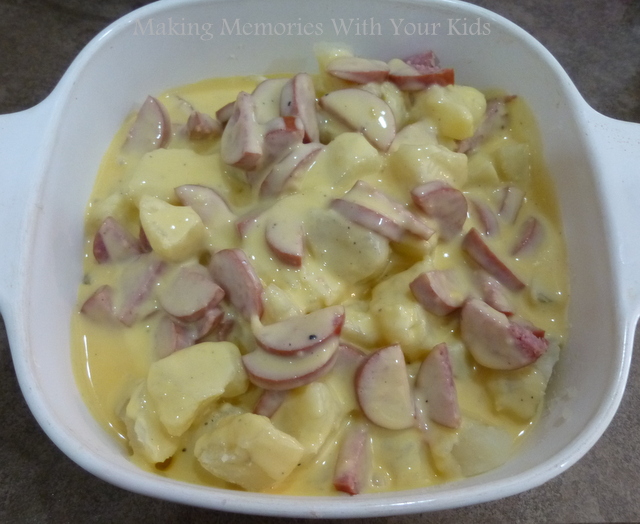 Topped with more cheese?  Yes, please!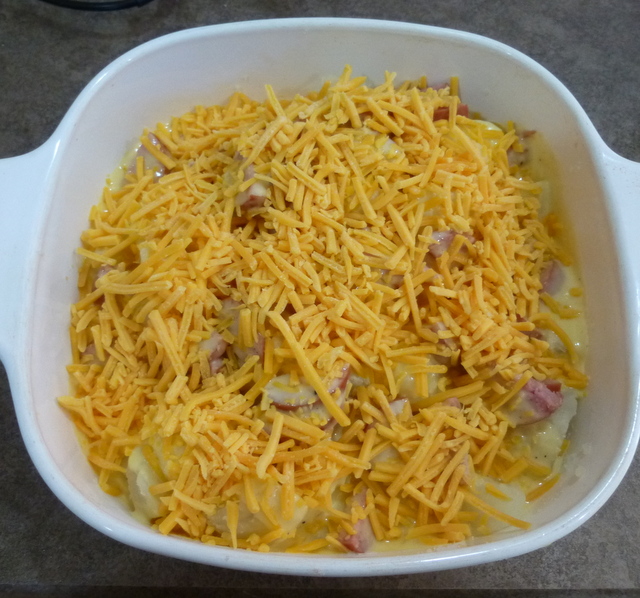 This is a terrible picture, I'm sorry about that.  We were at the beach and the lighting was horrible (and we were in a hurry to eat.)  But it was cheesy and wonderful!
Thank you to Food.com for this recipe.
Cheese, Potato and Smoked Sausage Casserole
Ingredients
3 cups potatoes, peeled, boiled and cut into cubes when cool, approx. 1 lb.
4 tablespoons butter
4 tablespoons flour
2 cups milk
1/2 teaspoon salt
1/4 teaspoon pepper
1/2 lb. Velveeta cheese, diced
1/2 cup sharp cheddar cheese, shredded
1 lb. Hillshire Farms Beef Smoked Sausage
1/8 teaspoon paprika
Instructions
Peel and boil potatoes. When soft, drain and cut into cubes.
Cut Beef Smoked Sausage into chunks.
Add potatoes and beef in a 2 qt. casserole dish and slightly toss to mix.
To make sauce: add butter to saucepan and melt. Add flour and stir until smooth. Add milk, salt, pepper and Velveeta cheese and heat over medium heat. Stir and cook until cheese is melted and sauce is smooth.
Pour over potatoes and meat.
Sprinkle cheddar cheese and paprika on top.
Bake in a 350 degree oven for 35 - 45 minutes until golden brown on top.
Enjoy!
http://makingmemorieswithyourkids.com/2014/07/cheese-potato-smoked-sausage-casserole/
We're linking to the parties found HERE.