It's Secret Recipe Club time again.  That means it's time to tell you about a new blog I found and what great recipe I made from it.  My blog assignment this month was BKLYN Locavore.  Melissa is a marketing professional by day and an avid foodie by night.  She believes in buying locally (which has always been something my family believes in as well) and prefers the Greenmarkets of New York City to do her shopping.
How could I not pick this Cheesy Broccoli Gratin recipe to make?  It looked to die for and perfect for what I was craving.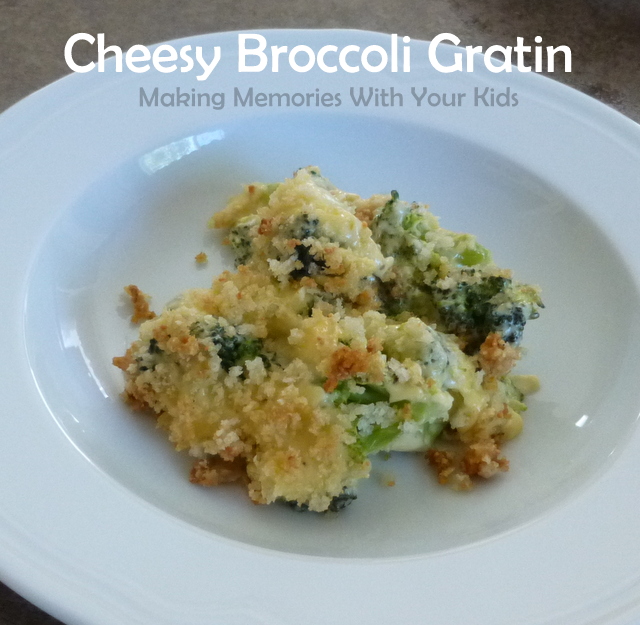 At first I was going to half the recipe because I knew I was going to eat it all myself.  At the last minute I changed my mind and went with the whole recipe.  Man oh man!  Next time I'm going to double the recipe!  It was delicious!
I'm not sure I've ever had Fontina cheese before.  What the heck.  I did the old "put some in the recipe, put some in my mouth" thing and I'm not hooked.  It's smooth and creamy (and melts perfectly.)
It starts out like this.  Delicious steamed broccoli.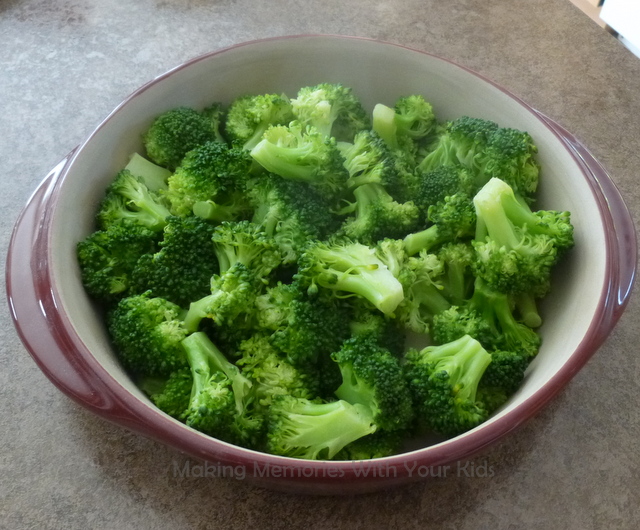 Add the creamy cheese sauce (yes, please.)
I'd take it just like that, but then top it with a Panko, parmesan cheese crust?  Mmmmmmmmm……
Delicious, right?  Then bake it and devour it!
I don't think it could have gotten any better than this!
Delicious!
Ingredients
2 large heads of broccoli, cut into small florets (about 4 cups)
2 tbsp butter, plus extra for greasing pan
2 tbsp flour
3/4 c milk
1/4 c cream
salt & pepper
1/2 tsp cayenne pepper (optional)
1/2 c each cheddar and fontina
1/2 c panko breadcrumbs
2 tbsp grated parmesan cheese
2 tbsp olive oil
Instructions
Preheat over 400°F.
Melt butter in a small saucepan over medium heat. Whisk in flour until smooth. Add milk, cream, salt, pepper and cayenne and continue whisking until mixture comes to a low boil. Reduce to a simmer and stir in cheddar and fontina until smooth. Remove from heat.
Meanwhile, bring a small saucepan with 1-inch of water to a boil. Affix steamer top and steam just until bright green, about 5 minutes. Remove from heat.
Grease a casserole dish. Add broccoli and fold in cheese sauce so all broccoli is well coated. In a small bowl, mix breadcrumbs, parmesan and olive oil. Sprinkle over broccoli mixture.
Bake on the middle rack of your oven for 15-20 minutes. Cheese sauce should be bubbling and breadcrumb mixture well toasted.
Remove from oven and let sit 5 minutes before serving.
http://makingmemorieswithyourkids.com/2014/07/cheesy-broccoli-gratin/