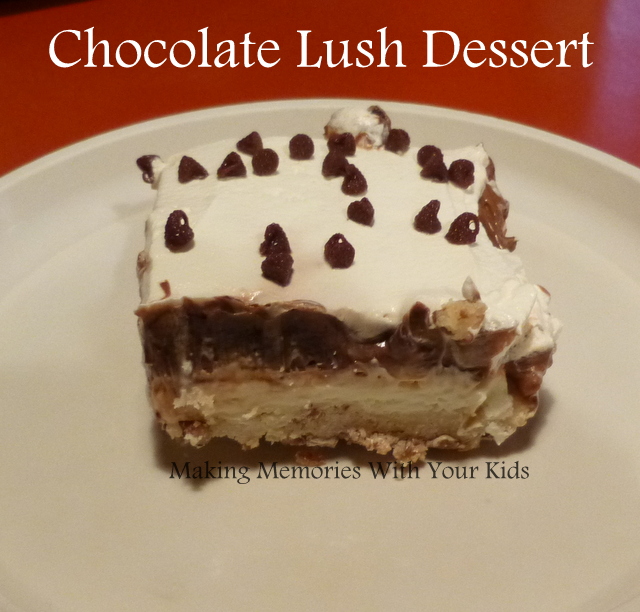 This is another dessert that I took to our family beach trip.  That's why the pictures aren't very good.  Sorry about that.  I made it quickly, then packed it in the cooler to take.  I almost forgot to take a picture while we were there.  Partly because we were having to much fun, and partly because it was so stinkin' delicious it was gobbled up so quickly.  Seriously!  It was amazing!
The crust tastes like a crumbly (in a good way) pecan cookie.  Then there's a layer cream cheese goodness, topped with chocolate pudding and topped off with more whipped cream and mini chocolate chips.  Holy heck!  Layer upon layer of heaven.  Definitely a dessert I will make again!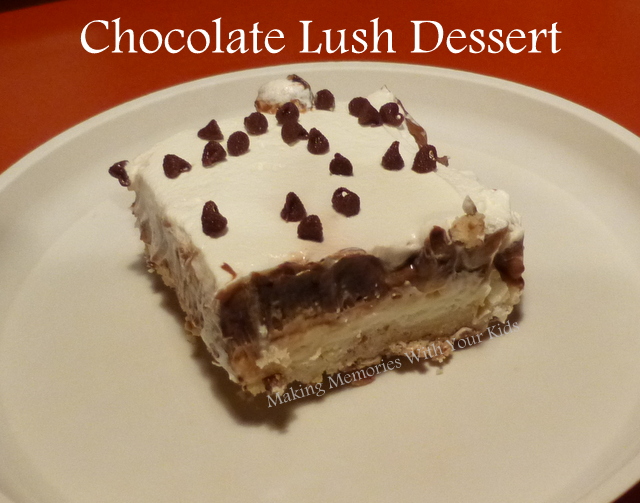 Thank you to Kitchen Meets Girl for this delicious recipe!  The only change I made was increasing the crust recipe by another half.  When I made it originally, it didn't cover the bottom of the pan.  The recipe below is for the increased amount.
Ingredients
1 1/2 cups flour
12 tablespoons 1 1/2 sticks) butter, melted
1/2 cup chopped pecans
8 ounces softened cream cheese
1 cup powdered sugar
1 (16-ounce) container Cool Whip, divided
2 packages (3.4 ounce each) instant chocolate pudding mix
3 cups milk
1 cup mini-chocolate chips (or chopped pecans), for topping
Instructions
Melt butter in a medium microwave safe bowl. Stir in 1 1/2 cups flour and 1/2 cup chopped pecans. Press the mixture into a 9x13 pan and bake at 350 F for 15 minutes, or until lightly golden brown. Allow to cool completely
Next, beat together 1 cup of powdered sugar, the cream cheese, and 1 cup of Cool Whip. Spread over your cooled crust.
For the next layer, mix together the pudding mix, milk, and another 1 cup of Cool Whip. Spread over the cream cheese layer.
Spread the remaining Cool Whip on top and sprinkle on mini-chocolate chips or nuts.
Keep refrigerated until ready to serve.
http://makingmemorieswithyourkids.com/2014/07/chocolate-lush-dessert/
We're linking to the parties found HERE.