Cheesecake is one of my all time favorite desserts.  We have a restaurant here, The Cheesecake Factory, that I love to go to for dessert.  They have a ton of different varieties of cheesecake.  So many that it's almost too hard to choose which one to order.  It's an indulgence I don't do too often, but when I do, I'm in heaven!
When I was looking through Pinterest for a delicious dessert recipe to make I saw this Cookies and Cream Cheesecake recipe.  Ummm… hello!!!  Yes, please!  Can you even go wrong with cheesecake AND Oreos?!?!  Heck no!
It was beyond delicious!!!  The crust?   Oreos, of course.  The cheesecake layer was creamy and amazing and packed with more Oreos.  Then top it off with a chocolate ganache and, yep, more Oreos.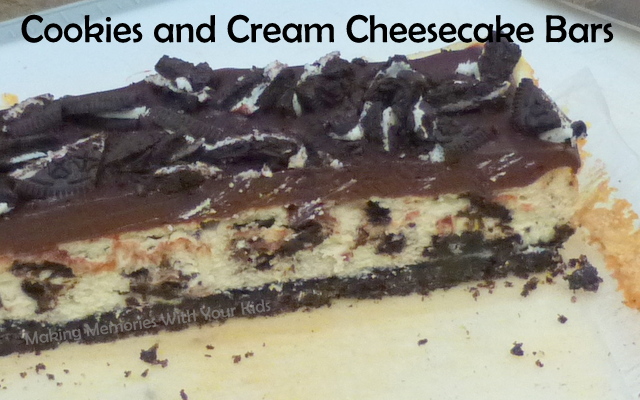 I shared a few pieces with people but I'm almost (stress almost) embarrassed to say that I ate all of these amazing cheesecake bars.  A good two thirds of the pan!  Holy heck.  They were that good!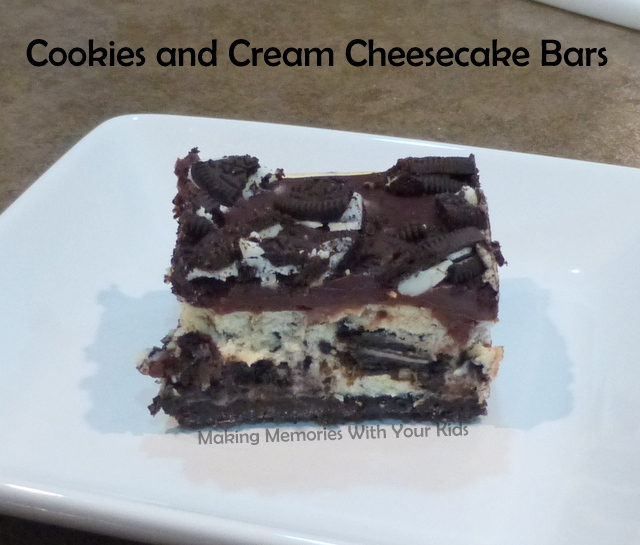 This recipe is from Bakerella.  YUM!
Cookies and Cream Cheesecake Bars
Ingredients
For the Crust

18 Oreos, crushed into crumbs
2 tbsp. sugar
5 tbsp. butter, melted

For the Cheesecake Filling

12 oz cream cheese, softened
½ cup sugar
1 tbsp. flour
1 egg, plus 1 yolk
½ cup sour cream
1 tsp. vanilla
12 Oreos, broken into pieces

For the Chocolate Ganache

½ cup heavy whipping cream
2 tbsp. butter
¾ cup semi sweet chocolate chips
? cup powdered sugar
6 Oreos, broken into pieces
Instructions
Preheat oven to 325 degrees.
To make the crust, mix cookie crumbs and sugar together in a medium bowl. Add melted butter and stir until completely combined.
Using the bottom of a glass or measuring cup, firmly press mixture into the bottom of an 8?x8? baking dish. Bake for 10 minutes, then remove from oven and let cool.
To make the cheesecake filling, add sugar, cream cheese and flour to a large bowl. Using a mixer on medium-high speed, cream mixture until combined.
Turn mixer to low and add egg and yolk, mixing until combined. Add sour cream and vanilla and mix until combined.
Stir in broken cookies and pour batter on prepared crust. Bake for 35-40 minutes, then remove and let cool completely.
To make ganache, add cream and butter to a saucepan and heat on stove, removing just before boiling.
Place chocolate in a large heat-proof bowl and immediately pour cream over it. Let sit for a minute and then stir until completely combined.
Add powdered sugar and beat with a wire whisk until smooth. Pour over cooled cheesecake and top with remaining cookie pieces. Cover and refrigerate overnight.
Cut into bars and serve.
http://makingmemorieswithyourkids.com/2014/07/cookies-cream-cheesecake-bars/
If you're a cheesecake and Oreo lover, this recipe is for you!
Enjoy!
Looking for other delicious cheesecake recipes?  Here are some of our other favorites:
Salted Caramel Mini Cheesecakes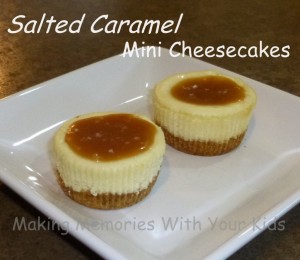 S'mores Cheesecake Campfire Cones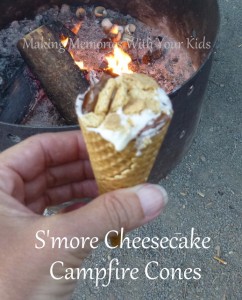 Peanut Butter Snickers Brownie Cheesecake Pie

Chocolate Chip Cookie Dough Cheesecake Bars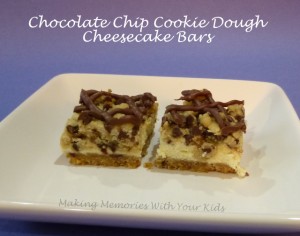 Red Velvet Cheesecake Bars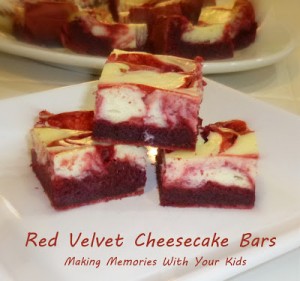 Cinnamon Chip Cookie Dough Cheesecake Bars

 German Chocolate Cheesecake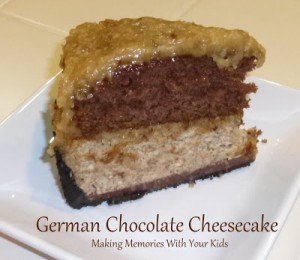 Cinnabun Cheesecake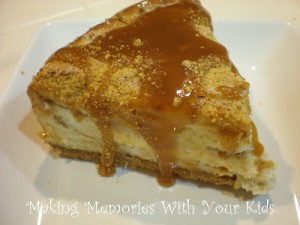 We're linking to the parties found HERE,