My daughter asked me if I would teach her how to make homemade macaroni and cheese.  It was like music to my ears.  I love that my kids want to cook and bake with me!  We search Pinterest for a good Mac and Cheese recipe and this is the one she picked.
My kids are kinda funny.  Let's call it that for now.  They like certain kinds of things, even certain shaped pasta.  They were a little thrown back by the cork screw pasta even though that's the one she picked at the store.  (You can't see me but I'm pulling my hair out.)  So next time we make this I guess I'll use macaroni noodles so they don't complain, freak out, drive me crazy…. choose to not eat it.
It was cheesy and delicious even before it went into the oven.
But it was even better out of the oven!
Thank you to CopyKat Recipes for this recipe.
Copycat Boston Market Macaroni and Cheese
Ingredients
8 ounces dry macaroni
1/4 cup butter
1/4 cup flour
1/4 tsp. dry mustard
1 tsp. salt
dash of pepper
2 cups milk
1 Tbsp. minced onion
1 cup (1/4 lb.) American Processed Cheese (Velveeta)
Instructions
Cook pasta according to directions.
To make the cheese sauce, melt butter in saucepan. Add flour and onion and stir well. Allow this to thicken. When thickened, slowly add milk and stir. Add cheese, salt, pepper, and dry mustard. Stir and cook until thickened. Add cooked pasta.
Add pasta mixture to a lightly buttered casserole dish and bake at 400 degrees for 20 minutes.
http://makingmemorieswithyourkids.com/2014/07/copycat-boston-market-macaroni-cheese/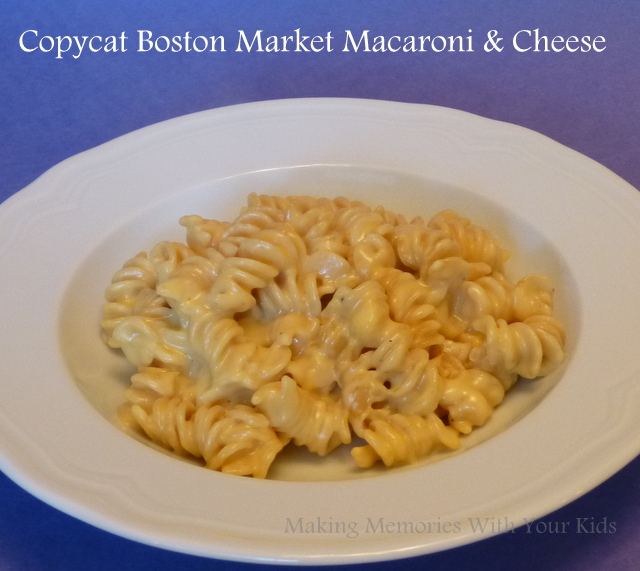 We're linking to the parties found HERE.