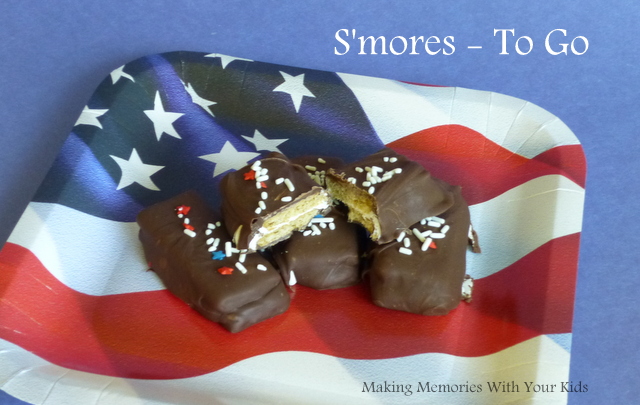 Who doesn't love s'mores, right?  They scream summer time to me: camping, beach fires, good times and lots of fun.  But they are messy to eat when they goo all over the place.  Don't get me wrong.  There's nothing wrong with a little goo.  But sometimes, like when I'm driving in the car and I want a s'more treat, I don't want goo.
These are easy to make and delicious!!!
I like them because the graham crackers gets a little bit soft from the marshmallow fluff so they aren't crunchy and they don't crumble.  If you like your graham crackers crunchy, dip the graham crackers in chocolate first, then add the marshmallow fluff and re-dip in chocolate.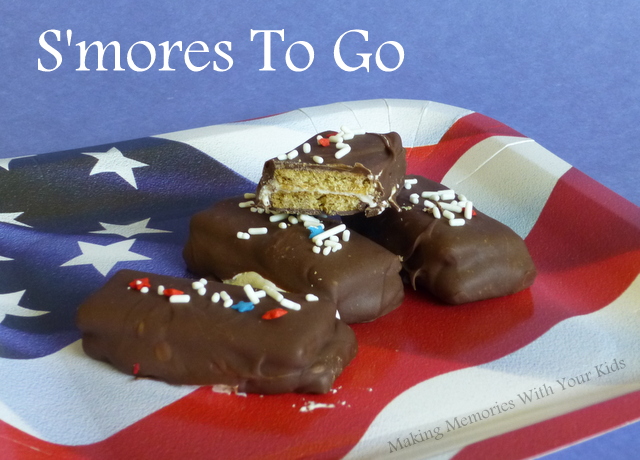 No Mess S'mores On The Go
Ingredients
Graham crackers
Marshmallow fluff
Milk chocolate chips (or chocolate bark)
Sprinkles (optional)
Instructions
Break your graham crackers into rectangles.
Spread a good amount of marshmallow fluff on one side of the graham crackers and cover with another graham cracker. Make sure your house isn't too hot or else your marshmallow fluff will goo out the sides. This is what happened to us. Drats!
Melt your chocolate chips in a microwave safe bowl in 30 second bursts. Stir after each 30 seconds until melted and smooth.
Dip graham crackers sandwiches in the milk chocolate, tapping the bottom to remove any excess chocolate.
Place on a piece of waxed paper until set.
http://makingmemorieswithyourkids.com/2014/07/mess-smores-go/
We're linking to the parties located HERE.