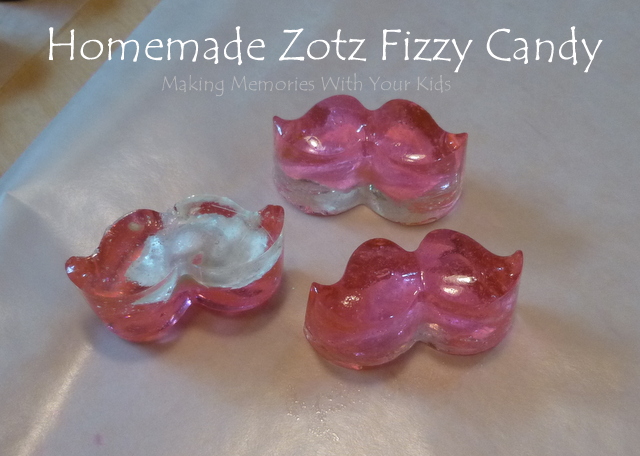 My daughter and her friends love Zotz Fizzy Candy.  I mean, love them.  Have you heard of Zotz?
Zotz Fizzy Candy is a hard candy with a sour, fizzy powder on the inside.  The powder is "activated" by saliva (liquid) so when you are sucking on the candy, it all of a sudden fizzes and is totally strange.  It's been around since 1968 and has been a kid favorite for decades.  But they aren't sold in the grocery stores around here anymore.  We have to buy them at the retro candy stores at the coast or at the little, family owned movie theater here in town.  So what do we do?  See if we can make them, of course.
We searched the internet on how to make them and I was so excited that I found the instructions on Instructibles.com
The directions are easy.  You make your hard candy.  You can use the recipe we have posted here or the one we used for our Slimy Slug Candy (which was a huge hit, BTW.)  In order to do this correctly you have to make 2 batches of the hard candy.  The first batch you use to fill up the molds about half way.   We don't have simple candy molds so I tried to find some that weren't too big.  But use anything!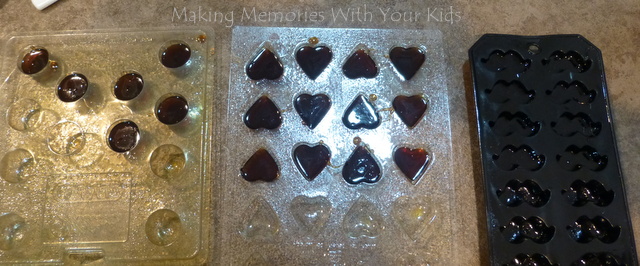 I was surprised how simple the fizzy powder was to make.  You just mix baking soda, citric acid (you can find this in the canning section at the store) and powdered sugar.  Go ahead and scoop up a little bit and put it on your tongue.  Yowza!!!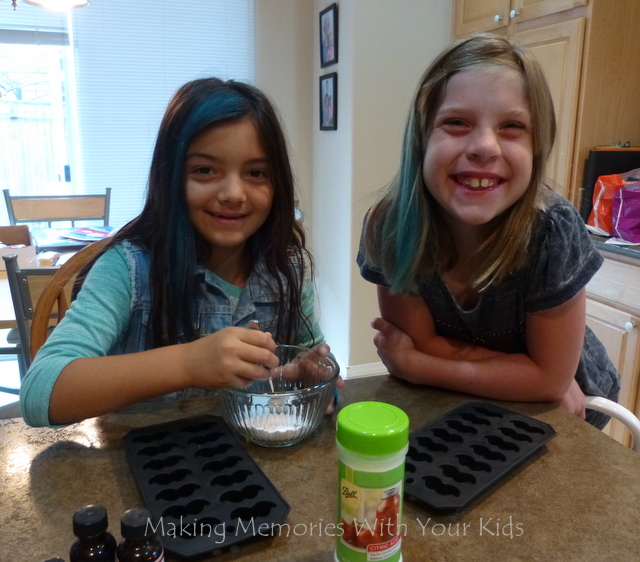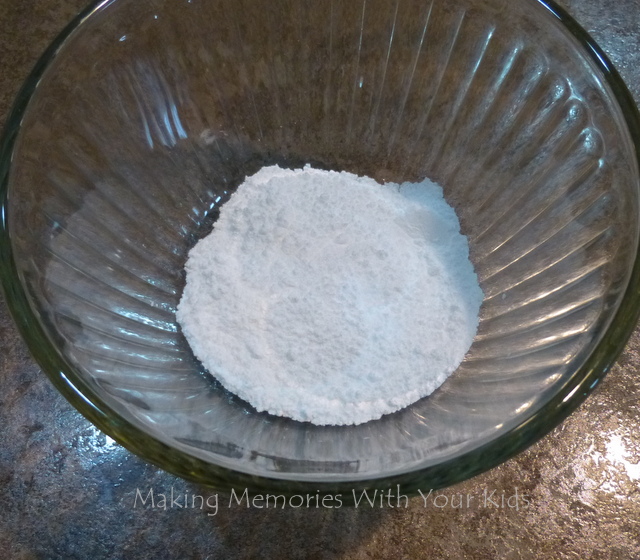 After the candy gets firm, push an indent in the center using the end of the knife or wooden spoon.  How big you make the indent will depend on the size of your candies/molds and how much fizzy powder you want to add to each candy.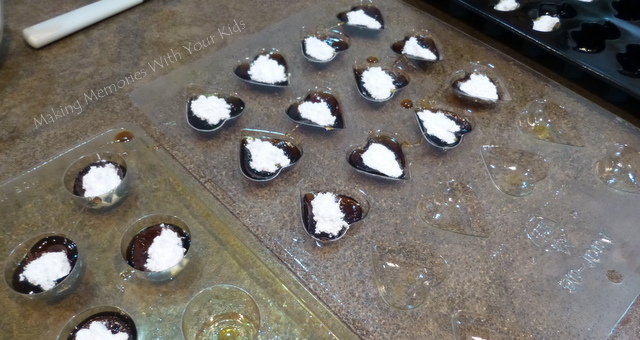 After you have added the powder, make another batch of the hard candy and carefully add another layer over the tops of the candies to seal in the fizzy powder.
Let the candies harden completely before you remove them from the molds.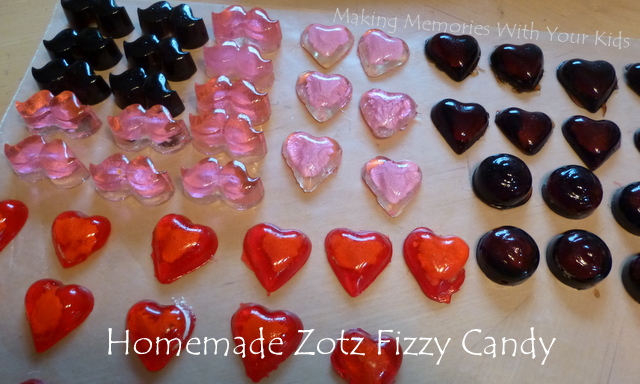 We had fun using our different flavor oils.  The root beer was a huge hit but we liked how the lighter colors looked.  You can see the powder inside and we thought it looked pretty cool!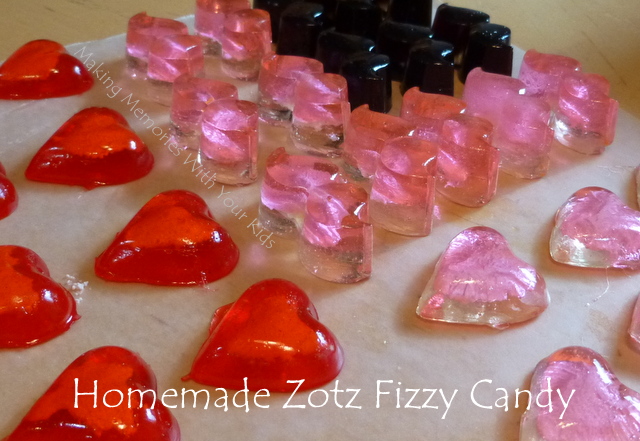 You can make suckers as well.  These were a huge hit because they had so much powder in the center.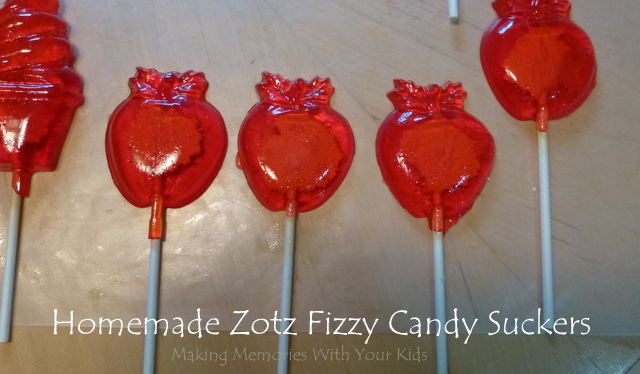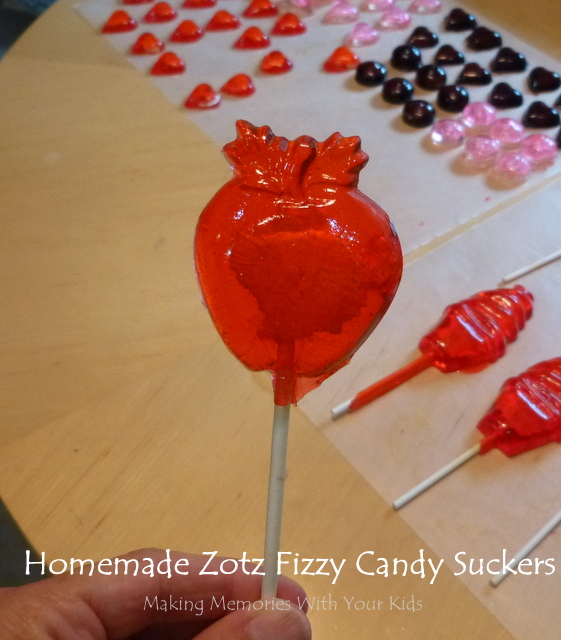 Homemade Zotz Fizzy Candy
Ingredients
For the hard candy

1 cup sugar
1/3 cup light corn syrup
1/2 cup water
1 tsp. flavoring (I use LorAnn oil)
food coloring (optional)

For the fizzy powder

1 tsp. citric acid
1 tsp. baking soda
2 tsp. powdered sugar
Instructions
Spray your candy molds with non-stick cooking spray

To make the fizzy powder

Mix the ingredients and set aside. Make sure you mix them well. Try it out. Put a small dab on your tongue and see what happens.

To make the hard candy

In a medium saucepan, add sugar, corn syrup and water. Stir. Using a candy thermometer as your guide, continue cooking and stirring until it reaches 275 degrees.
Remove from heat and add flavoring (and color, if you choose.)
Stir well and working quickly, pour into molds to fill about half way.
Let the candy cool until you can push an indent in the center of each mold.
Fill with powder (about 1/4 tsp. depending on the size of the mold).
Make another batch of hard candy. Fill molds the rest of the way and allow to cool completely before removing from the molds.
http://makingmemorieswithyourkids.com/2014/08/homemade-zotz-fizzy-candy/
How fun are these, right?!?!
Enjoy!!!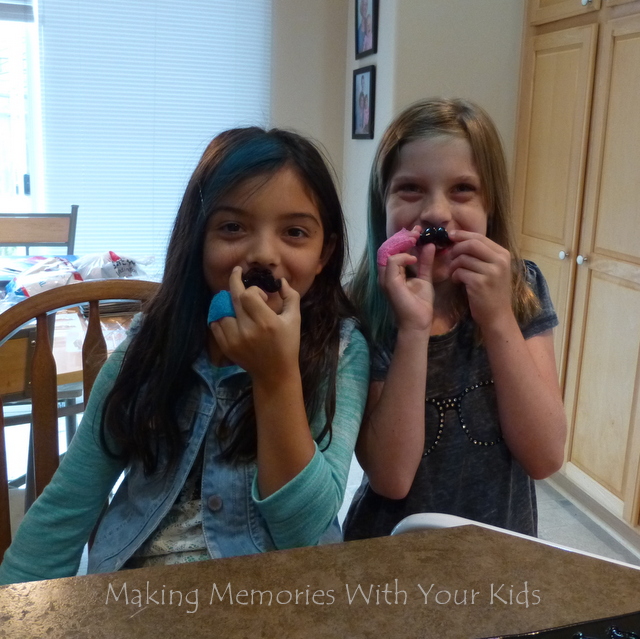 We're linking to the parties found HERE.