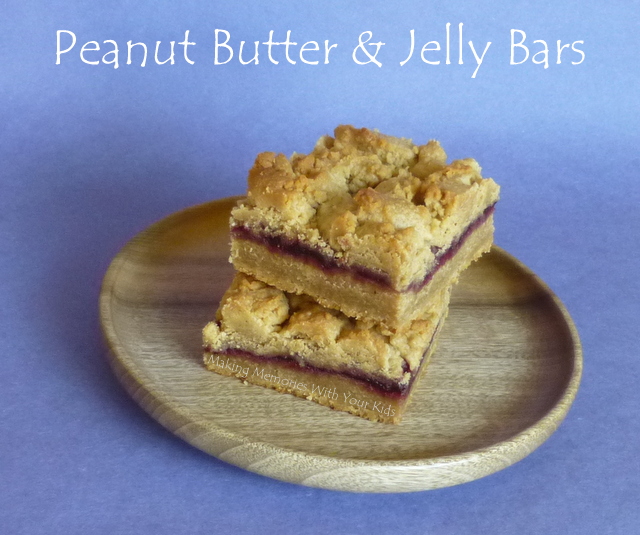 It's the third Monday of the month.  Yeah.  That means it's Secret Recipe Club reveal day.  It kind of snuck up on us this month.  School has started (sigh.)  Who else is running around feeling completely frazzled lately?  Don't get me wrong, I'm okay with my kids going back to school.  But that means I had to go back to work.  That's another story.  I was definitely not ready for that.  But… what's a girl to do?  You know, when you have to pay the bills and stuff like that?  Yep, work.  Blech.
My assignment this month was Rachel's blog, The Avid Appetite.   Oh my gosh!  I love Rachel's blog.  I had the pleasure of having her blog back in July 2012 and made her Double Layer Oreo Bars.  Oh man!  Were they tasty!
Since that post, Rachel has been doing lots of travelling and writing fun posts about her journeys.  And her recipes?  Yum!  I loved her S'mores Brownies and her Dill Pickle Dip recipes.  I probably could have eaten the entire recipe of that dip!  But when I saw her Peanut Butter and Jelly Bars post, I knew it was for me!  I love peanut butter and jelly, especially in dessert form.
For this recipe I used our Homemade Jelly that we made this summer.  We make it every year because jelly, first of all, is where it's at.  And I have never tasted a store bought jelly that I like.  So???  We make our own.  (If you haven't, you're missing out.)
So these bars are a delicious, chewy peanut butter bar with a delicious jelly filling.  The perfect balance between yum and yummy!
Another thing I love about these cookies?  They aren't a thin cookie.  They are thick and chewy!  Just press 2/3 of the dough in the bottom of the pan.  (See how I left some of the parchment paper long to hang over the sides?  It makes it really easy to use them as handles to lift out the cooled bars.
The recipe calls for 1 1/2 cups of jelly or jam.  I would definitely add at least 2 cups.  Go ahead and glob it on there.  The cookie is so thick it needs more jelly flavor (in my opinion.)
Plop the rest of the dough over the jelly layer.  It's okay if it doesn't cover it completely.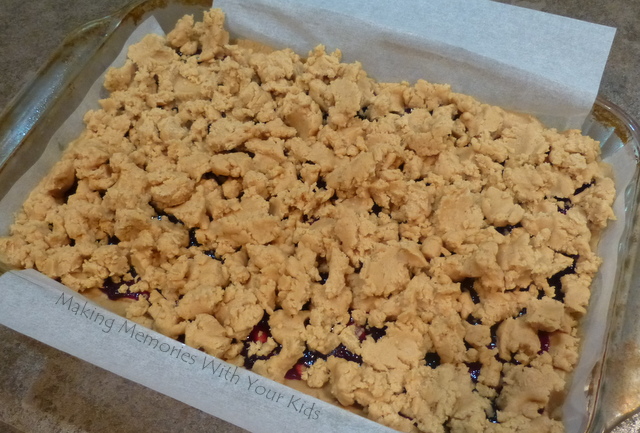 Don't they look amazing?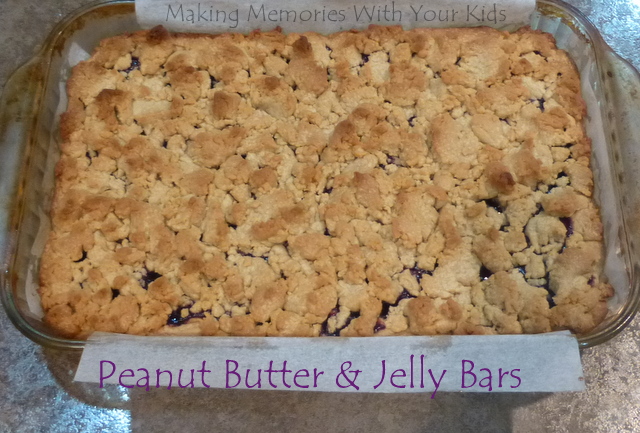 Delicious!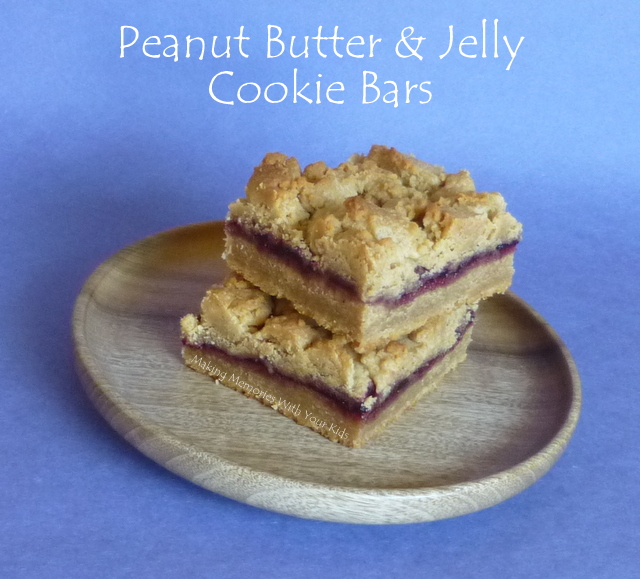 Peanut Butter and Jelly Bars
Ingredients
2 sticks (1/2 lb) unsalted butter, at room temperature
1 1/2 c. sugar
1 tsp. vanilla extract
2 large eggs, room temperature
2 c. creamy peanut butter
3 c. AP flour
1 tsp. baking powder
1 1/2 tsp. salt
1 1/2 c. jam or jelly
Instructions
Preheat oven to 350 degrees.
Grease a 13" X 9" baking pan and then line with parchment paper. Make sure the paper overlaps over the sides so you can use it as handles to remove the cooled bars.
In a stand mixer, cream the butter and sugar on medium speed until thoroughly mixed, about 2 minutes. With the mixer on low speed, add the eggs, vanilla and peanut butter, mixing until completely combined.
In a separate bowl, sift together flour, salt and baking powder. (BTW - I never sift.)
Slowly add the flour mixture to the peanut butter mixture and mix on low speed until combined.
Spread about 2/3 of the dough in the greased pan. I use my hands to pat it down rather than a spatula.
Spread the jelly/jam over the layer of dough. Don't go all the way to the edges.
Sprinkle remaining dough over the top.
Bake for 35 - 45 minutes, until golden brown.
Let cool completely.
Gently life the bars out of the pan using the parchment paper as handles. Cut into squares.
If you would like to sprinkle with powdered sugar, go for it!
http://makingmemorieswithyourkids.com/2014/09/peanut-butter-jelly-bars/