Magic Bars (or 7 Layer Bars) have been around as long as I can remember.  Layer after layer of pure awesomeness, then covered in sweetened condensed milk.  Ummm, amazing!  This bar is just your basic Magic Bar recipe (found everywhere) but with a fun Halloween twist.  We used Candy Corn M&Ms and candy corn rather than milk chocolate and butterscotch chips.
They were pretty darn tasty but next time I think I'll add some milk chocolate chips also.  As much as I love white chocolate, milk chocolate is my fav.
And don't they look great for Halloween?
All ooey and gooey and delicious!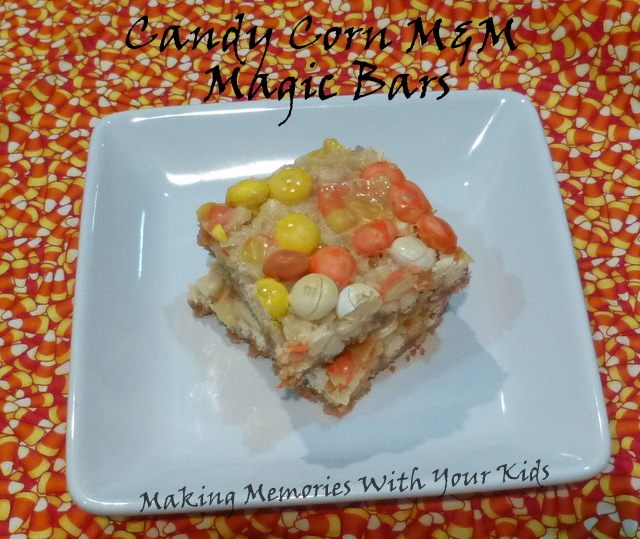 Candy Corn M&M Magic Bars
Ingredients
1 1/2 cups graham cracker crumbs (almost 2 sleeves)
1/2 cup melted butter
1 bag white chocolate chips
1 cup sweetened coconut flakes
1 bag Candy Corn M&Ms
1/2 cup candy corn
1 can sweetened condensed milk
Instructions
Preheat oven to 350 degrees.
In a food processor, pulverize your graham crackers until they are fine crumbs.
Mix the graham cracker crumbs and the melted butter until crumbly. Pour into a parchment paper lined 9x13 pan and pat into an even layer.
Sprinkle on your white chocolate chips, coconut, M&Ms and candy corn. Evenly drizzle the sweetened condensed milk over the top.
Bake for 25 minutes. Bars will be bubbly and gooey looking.
Allow to completely cool before cutting.
http://makingmemorieswithyourkids.com/2014/10/candy-corn-mm-magic-bars/
We're linking to the linky parties found HERE.