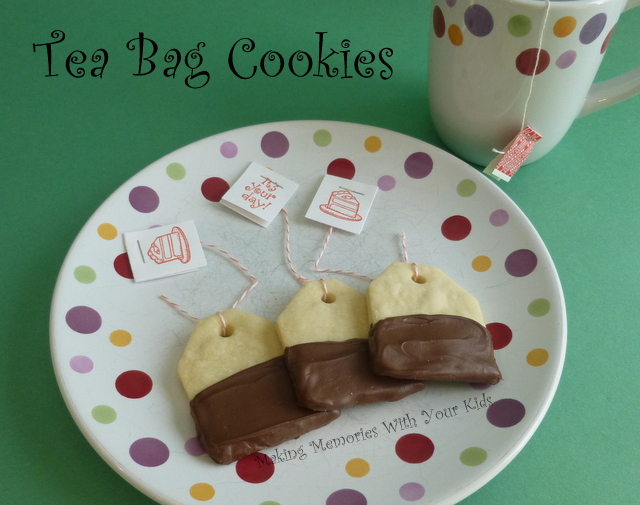 These cute cookies have been on my "to make" list for awhile.  I thought they were so cute and they made me think of my Grandma Sara.  She would have loved these!  She loved tea and I remember, even as a kid, sitting down and drinking tea with her in her fancy china tea cups with saucers.
Fast forward way to many years, and who drinks tea anymore beside little old ladies and their grandchildren?  The answer?  A co-worker of mine.  It's her birthday today and we wanted to make something for her that was delicious (because how can you go wrong with cookies?) and personal (because she drinks tea every day.)
You can use whatever cookie dough you would like for these cookies.  A sugar cookie would be delicious, but we chose to make shortbread cookies.
Roll out your dough and, if you have a rectangle cookie cutter, cut out rectangles.  If you have a square cookie cutter like I did.  Cut out squares and just cut off a strip to make a rectangle.
Then, using a straw, poke a hole in the tops of the cookies.
Cut off the top corners of your triangles.
Bake according to the recipe and let cool completely.
We melted milk chocolate chips and gently dipped them in the chocolate.  You may want to use a knife to help spread out the chocolate.
After the chocolate hardens, assemble your tags.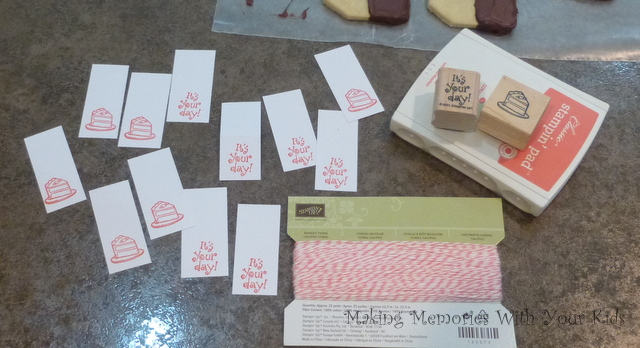 Tie onto each cookie and voila!  Don't they look like little tea bags?
 Aren't they fun?
Ingredients
1 cup salted butter
1/2 cup powdered sugar
1 1/2 cups AP flour
1/2 cup corn starch
1 tsp. vanilla
Instructions
Preheat oven to 300 degrees.
In a stand mixer, beat butter until smooth (don't over mix.) Add powdered sugar and blend.
In a separate bowl, mix flour and cornstarch.
Slowly add the flour mixture to the butter mixture. Add vanilla. (Make sure you don't over mix your dough.)
Roll out dough on a floured surface.
Cut into tea bag shapes. (Rectangles, cut off the top corners and poke a hole in the top.)
Bake on a parchment lined cookie sheet for 10-12 minutes.
Cool completely on a wire rack.
http://makingmemorieswithyourkids.com/2014/10/tea-bag-cookies/
We're linking to the parties found HERE.