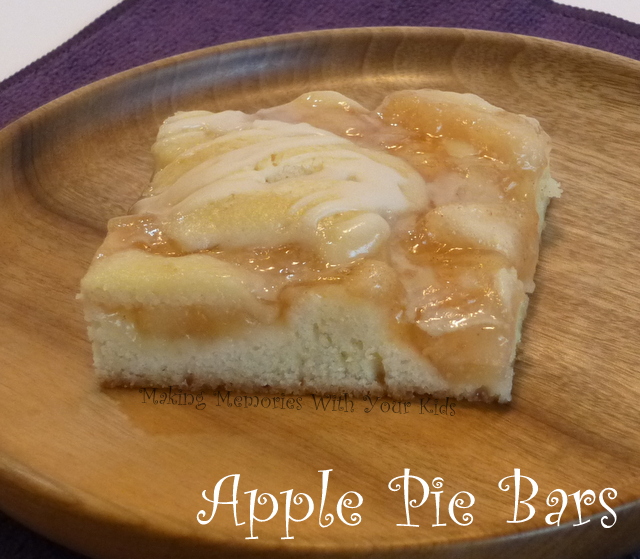 This is the perfect dessert for pie lovers who don't want the hassle of making a pie.  You get the yumminess of the fruit filling combined with a soft, not too sweet, cookie.  Delicious!
I might have used too much of the dough for the bottom layer.  I didn't have enough (I think) for the top layer.)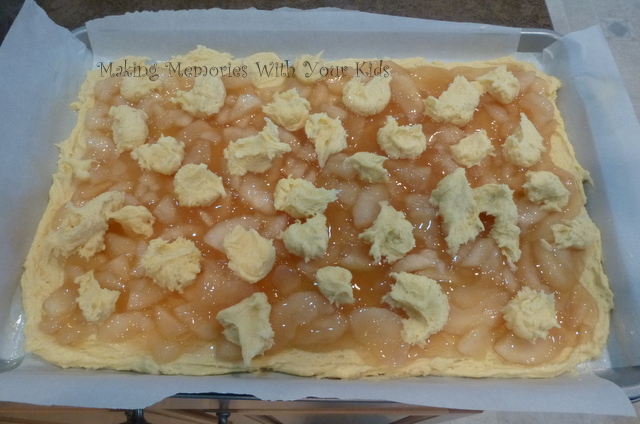 But it didn't look too bad after it was done baking.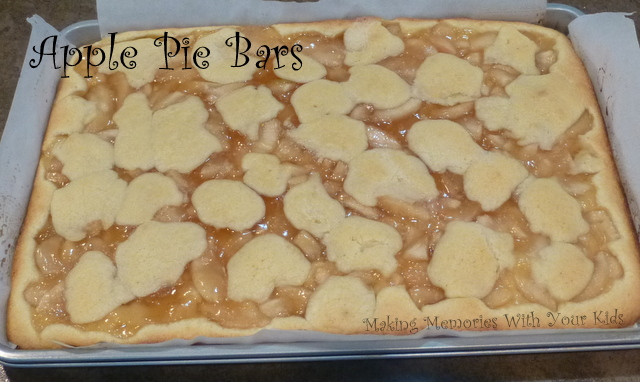 But here is the best part.  The glaze.  It adds the perfect amount of sweetness to these bars.
Because of the juice in the pie filling, they don't last very long without getting soggy.  Make sure you refrigerate them and that will help.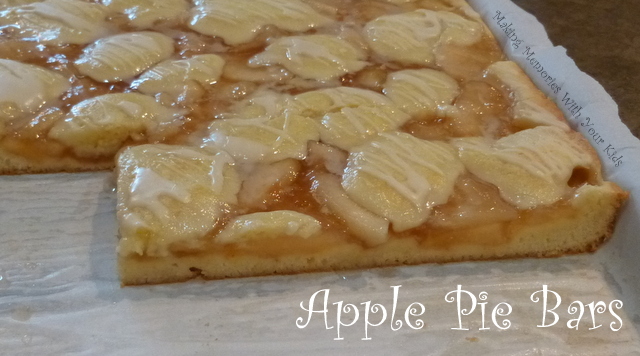 I found this recipe over on Julie's Eats and Treats.  Julie made this recipe with cherry pie filling.  And, as good as it looked in her pictures, I am not a fan of cherry pie.  So my version has apple pie filling.  But don't limit yourself, try both.
Ingredients
1 c. butter, softened
2 c. sugar
4 eggs
1 tsp vanilla extract
1/4 tsp almond extract
3 c. flour
1 tsp salt
2 cans (21 ounce) apple pie filling

For the Glaze

1 c. powdered sugar
1/2 tsp. vanilla extract
1/2 tsp. almond extract
2 Tbsp. milk
Instructions
Cream butter and sugar together. Add eggs, beating after each addition. Mix in extracts. Add flour and salt. Mix until well combined.
Spread 3 cups of the batter in a greased jelly roll pan. Spread pie filling on top of dough. Drop remaining dough on top of apple pie topping.
Bake at 350 degrees for 45-60 minutes or until toothpick comes out clean. Cool.
Combine glaze ingredients and drizzle over bars.
http://makingmemorieswithyourkids.com/2014/11/apple-pie-bars/
We're inking to the parties found HERE.