Apparently I'm on a loaded baked potato kick.  We loved our Loaded Baked Potato Salad.  This is similar but a hot casserole rather than a cold salad.  Gotta love 'em both, right?
This was cheesy and delicious!  Oh yeah, and filled with bacon.  The best part!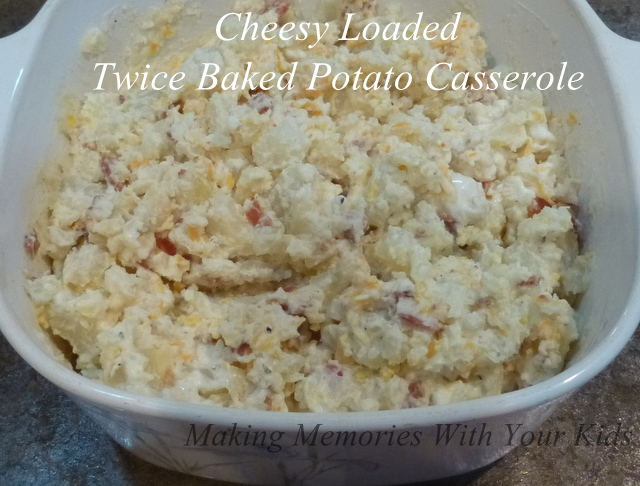 And covered with more cheese?  Yes, please!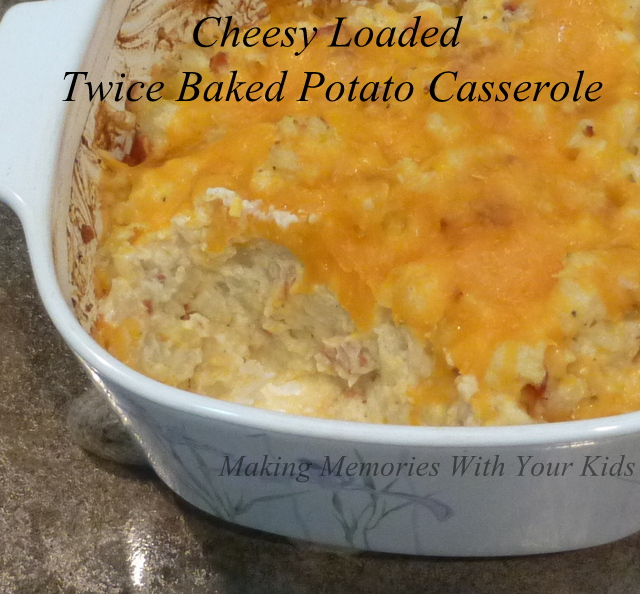 Thank you to Deep South Dish for this wonderful recipe.
Cheesy Loaded Twice Baked Potato Casserole
Ingredients
2 pounds of skinned potatoes, about 10 medium, baked
Olive oil
salt, to taste
4 slices bacon, cooked and crumbled, divided
1 (5 ounce) can of evaporated milk
1 cup sour cream
1/4 cup (1/2 stick) butter, melted and cooled
1-1/2 cups shredded Cheddar cheese, divided
2 green onions, sliced, reserve a teaspoon for garnish (I left these out)
1 teaspoon of chopped fresh parsley
1/2 teaspoon garlic salt
1/4 teaspoon black pepper, or to taste
Instructions
Preheat oven to 400 degrees F.
Scrub potatoes, puncture each with a knife to vent, toss with olive oil and salt and place on a pan. Bake at 400 degrees F for 45 minutes or until tender.
Meanwhile, cook the bacon to crisp; set aside, chop once cooled, reserving half for garnish; set aside.
Set potatoes aside until cool enough to handle, then slice in half lengthwise, then into half rounds about 1/4 to 1/2-inch thick. Place into a large bowl. Add 1 cup of the Cheddar cheese and half of the bacon.
When ready to bake, preheat oven to 350 degrees F. Butter an 8 x 8 inch baking dish; set aside. Blend together the evaporated milk, sour cream and melted butter. Add parsley, garlic salt and pepper. Pour mixture over the potatoes and gently toss. Use a potato masher to break down the chunks to desired texture. Turn out into the prepared baking dish, cover and bake at 350 degrees for 40 minutes or until heated through. Remove, top with the remaining 1/2 cup of shredded Cheddar cheese, return to the oven, uncovered, until cheese is melted, about 5 minutes.
(Optional) Garnish top with remaining bacon and green onion. Serve immediately.
http://makingmemorieswithyourkids.com/2014/11/cheesy-loaded-twice-baked-potato-casserole/
 This is such great comfort food.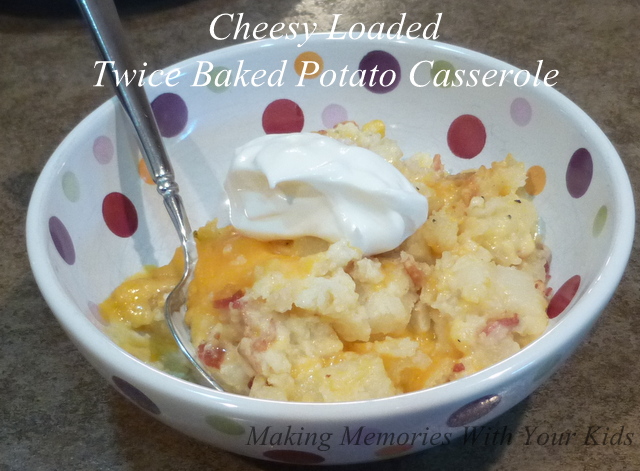 We're linking to the parties found HERE.