I can honestly say I've never been a fan of Chicken and Dumplings.  I'm not sure why.  And to be honest, I can't ever remember eating them.  I think they just freaked me out because I'm not much of a bread soaked in anything kind of girl.
That being said, I decided to go out on a limb and try a new crock pot recipe.  My family was coming over for dinner and I hate when I'm in the kitchen cooking when everyone else is chatting and enjoying each others company.  So crock pot recipes are a must when company comes over!
 This recipe was perfect!  I thought it was absolutely delicious and ever better?  It made great leftovers!  And it was so easy!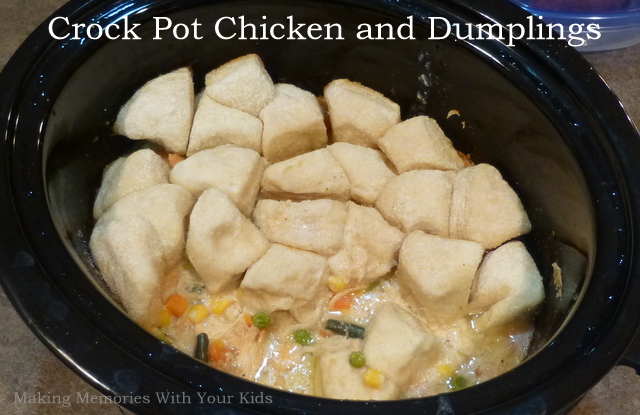 I know my pictures are less than great.  Heck, they aren't even mediocre.  But when I'm trying to serve dinner…. this is what happens.  Just trust me on this, this was delicious!
Thank you to Her View From Home for this delicious recipe.
Crock Pot Chicken and Dumplings
Ingredients
3 boneless skinless chicken breasts
1 teaspoon salt
1/2 teaspoon pepper
1/2 teaspoon garlic powder
1/2 teaspoon onion powder
1 tablespoon chopped onions
2 cloves garlic minced
1 stick butter
1 (14 1/2-ounce) can chicken broth
3/4 cup flour
2 cups milk
1/2 teaspoon salt
1/4 teaspoon pepper
1 bag frozen mixed veggies
1 (8-ounce) tube biscuit dough
Cornmeal
Instructions
Season chicken well with salt, pepper, garlic powder, and onion powder. Place in the crockpot. Top with chopped onions and garlic.
In a saucepan, melt butter. Stir in flour, chicken broth, and milk. Pour into crockpot. Add salt and pepper. Cook on low for 8 hours.
1-2 hours prior to serving. Shred chicken and return to pot. Add the bag of veggies (make sure they aren't frozen.)
Cut biscuits into4 pieces. Roll in cornmeal and then add to crock pot. Continue cooking until biscuits are firm.
http://makingmemorieswithyourkids.com/2014/11/crock-pot-chicken-dumplings/
We're linking to the linky parties found HERE.