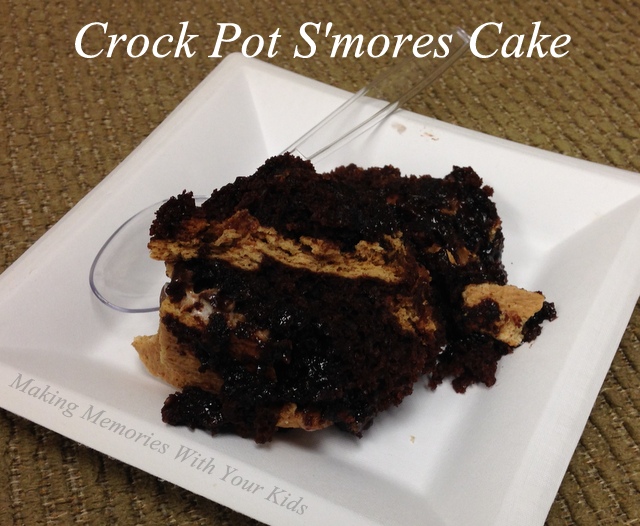 Could life get any more crazy?  Not for us.  So when I remembered it was a co-worker's birthday on Monday I knew I had to make an easy dessert.  And is there anything easier than a crock pot recipe?  I'll answer that for you – no way!  I absolutely love my crock pot.  So easy, so fast, and all the recipes I've tried have been amazing!  But I've always been a little nervous about making a cake in a crock pot.  I mean, seriously… how can that even be delicious?  Well, I was up for the test.
So I searched Pinterest (because do any of us even search the web anymore for recipes???) and I found this amazing Crock Pot S'mores Cake recipe.  Holy heck!  It looked amazing!
And disappointed I was not.  It was crazy good!  You mix up the cake mix and pour half of it in a greased crock pot.  Sprinkle half od the chocolate chips and marshmallows over it and add a layer of graham crackers.  Then pour over the remaining cake batter.  Cook on low.  See how easy that is??!!  After about an hour and a half, sprinkle the rest of the chocolate chips and marshmallows on top and crush up about 2 of the graham crackers.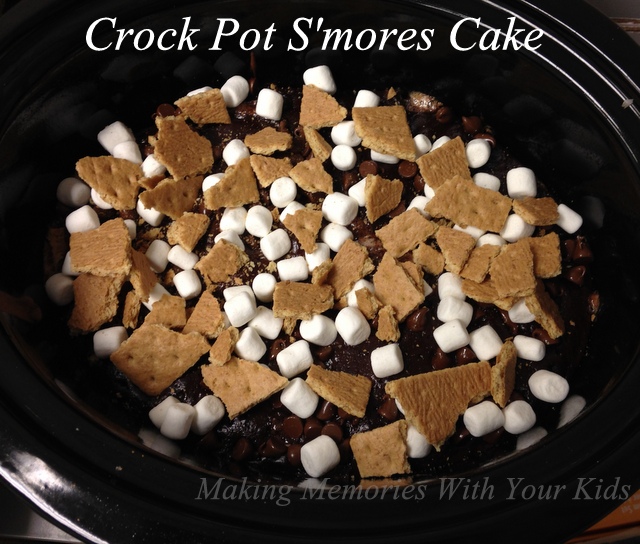 Cook for another 30 minutes and voila.  The easiest cake ever!
 Make sure you serve it warm and add ice cream.  Oh man, would that be tasty.  Because we were at work we were without ice cream.  I didn't care, though.  It was amazing!!!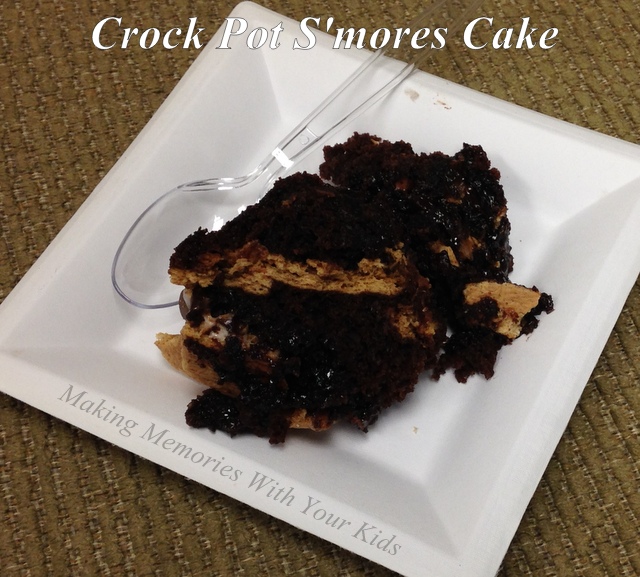 Ingredients
1 box chocolate cake mix
ingredients on the box (eggs, oil and water)
2 cups mini marshmallows
2 cups milk chocolate chips
1 sleeve graham crackers (approx. 9 whole graham crackers)
Instructions
Mix cake mix according to directions.
Spray the bottom of a crock pot.
Add 1/2 of the cake mix.
Sprinkle 1/2 of the marshmallows and chocolate chips over the top. Layer the graham crackers over the top. (saving at least 1 cracker) breaking into pieces if necessary.
Pour the remaining cake batter over the top.
Cook on low for approximately 1 1/2 to 2 hours.
Add remaining chocolate chips and marshmallows and crumble the graham cracker over the top.
Cook for another 30 minutes.
NOTE - if the cake appears to be burning along the edges, you can push graham crackers along the sides.
Serve warm with vanilla ice cream.
http://makingmemorieswithyourkids.com/2014/11/crock-pot-smores-cake/
We're linking to the linky parties found HERE.