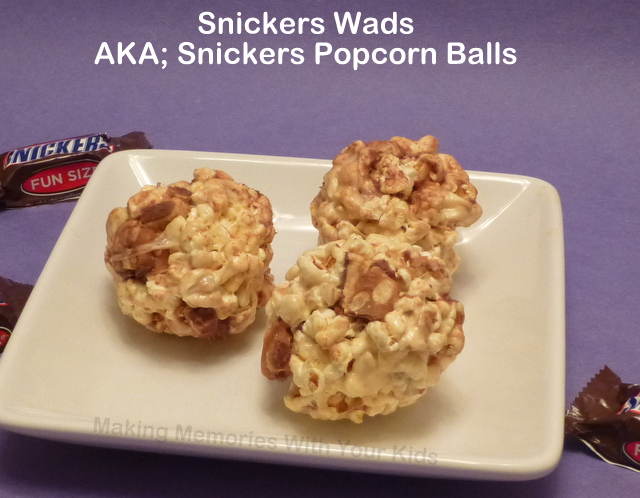 A few weeks ago my daughter came home from school and asked if we could make Wads.  Ummm… what?  This is kind of how our conversation went:
Ellie:  "Mom, can we make Wads?"
Me:  "What the heck are Wads?"
Ellie:  "You know, Wads. "
Me:  "Um, no, I really don't know what Wads are.  What are they?"
Ellie:  "Mom!  How do you not know what Wads are?  Everyone knows what Wads are!"
Me:  "Seriously, Ellie.  What are Wads?"
Ellie:  "You know, Popcorn Wads."Me:  "You mean Popcorn Balls?"
Ellie:  "No one calls the Popcorn Balls, Mom.  They;re Wads."
Well, I've now been schooled.  So here they are… Wads.
She was so darn excited about making them.  Can you tell?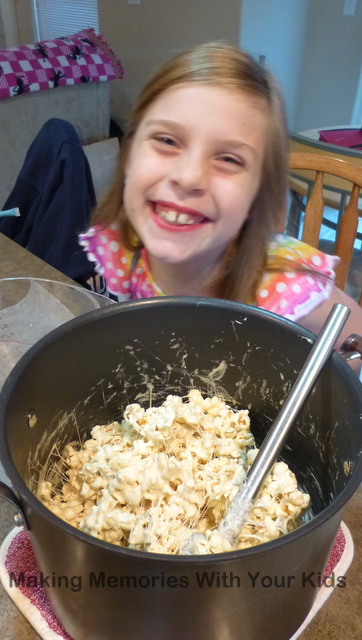 The hardest part for little hands is forming them into balls.  The marshmallow goodness is pretty hot.  So make sure it's cooled down enough for them or help them out.  (My son insisted on taking a picture of us.)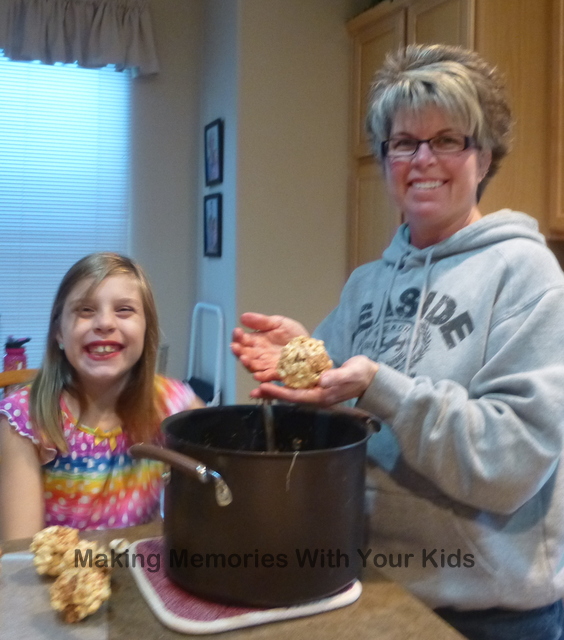 Let them cool a little bit and then dig in!
We made a few of them without the chopped up Snickers in them.  (Gasp.  Who wouldn't want Snickers???)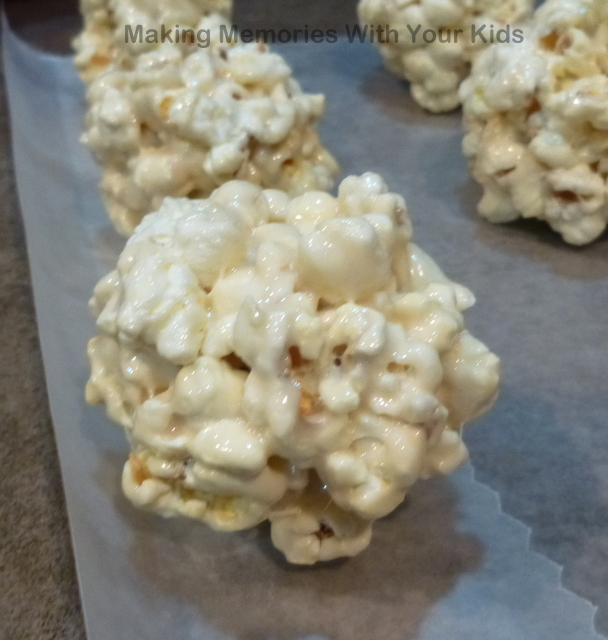 The best part about these Wads?  They are made with marshmallows instead of Karo syrup.  So they stay soft and gooey and don't stick to your teeth as much.  And come on… who doesn't love a good gooey marshmallow masterpiece!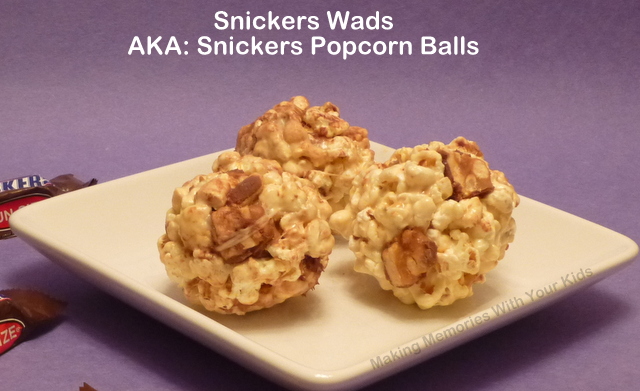 Recipe from Martha Stewart.
SnickersWads AKA: Popcorn Balls
Ingredients
1/4 cup (1/2 stick) unsalted butter, plus more for buttering hands
1 package miniature marshmallows (10 ounces)
1/4 cup light brown sugar, firmly packed
3 quarts popped popcorn (about 12 cups)
Chopped Snickers candy bars, as many as you want
Instructions
Melt butter in a large heavy pot over low heat. Add marshmallows and brown sugar and stir until melted. Remove from heat.
Pour popcorn and chopped Snickers into pot; toss well.
With buttered hands, shape into 2 1/2-inch balls.
Set on parchment lined baking sheet to dry slightly.
Enjoy!
http://makingmemorieswithyourkids.com/2014/11/snickers-wads-aka-snickers-popcorn-balls/
What was the verdict from my daughter?  "Best Wads EVER!"
We're linking to the parties found HERE.