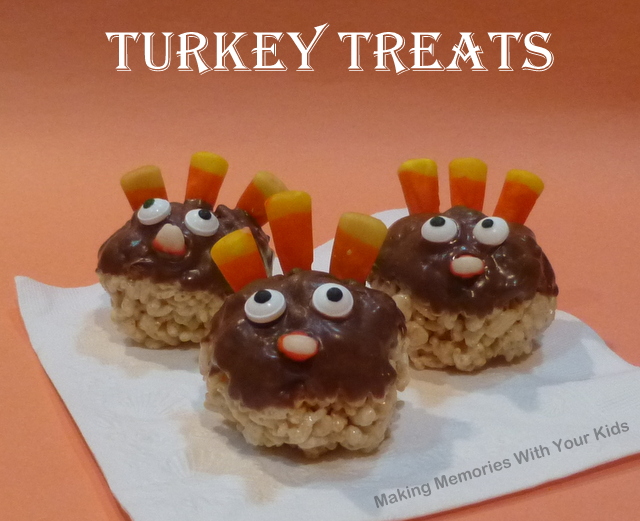 Normally by now I've posted a few Thanksgiving fun food recipes.  Apparently I'm a little slow this year.  I can't believe this is our first (and only one!)  But it is a fun one.
How cute are these little guys?
I thought my kids would have a great time making these.  I bought all the ingredients and we were all excited.  My sister came into town last weekend from Chicago.  We don't get to see her very often so it was a huge treat for all of us.  So we asked her if she wanted to make these with us.  At one point she and I were talking and making these and I looked around to realize my kids had disappeared.  (Apparently there was too much grown up talk and they were bored.)  I looked over into the living room and my kids were watching their new favorite TV show "Cut Throat Kitchen".  I looked at my sister, who was sticking eye balls on turkeys and laughed.  Was I in a Twilight Zone episode?  They were watching Cut Throat Kitchen and we were making turkeys???  Ha!
Anyways.  They might not have been too active in the making of these bad boys but they sure did gobble  them up!  (See what I did there?  That's turkey humor.)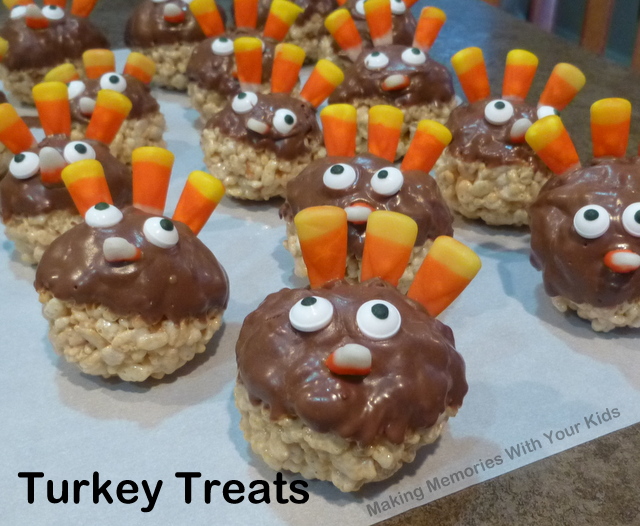 Recipe from the Kellogg's website.
Turkey Treats for Thanksgiving
Ingredients
3 tablespoons butter
1 package (10 oz., about 40) Marshmallows OR 4 cups Miniature Marshmallows
6 cups Kellogg's® Rice Krispies® cereal
1 package milk chocolate chips
1 tablespoon vegetable oil
candy corn
candy eye balls
Instructions
In large saucepan melt butter over low heat. Add marshmallows and stir until completely melted. Remove from heat.
Add cereal. Stir until well coated.
Using 1/4-cup measuring cup coated with cooking spray divide warm cereal mixture into 24 portions. Using buttered hands shape each portion into ball. Place on wax-paper-lined baking sheet. Refrigerate about 10 minutes or until firm.
In microwave-safe bowl combine chocolate chips and oil. Microwave on high for 1 to 1 1/2 minutes or until smooth, stirring every 30 seconds. Dip each ball into chocolate, allowing excess to drip off. Return to wax-paper-lined baking sheet. Refrigerate for 5 to 10 minutes more or until chocolate is almost set. Decorate with candy corn for tail feathers and beak, gently pressing candy into chocolate and cereal mixture. Press ion candy eyes. Let stand until firm.
Enjoy!
http://makingmemorieswithyourkids.com/2014/11/turkey-treats-thanksgiving/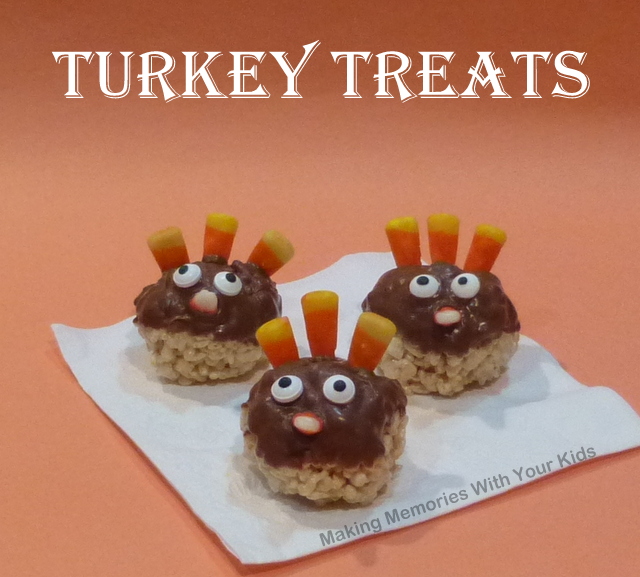 We're linking to the parties found HERE.