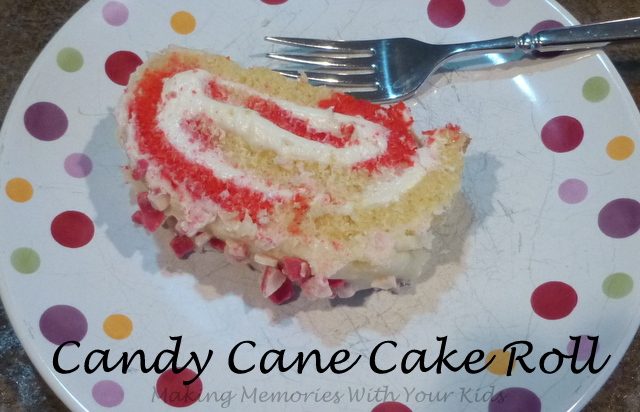 Who else is glad it's Saturday today?  It's been a chaotic couple of weeks at work but yesterday was the last day of school for two weeks.  Two weeks people!!!  Yeah!
Are you ready for Christmas?  Only 5 more days.  My kids are excitedly counting down the days.  Me?  Yikes.  I have some wrapping to do.  And some more baking.  We made dessert platters for my co-workers which cleaned us out of everything delicious.  So?  It's back to the kitchen for me.  (Which isn't a bad thing.  I do love to make desserts.)
What do you think about this cake roll?  I think it's so festive!  And it was delicious!  Seriously delicious!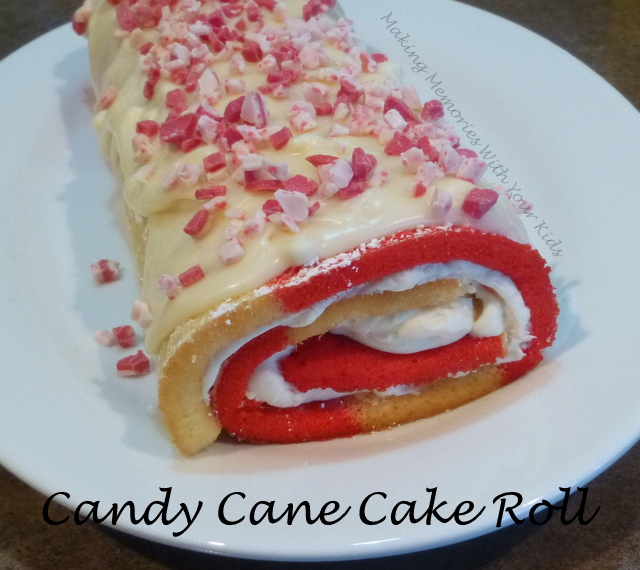 I used Andes Peppermint Crunch Baking Chips.  Hopefully you have these in your area because they are to die for!  But if you can't find them, you can use these and chop them up.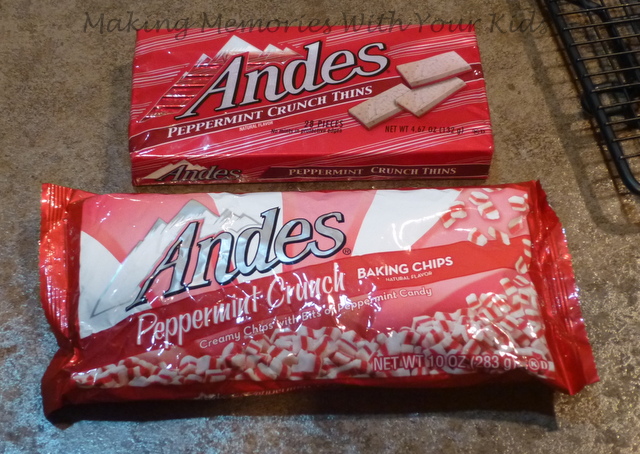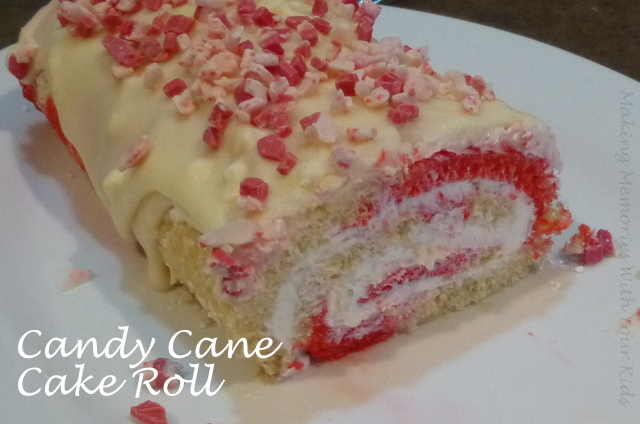 Thanks to Wine and Glue for this delicious recipe!  I changed her recipe a little bit, substituting a cream cheese filling in the center (because I love cream cheese!)  I also swapped the crushed candy canes for Andes Peppermint Crunch Chips.  I'm not a huge candy cane person and am in love with Andes Peppermint Crunch!  And I made a ganache for the topping.
Ingredients
For the Cake

1 cup flour
1/2 tsp baking powder
1 tsp cream of tarter
1 cup granulated sugar
3 large eggs
1/3 cup water
1/4 tsp red food coloring
1/4 cup powdered sugar (for later)

For the Filling

2 cups powdered sugar
4 oz. unsalted butter, softened
4 oz. cream cheese, softened
1 tsp. vanilla

For the Frosting

1 cup white chocolate chips
1/3 cup heavy cream
Andes Peppermint Crunch Baking Chips or Andes Peppermint Crunch Thins chopped up
Instructions
Preheat your oven to 375 and line a 10 x 15 inch jelly roll pan with parchment paper. Spray with cooking spray.
Sift the flour, baking powder, sugar, and cream of tartar together, mix until just combined. Set aside.
In a stand mixer with a whisk attachment, beat the eggs and water together on high until they are light and airy, about five minutes.
Gently fold the egg mixture into the flour mixture, being careful not to over mix.
Divide the batter in half, and dye one half red.
Running parallel to the 10 inch side of the pan, gently pour a spoonful of the red cake batter all along one edge. Then a row of white, then a row of red, and so on.
Bake 10 to 12 minutes or until the white begins to turn golden brown.
While the cake is baking, get out clean kitchen towel, a large cutting board and you powdered sugar.
When the cake is done baking, sprinkle the powdered sugar over the top of the cake. Cover with your kitchen towel and lay your cutting board over the top (making sure your cutting board is larger than your pan.
Carefully flip the entire pan over and gently peel away the parchment paper.
Working at one end, roll the cake into the kitchen towel. This will give the cake its rolled form. Leave the cake for at least one hour, but not more than four hours.

To make the filling

Beat butter and cream cheese until smooth and creamy. Add powdered sugar, a little at a time and mix until combined. Add vanilla and mix until creamy.
Carefully unroll the cake. Spread frosting evenly over cake and roll it back up.

To make the frosting

Heat cream in a sauce pan until almost boiling. Pour over the white chocolate chips and let sit for 10 minutes. Stir vigorously until smooth and blended.
Spread over cake roll and sprinkle with Andes mints.
Refrigerate.
Serve that day or the next day for best results (the cake can get soggy.)
http://makingmemorieswithyourkids.com/2014/12/candy-cane-cake-roll/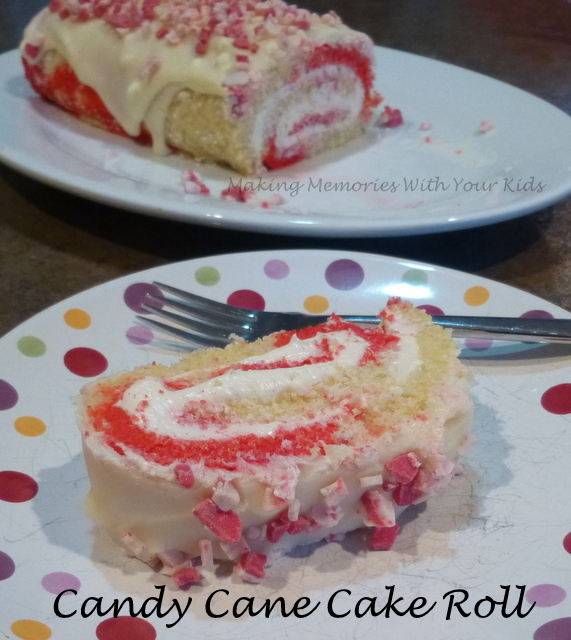 We're linking to the parties found HERE.