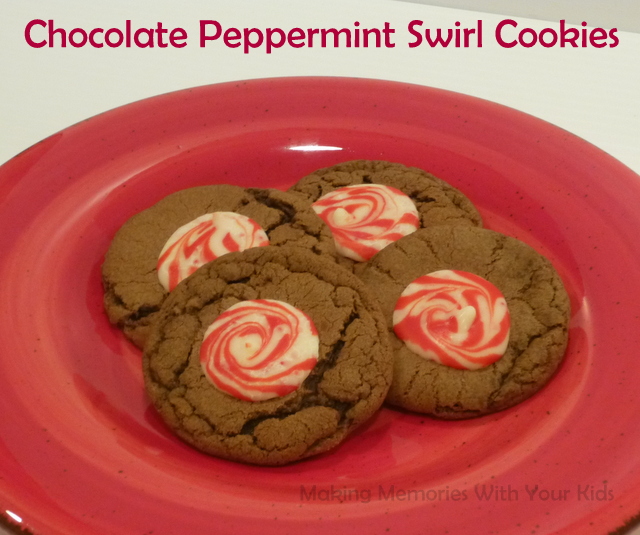 Typically I'd be getting ready for my monthly Secret Recipe Club post.  But in December and January, our posting gets a little wonky to give people a break for the holidays.  But a few of the Secret Recipe Club members wanted to get together and do a virtual cookie swap.  Cookies people!!!  Of course I was in.  Did I mention it was cookies???
My assignment for this cookie swap was Cook with Sara.  I do love Sara's blog.  It's filled with amazing recipes, of all kinds!  You can find a delicious looking recipe for Greek Layered Dip (yum!) or Raspberry Cream Cheese Coffee Cake (another yum!) and don't even get me started on her Creamy Shrimp Linguini.

But we were on a cookie mission.  It was a no brainer that I chose her Chocolate Peppermint Swirl Cookies.  Chocolate + peppermint?  Yes, please!
At first when I saw these cookies I thought they had a hard peppermint on top of them.  Nope.  It's a melted Peppermint Hershey Kiss.  So much better than a hard candy!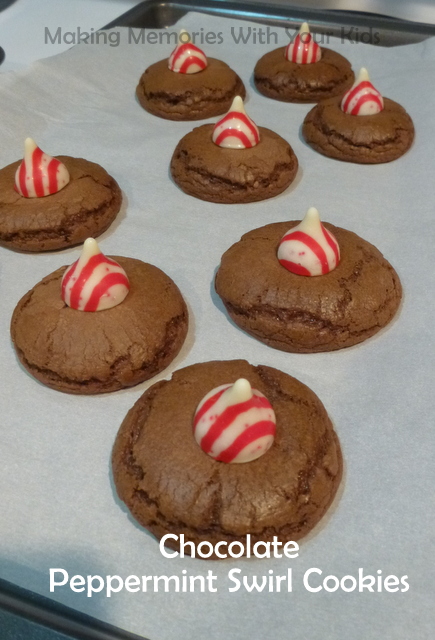 I absolutely loved these cookies.  I was a little worried that they would be a crunchy cookie (which I don't like at all.)  But they were moist and delicious and man, oh, man.  I devoured them!
And don't they look pretty and festive?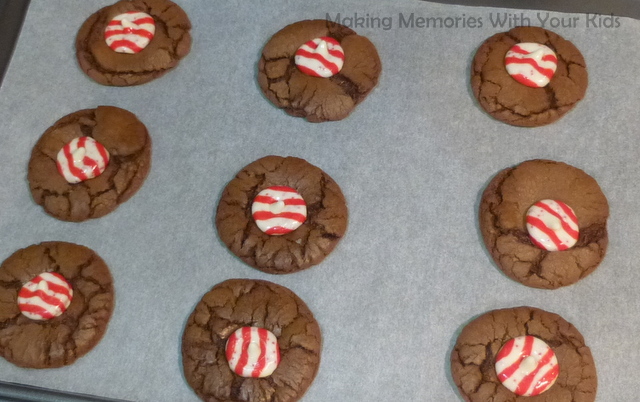 Unless you don't center the Kiss on them and this happens…..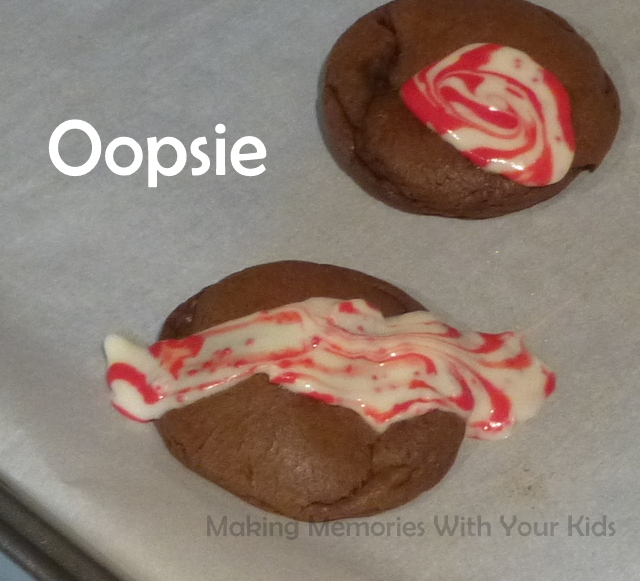 But no worries, I still ate it.
Delicious!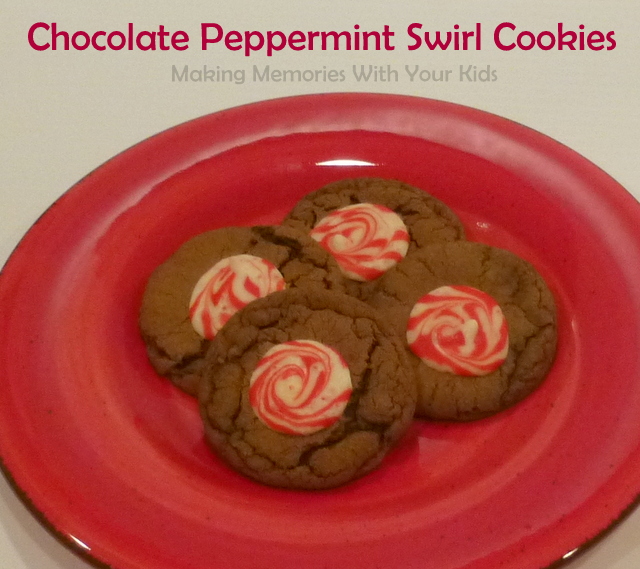 Chocolate Peppermint Swirl Cookies
Ingredients
3/4 cups butter
1 1/2 cups brown sugar
2 Tbsp. water
2 1/4 cups chocolate chips
1 tsp. vanilla
2 eggs
2 1/2 cups flour
1 1/4 tsp. baking soda
1/2 tsp. salt
1 bag Candy Cane Kisses
Instructions
Preheat oven to 350 degrees.
Combine butter, brown sugar and water in a large saucepan and stir over low heat until melted. Add chocolate chips and stir until most of the chocolate chips are melted; remove from heat and continue to stir until all the chocolate is melted.
Stir in the vanilla. Pour into a large mixing bowl and allow to cool for about 10 minutes, stirring a couple of times to help cooling.
Combine the flour, baking soda and salt in a large bowl.
When the chocolate is cooler, add one egg at a time, beating each on high speed until completely blended. Reduce the mixer speed to low and add in dry ingredients. Mix until blended.
Chill the dough for about an hour.
Roll dough into 1/2" to 1" balls and place on ungreased baking sheet about 1 1/2 inches apart.
Bake for 7-8 minutes. When the cookies come out of the oven, place a Candy Cane Kiss on top of each hot cookie in the middle and let them sit about 5 minutes.
Using a toothpick, gently swirl the softened Candy Cane Kiss until you like the pattern.
Remove the swirl topped cookies from the baking sheet and place them on a cooling rack. Let cool completely until Kiss hardens.
Makes about 6 dozen cookies.
http://makingmemorieswithyourkids.com/2014/12/chocolate-peppermint-swirl-cookies/
We're linking to the parties found HERE.