I wish I had posted this recipe earlier so you could have made this Christmas morning.  It's definitely a Christmas morning breakfast casserole because it is awesome!  But no worries, you can make it on New Year's Eve, or Sunday, or today, or for dinner.  It's that good.
It's super easy to make.  (I love those kinds of recipes).  Just layer everything and cook.  Easy peasy!
Roll out a can of cresent dough (don't you just love those babies?!?!)  Add a layer of bacon (or sausage), hashbrowns, and cheese.
Pour the egg mixture over the top and bake for about 15 minutes.  (I added more eggs because I wanted it to be more than just bread, so the cooking time needed to be increased.
Take it out of the oven and add the other can of cresent dough over the top and brush with melted butter.  Bake for another 15 minutes (making sure the center is cooked thoroughly.)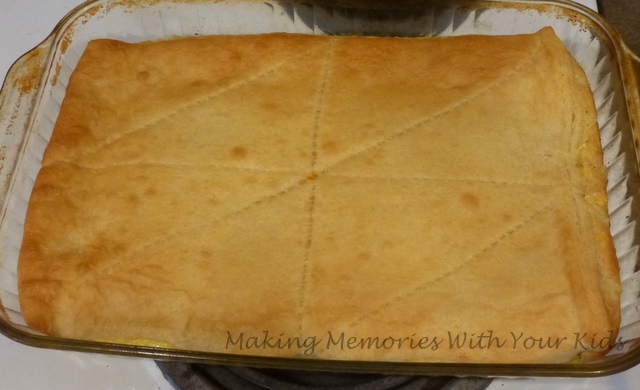 It looks pretty simple but when you cut into it?  Pure deliciousness!  Believe me on this one, it's delicious!
Sorry I don't have better pictures.  I made this on Christmas morning and taking pictures was not on my kid's agenda.  They just wanted to eat and continue opening presents.
This recipe is adapted from Recipe Swagger (but I changed it up a tad.)
Cresent Breakfast Casserole
Ingredients
1 lb bacon, cooked and crumbled
2 cans refrigerated crescent rolls
1 cup shredded hashbrowns (the frozen kind is what I used)
6 eggs
1/4 tsp salt
pinch pepper
1 cup sharp cheddar cheese, shredded
2 Tbsp. butter, melted
Instructions
Preheat oven to 375° F
In a pan cook bacon. Drain and let cool. Crumble.
In a medium size bowl whisk eggs with salt and pepper
Grease a 9x13 baking dish
Press one roll of crescents into bottom of dish pinching closed any cut seams
Sprinkle the bacon over the dough.
Sprinkle hashbrowns over the bacon layer.
Pour egg mixture over crescent dough.
Put in the oven for 15 minutes
Remove from oven and sprinkle cheese on top
Place second roll of crescents on top, again pinching closed any cut seams
Lightly brush with melted butter.
Bake for approx. 15 more minutes until golden brown.
Enjoy!
http://makingmemorieswithyourkids.com/2014/12/cresent-stuffed-breakfast-casserole/
Enjoy!
We're linking to the parties found HERE.