Brownies + peppermint crunch?  Yes, there are no words.  Well, maybe amazing… or delicious… I guess holy heck would work too.  They are that good.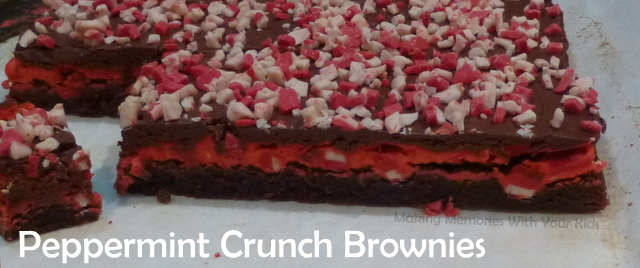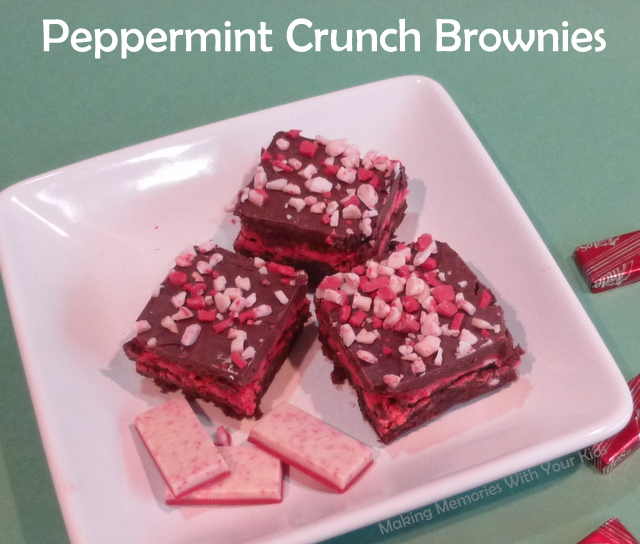 The basics for this recipe came from I Heart Naptime.  I changed it up a little bit.
Peppermint Crunch Brownies
Ingredients
1 brownie mix and ingredients according to package directions
1 stick of butter softened
2 Tbsp. milk
2 cups powdered sugar
1 package (28 pieces) Andes Peppermint Crunch Thins, chopped
1 cup milk chocolate chips
1 tsp vanilla
Instructions
Make brownie mix according to package.
Pour into a greased 9x9 pan. Bake according to package directions. Cool for about an hour.
In a medium sized bowl mix 4 Tbsp. butter, powdered sugar and milk until fluffy. Fold in half of the chopped Andes Peppermint Crunch Thins. Spread mint frosting over brownies. Refrigerate 1 hour.
For chocolate glaze, combine 4 Tbsp. butter and chocolate chips and melt for 1 minute in the microwave. Once chocolate chips are melted, stir in vanilla. Pour over frosting and spread by tipping pan. Sprinkle remaining Andes Peppermint Crunch Thins on top.
Refrigerate for 1 hour before cutting.
http://makingmemorieswithyourkids.com/2014/12/peppermint-crunch-brownies/
We're linking to the parties found HERE.