Yes, I work in a middle school.  So, yes, I think these are pretty dang funny.  And, yes, I think they make the perfect gift for co-workers and my kid's teachers.  But what makes these bad boys different from the other poop gifts out there (like Snowman Poop)?  Snowman Poop is just marshmallows.  That's it.  Marshmallows.  No thanks.  But these?  They are rockin' awesome cookies!
These cookies are what happens when an Oreo cookie ball meets fudge.  Yep.  The perfect combination of the two.  Perfect!
You can print out these great tags HERE.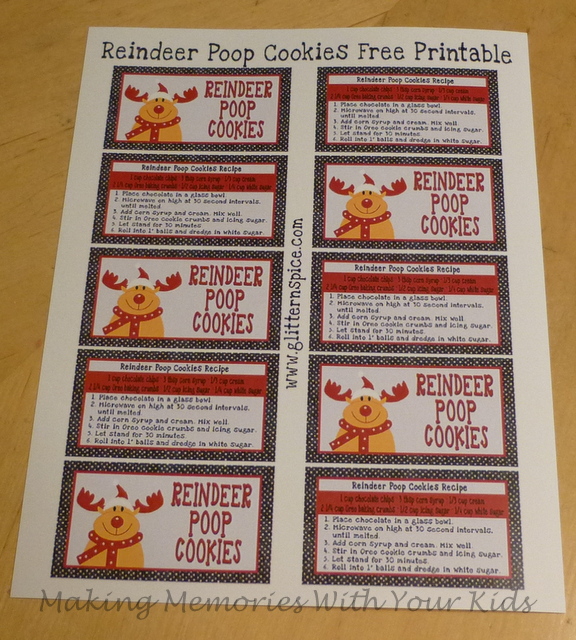 We decided to not put the recipes on the jars.  They didn't really print out clearly for some reason so we just added the tags.  Cute, right?
Thank you to Glitter N' Spice for this great recipe and printable!
Ingredients
1 cup chocolate chips
3 tablespoons corn syrup
1/3 cup cream
2 1/4 cups Oreo baking crumbs (I ground up Oreos for this)
1/2 cup powdered sugar
1/4 white sugar
Instructions
Place the chocolate chips in a bowl and microwave on high at 30 second intervals until the chocolate is melted.
Stir the corn syrup and cream into the melted chocolate.
At this point I used an electric mixer)
Add the Oreo Baking Crumbs or ground up Oreos and powdered sugar to the bowl and mix well.
Let stand for 30 minutes to allow the mixture to cool and harden a bit.
Roll the cooled mixture into 1 inch balls.
Pour the white sugar into a bowl. Roll the cookie balls through the sugar and place on a piece of waxed paper.
Fill your jars right away or place the cookies in an airtight container to store.
http://makingmemorieswithyourkids.com/2014/12/reindeer-poop-cookies-printable-tag/
If you decide this humor isn't for you, at least make the cookies.  They are wonderful!  But come on.  It's kinda funny, right?