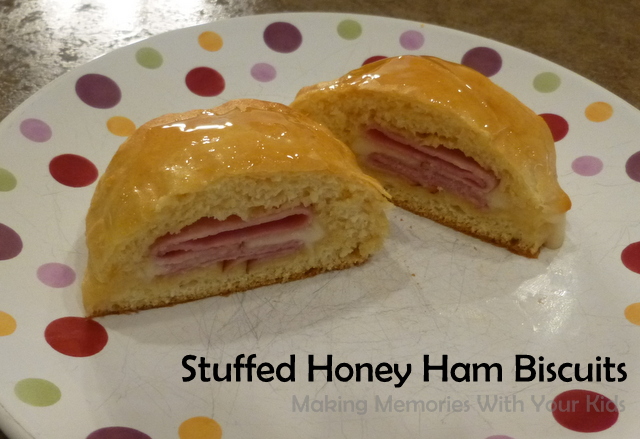 Is it sad that I'm sitting on the couch  writing this blog post while watch Dog the Bounty Hunter?  I know.  Don't judge!  My son started watching at awhile back and got me hooked.  Oh the things we do.
But these little sandwiches?  Delicious!  Perfect for when you want something yummy but not really difficult to make.   (By "not really" I mean "super easy".)  And you can't go wrong with Pillsbury Biscuit dough, right?  The Pillsbury people are geniuses.  A dough that can be made into a sandwich and fried up for to-die-for donuts?  Yep, geniuses!
If you're thinking about leaving out the honey, I beg you to think again.  The honey adds a great taste!  The sweetness with the ham and Swiss cheese is perfect.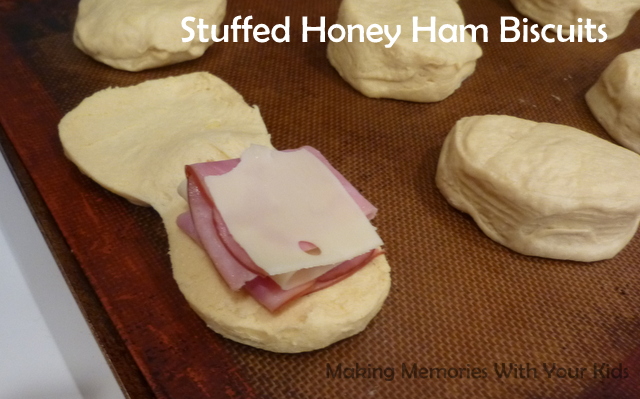 Add a blop of honey on top of the Swiss cheese, place the top half of the dough on top and seal the sides.
Don't they look wonderful?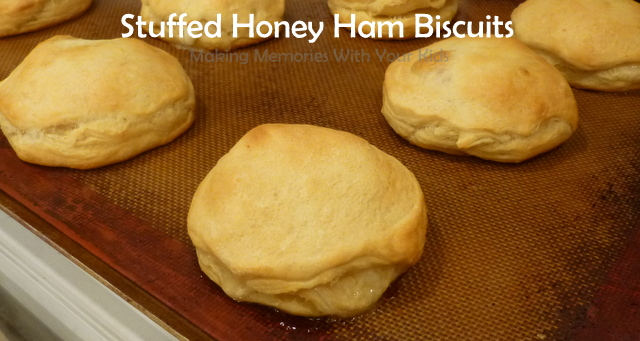 Perfect little sandwiches!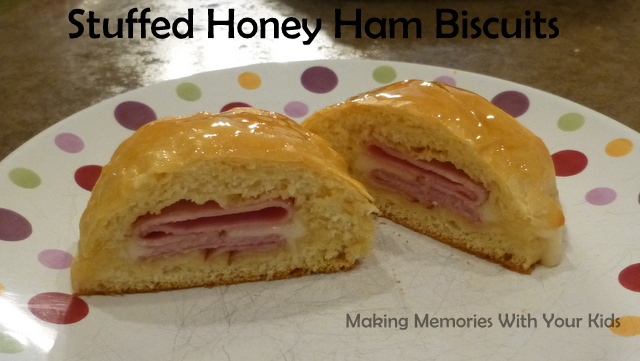 This recipe came from the Pillsbury website (which I love!)
Stuffed Honey Ham Biscuits
Ingredients
1 can (16.3 oz) Pillsbury™ Grands!™ Flaky Layers refrigerated biscuits
8 slices Swiss cheese
8 slices deli cooked ham
1/4 cup honey
Instructions
Preheat oven to 350 degrees.
Spray cookie sheet with non-cook spray or line with parchment paper.
Separate the biscuit dough into 8 biscuits.
Carefully separate each biscuit into 2 pieces. You might need to use a knife but it's easy to pull them apart.
Fold a piece of ham and place in the center of one half of the biscuit. Fold a piece of cheese and put on top of the ham. Put a small blop of honey on top of the cheese.
Cover with the other half of the biscuit and pinch the edges closed making sure the ham and cheese are not sticking out.
Repeat with the other biscuits.
Bake for 15 minutes or until golden brown.
Remove from oven and brush with honey.
Serve warm and enjoy!
http://makingmemorieswithyourkids.com/2014/12/stuffed-honey-ham-biscuits/
We're linking to the parties found HERE.